Navy Veteran Who Interviewed Gold Star Families in 50 States Ends Journey, Stories Live on in Library of Congress
A retired Navy veteran who traveled all over the country to interview Gold Star families about the loved ones they had lost in active duty finished his 428-day trek on Friday.
Beginning in World War I, the families of U.S. soldiers and sailors often flew flags that had a blue star for each member of the family serving in the military. If one of them died in battle, the blue star was changed to a gold star.
Keith Sherman began his project, Gold Star Dirt, in August 2018 to tell the stories of fallen service members and bring awareness to the unprecedented sacrifices Gold Star families have made for this nation. Sherman's project has also been working in tandem with the Library of Congress' Veterans History Project.
After completing his 50-state journey, Sherman told Newsweek that it felt "surreal."
"It's a metamorphosis. It's been really emotional," he said.
On his first trip to the Library of Congress, the totality of the project and the lives it would shape led to an emotional resolve.
"When I walked in, I broke down," said Sherman. "I had a moment with myself: this is where the stories are going."
"It renewed me to continue, to deliver stories of love, honor and sacrifice to the Library of Congress. To keep going."
He dropped off 20 stories that day—raw footage of families honoring their loved ones who died for this country.
When asked what message civilians should take from this project, Sherman wanted everyone to know that the fallen are real people who aren't just on a monument, and that every day is like Memorial Day for the families who lost them.
Sherman suggested that people ask Gold Star family members about the loved ones they lost because most of them are happy to talk about them and hope for the opportunity.
One of the last states Sherman visited was Hawaii to interview McKenna Scobie, who lost her husband, Drew Scobie, in 2014. Sherman said all the stories he'd heard were so special, it was too hard to choose just one, but relayed a recent story from that trip to the Aloha State.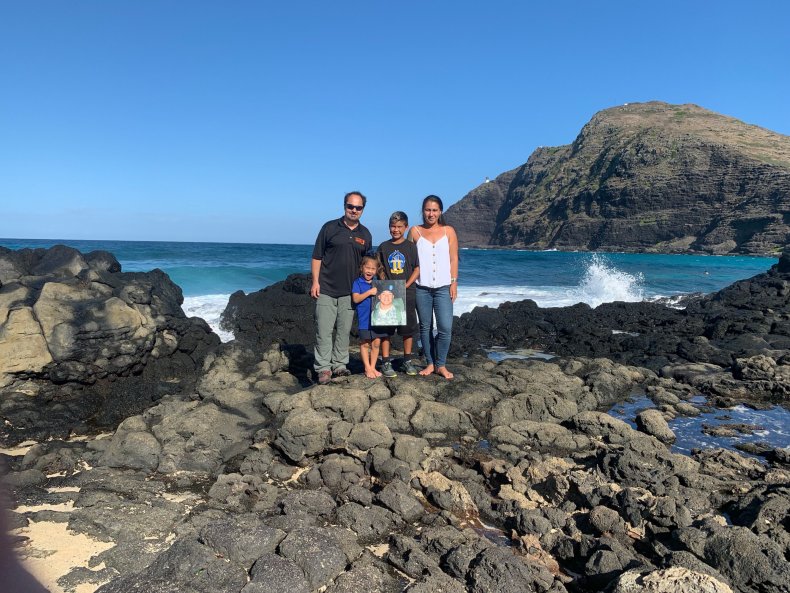 The couple was young when they got pregnant with their first child, Duke. When Scobie found out, he looked at his wife and started singing Bob Marley's "Three Little Birds," which was a special moment she would never forget.
They eventually got married and Scobie found out she was expecting again. Her husband died in Afghanistan six months later. At the memorial, Scobie took her husband's ashes and put them in a traditional Hawaiian pu'olu.
She and her sister-in-law swam out into the ocean and Scobie, six months pregnant, dove down to the bottom. She opened the pu'olu, letting the ashes go in the ocean, and then swam through them to the surface.
"He thought they were having a boy, but Scobie gave birth to a baby girl named Drew, after her father," said Sherman.
"Now Drew takes a picture of her father to what she now calls Daddy's Beach."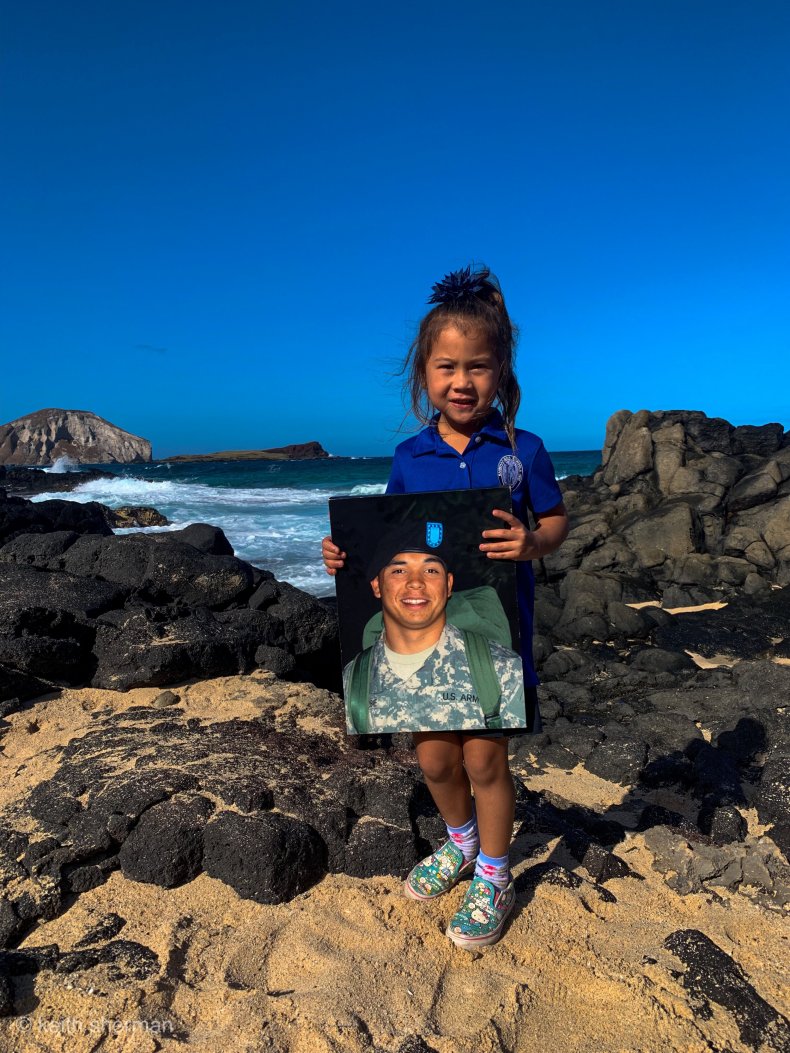 After 428 days of journeying to these families, taking on their tragedies and sitting with their stories, Sherman plans on taking time to reflect and spend time decompressing with his girlfriend, a helicopter pilot in the Navy.
With so much footage, there could be a book in the works to tell the stories of these fallen heroes. One Gold Star father said this should be made into a movie.
The Library of Congress donation ceremony date is November 1, and every Gold Star family that has participated in the project will be invited to see their loved one's story be donated into the National Archives.