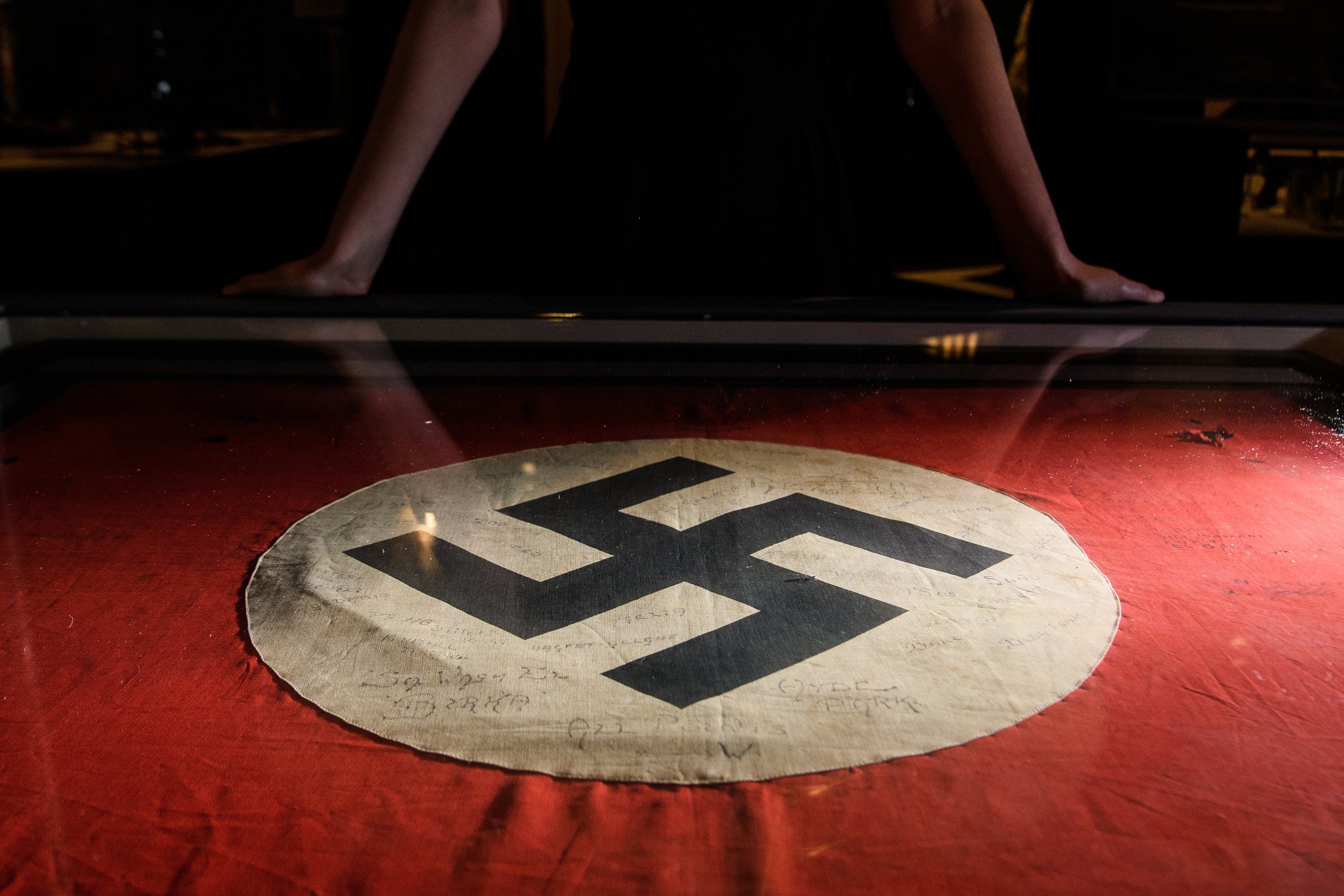 At work, Mitchell Todd ran a dove releasing business in California. At home, he allegedly stockpiled mass amounts of firearms and Nazi memorabilia.
On Tuesday, Laguna Beach Police officers arrested Todd, 51, after he allegedly threatened a former customer over a payment dispute, according to KTTV. Todd was officially charged with criminal threats, however, after police executed a search warrant in his home on Tuesday, he could face weapons charges.
In his Huntington Beach, California, home officers found large quantities of ammunition and weapons, including assault rifles and sniper rifles.
"Definitely an arsenal, we're trying to figure out why one person would have in excess of 50 guns, at least in my career it stands up there with the top 5 in terms of firepower," Laguna Beach Police Sergeant Jim Cota told KTTV. "This is definitely an amount of weaponry that is not for personal use."
Only 12 of the 50 weapons were registered to Todd and Cota said that the Department of Justice and the Bureau of Alcohol, Tobacco, Firearms and Explosives will likely be brought in to help with the investigation. Newsweek reached out to the Laguna Beach Police Department but did not receive a response in time for publication.
Along with the arsenal of weapons, Cota said officers found a Confederate flag and memorabilia that referenced the Third Reich and Nazis. Given the number of weapons and the Nazi memorabilia that was found, Cota explained that officers would look into whether Todd had any connection to hate groups.
Following the arrest and the discovery that was made in Todd's home, Cota applauded the detectives for the work they did in possibly preventing a tragedy.
"I couldn't be more proud of the detectives and the work that they did tonight, my gut feeling tells me we did potentially stop something that could've been, I can't even put into words what could've been forthcoming," he told KTTV.
The investigation of Todd began in the middle of November after he allegedly made physical threats to a customer. He owns a dove releasing business in Orange County, California, and things took a threatening turn after Todd and a customer got into a dispute about payment.
Todd allegedly called the customer, who hired his company to release doves at his son's funeral, and said that maybe the customer needed to go be with his deceased son.
"You could tell the voicemails and text messages became more and more threatening and then the tip of the iceberg was hearing the releasing of a handgun slide, so at that point, we knew we were dealing with somebody who's got the potential of extreme violence," Cota told KTTV.
Todd was going to be brought to the Santa Ana, California, jail on Wednesday, according to KTTV.