Nazi-Looted Painting Returns to Paris Almost 80 Years After Theft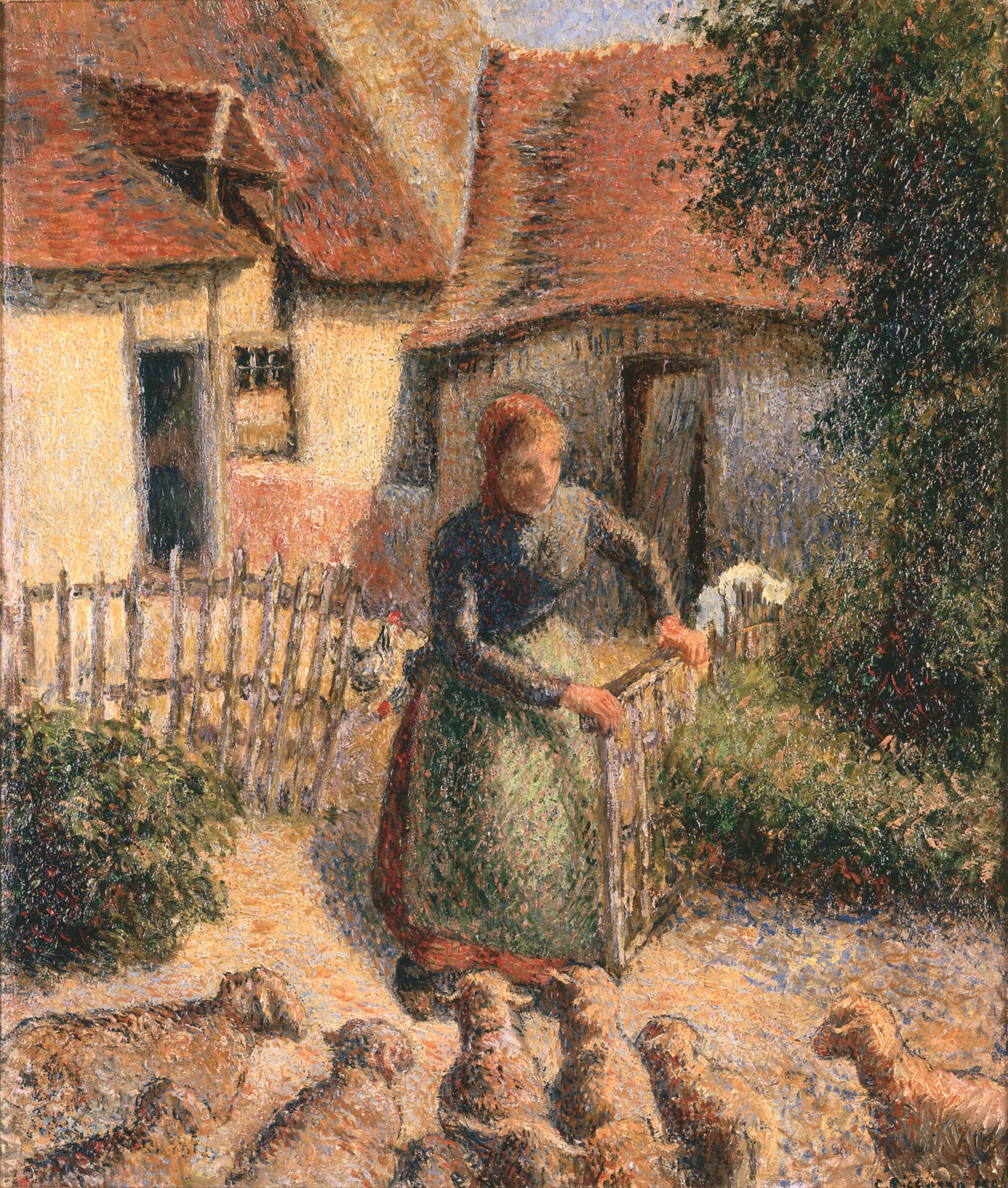 Updated | An impressionist painting that the Nazis stole from a bank vault almost 80 years ago has returned to Paris. The work by Camille Pissarro will soon go on display at the Musée d'Orsay, marking the end of a years-long legal battle between a French Holocaust survivor and billionaire, and the University of Oklahoma.
Pissarro's Bergère Rentrant des Moutons, or Shepherdess Bringing in Sheep, arrived at the museum in Paris on April 20, more than a year after Léone Meyer settled a lawsuit with the university. Pierre Ciric, a lawyer for Meyer, announced the news on Tuesday. Speaking with Newsweek, he says the French museum will inspect the painting and that it is unclear when it will go on display. A Musée d'Orsay official also could not provide a specific date, but the official says it will hang there from sometime in 2017 until 2021.
Related: How a Nazi-looted painting went to the University of Oklahoma
"Léone Meyer is pleased that the painting will be put on public display in France, so that the public may see the painting and, more importantly, learn about its history," Ciric said in a statement.
The 1886 oil-on-canvas painting belonged to Meyer's adoptive parents, who owned the upscale department store chain Galeries Lafayette. During World War II, the Meyers, who were Jewish, stashed their artwork in a bank vault in southern France. But in 1941, the Nazis accessed the vault and seized the works. The Meyers survived the Holocaust by hiding. After the war, they located the Pissarro painting in Switzerland, but a court ruled against them and they lost track of the work.
The painting traveled to New York City, where a wealthy woman from Oklahoma, Clara Weitzenhoffer, bought it. In 2000, after her death, her son Max Weitzenhoffer, a theater owner and producer, gifted her art collection to the University of Oklahoma's Fred Jones Jr. Museum of Art.
Léone Meyer's biological family died at Auschwitz. She survived—someone likely put her into hiding, her lawyer has said—and in 1946 the Meyers adopted her from an orphanage. After her adoptive parents died in the 1970s, she continued their search for Shepherdess Bringing in Sheep.
In 2012, Meyer's son spotted a blog post that the Holocaust Art Restitution Project had written a year earlier about Shepherdess Bringing in Sheep, and the post said it was at the University of Oklahoma. Later that year, Meyer contacted University President David Boren and asked for the painting. When he responded that a university foundation owned the painting, not the university, she sued. "Please understand that my quest carries within it a tremendous emotional burden," she wrote in an open letter to the public in February 2014. She said she saw her effort as "a duty to my biological family and a duty to my adoptive family." To "surrender and say 'oh well,'" she wrote, "is out of the question."
In February 2016, the parties announced a settlement. The work will go on display at d'Orsay for five years and then will rotate every three years between a French institution of Meyer's choosing and the University of Oklahoma. Meyer now owns the painting. The Musée d'Orsay official says the painting will likely return to that museum after its next rotation in Oklahoma, but it might go elsewhere.
"The university is pleased that the Pissarro painting has arrived in France for public display," a University of Oklahoma spokesman said in a statement. "The artwork will remain on display in both locations for the benefit of the public and with appropriate recognition of the history and families involved, including the Weitzenhoffer family, which has been so generous to the University of Oklahoma."
But one Oklahoma lawmaker remains critical of the university's handling of the ordeal. "They dragged it out in the courts when it was clearly something that should have been taken care of [sooner]," state Representative Mike Ritze tells Newsweek.
In an earlier statement, Ritze said, "It is absurd that the University of Oklahoma would act as if they have done a noble thing by returning a piece of stolen art to France." He accused University President Boren of having "fought tooth and nail to prevent this painting from returning to its rightful owner."
Boren has previously told Newsweek, "We sought to negotiate it from the very beginning…[but] just because someone asks for something, you don't instantly hand over something that has been very generously given in good faith to the university."
The Musée d'Orsay, which is one of the most visited art museums in Paris, has 51 works related to Pissarro. Among them is another depiction of a shepherdess, dated five years before the Meyer work.
The news coincides with Monday's Holocaust Remembrance Day, though Ciric, Meyer's lawyer, says the timing was not intentional. In an address at the United States Holocaust Memorial Museum on Tuesday, President Donald Trump called the Holocaust "history's darkest hour." His administration had previously faced scrutiny for its handling of Holocaust issues.
Art restitution advocates estimate that of the 650,000 art objects that the Nazis stole from Jews and other victims, some 100,000 remain missing. Those advocates say that museums are increasingly using legal technicalities to hold on to works when Holocaust survivors or their descendants claim them.
But future claims may not face the same legal roadblocks that Meyer's did. In December, President Barack Obama signed into law the Holocaust Expropriated Art Recovery (HEAR) Act, which sets a six-year statute of limitations for people to file a claim, starting from when the claimant discovered the whereabouts of the work.
This article has been updated to include comments by a Musée d'Orsay official.