California Priest Find Nazi Symbol, Photo Of Hitler On Pillow Purchased From Walmart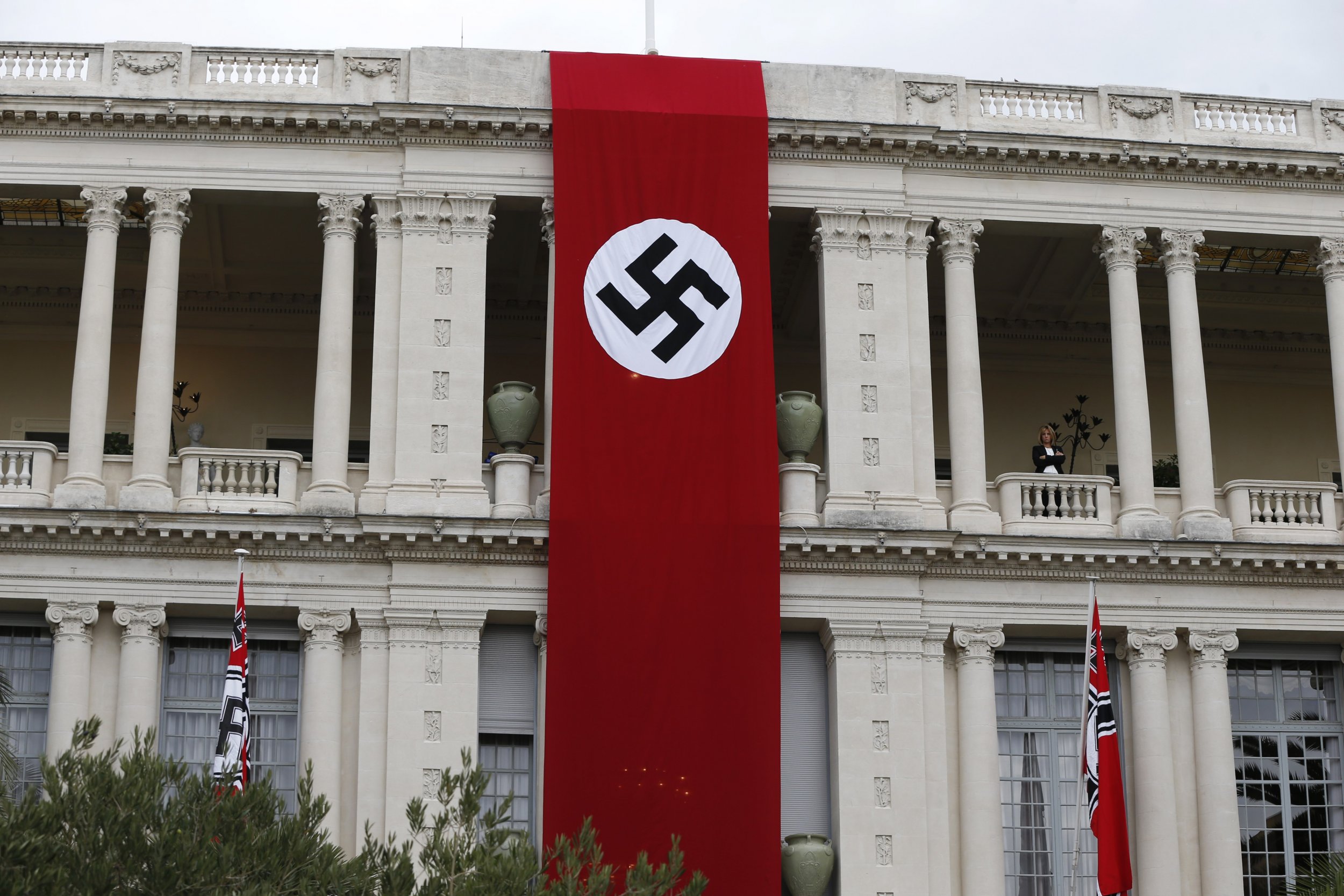 A Fresno, California priest with a Jewish heritage was shocked to discover a Nazi swastika and a photo of Adolf Hitler embossed on a throw pillow he bought on Walmart's website last year.
The Very Rev. Ryan Newman told The Fresno Bee on Wednesday he plans to use the pillow to tell a story about the need to "stand for love, acceptance and peace."
Newman said he hopes raising awareness about the experience will prompt Walmart to improve its product vetting process. He said he alerted Walmart in various ways, but is frustrated with their lack of concern about his complaint.
When Newman bought the pillow online in November, the photo of the product included ages of a bicycle and the Eiffel Tower, plus the word Paris.
That's why he was upset to see Nazi party seals with swastikas and postage stamps of Hitler's face and the German word Reich emblazoned on a corner of the pillow. Reich is a reference to the Third Reich, the Nazi regime that governed Germany from 1933 to 1945.
"To me, this is a symbol of hate," Newman told The Bee. "This is a symbol of evil."
Newman and his wife, Erin, moved to Clovis last fall. They have a five-month-old daughter who was playing with the pillow when he noticed the offensive swastika images a few months after buying it.
"I was shocked and then shocked moved into anger. I was like, 'How can this happen, how can this be, how could this get through the Walmart buying channels?,'" Newman told WTHR TV.
The family's heritage includes some Jewish roots, including descendants who are Holocaust survivors. But Newman said his job entails "preaching love and tolerance and reconciliation."
Newman said he is giving Walmart the benefit of the doubt, and that the offensive Nazi symbols were probably imprinted on the pillow by mistake. The designer may lack a proper understanding of the symbols since the pillow also features London and the English Parliament.
"I'm outraged and feel very violated," Newman wrote in his email complaint to Walmart. "For two months, this pillow has been in our house. My family, friends and colleagues have sat next to this pillow. I pray none of them noticed the pillow and didn't say anything. The symbols portrayed on the pillows are offensive and wrong." Newman also requested that the pillow be removed from the store's website immediately.
Newman was later sent what he called a "generic email" from a customer service representative in reply to his complaint. The email read: "Since your item is from a marketplace seller Dreamstrue LLC, as much as I would like to process a solution, we don't have access in any marketplace seller items. Don't worry, the best and the only thing we can do is to escalate this to the resolution team of the market place seller. I hope you understand. Rest assured this will be resolved by the Marketplace seller."
The email assured Newman that he would receive an email or phone call within one business day, reported the Fresno Bee. Shortly before that one-day window ended, the only response Newman said he received was another generic email, asking if his problem had been resolved
Requests for comment from Dreamstrue LLC were not returned to The Bee. According to the Better Business Bureau, Dreamstrue LLC is headquartered in Beaver Creek, Colorado.
The pillow was removed from Walmart.com on Tuesday, after The Bee reached out to Walmart for comment.
"This pillow was listed by a third-party seller on our online marketplace and is in violation of our policy," said Walmart in a statement. "We regularly scan our marketplace for these types of items, but, unfortunately, the offensive image wasn't visible on the pillow's photo and we were not aware of it until the customer reached out. We removed the item immediately and are reviewing the seller's assortment."
While it's unclear if Walmart is still advertising the pillow, Newman plans to turn the experience into a positive.
"Not to go preacher on you," Newman told The Bee, "but here's this beautiful place we love, Paris, but the example is, even in this world that we love, there is still darkness and hatred, and symbols of darkness and hatred. And we need to teach the next generation about these symbols and what they stand for, and we need to rid our world of these symbols."