Nazi-saluting Protester Convicted in Germany After Far-Right Rally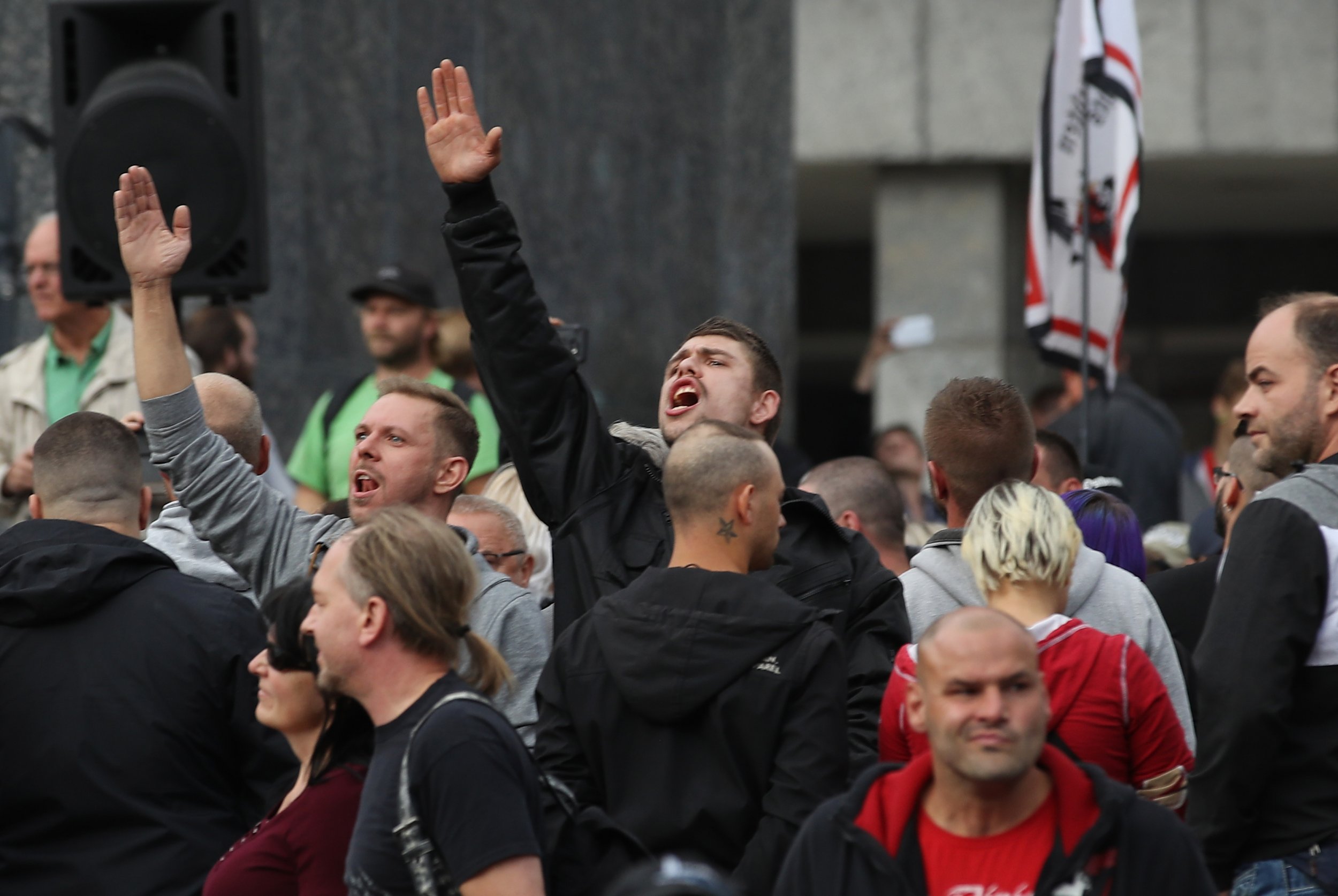 Germany has convicted a man for hate speech and assault after giving a Nazi salute at a far-right rally in the country's east.
The case, one of several fast-tracked by a district court in the city of Chemnitz, follows a wave of anti-migrant demonstrations that took place two weeks ago. Of those arrested for alleged offenses made while taking part in the unrest, the first verdict arrived on Thursday.
The court sentenced a 33-year-old man, whose name was not given, to eight months probation and fined him $2,300 for making the gesture once used by Adolf Hitler and the Nazi Party, German broadcaster Deutsche Welle reported.
The event took place following the death of a German man, in which one of the wanted suspects is an Iraqi male. Two men are in police custody and media reports have claimed they had Syrian and Iranian documents. A handful of fringe groups quickly pounced on the public outrage and sparked a rally that turned violent.
The march was organized by Germany's resurgent anti-migrant and anti-establishment Alternative for Germany party in conjunction with two other political groups, namely anti-Islam movement PEGIDA and the local nationalist group Pro Chemnitz. The man was found guilty of not only using the banned salute, but also of assaulting a law enforcement official and attempted assault. A similar case of a 34-year-old charged with using the Nazi gesture will come to court on Friday.
Related: Woman brings World War II grenade in police station, evacuates building and shuts down traffic
The public demonstration of any symbols or statements directly celebrating the Nazi regime, such as uttering party greetings or displaying swastikas, is punishable under German law. The incidents in Chemnitz have sparked fresh debate about the presence of nativism and xenophobia in some segments of German society.
Pro Chemnitz has announced it will hold another rally this week, however locals have also tried to show opposition to the developments of two weeks ago. An art project displaying 10 grotesque wolves, giving the Nazi salute across 10 different places, has appeared in the city, in a bid to draw attention that "hate is growing."