Pop Star Who Wore Nazi Swastika T-shirt on TV Apologizes: 'Please Forgive Me'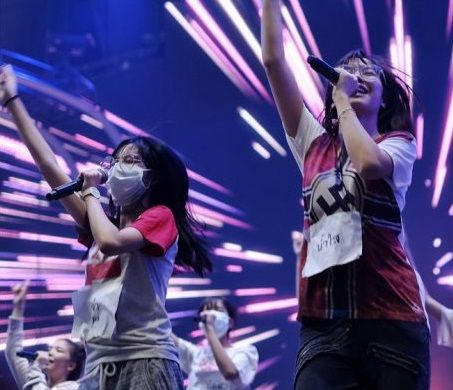 A singer from one Thailand's most popular bands has sparked outrage after images of her wearing a T-shirt emblazoned with a Nazi swastika during a televised rehearsal went viral. Nineteen-year-old Pichayapa "Namsai" Natha of the all-female pop group BNK48 has now apologized for wearing the piece of clothing, the BBC reported.
Among the online criticism of the singer, the Israeli ambassador to Thailand, Smadar Shapira, expressed "shock and dismay" at her choice of outfit.
In a Tweet Shapira wrote: "Tomorrow, January 27, is the International Day of Remembrance of the victims of the holocaust, and the world will commemorate 6 million Jews who perished. Presenting Nazi symbols by the band's singer, hurt the feelings of millions around the world, whose relatives were murdered by the Nazis."
On Saturday, the singer made a tearful apology during a concert, SBS News reported, saying: "I want this to be an example for everyone, please forgive me."
She also released a statement via the band's official Facebook account: "We would like to offer our sincere apologies for the incidence on 25 January 2019 when one of the members featured a costume which included inappropriate print," the statement read.
"We inadvertently caused dismay and distress to people affected by the past event on the crime against humanity all over the world. In the future, we will take better precaution and make every effort to ensure that an incident of this kind will never happen again."
The singer also met the Israeli ambassador in person to apologize and the band have agreed to attend an educational workshop on the Holocaust. The ambassador wrote on Twitter: "I understand that it was an act arising from lack of knowledge and lack of awareness, and I'm pleased that they have apologized and agreed to hold together an educational activity in the future."
In Thailand, Nazi imagery is not seen in the same light as it is in the Western world, and as such, swastikas and images of Hitler are sometimes found on pieces of clothing and other memorabilia. Many Thais blame this on a lack of historical understanding rather than widespread support for Nazi or fascist views.
In fact, some fans of the band defended the singer, saying that they were not aware of the significance of the symbol. "I'm over 40 and I don't know anything about this topic. When I saw the shirt, I didn't think it would be a problem," said fan Prasit Rudeekriengkrai, SBS reported.