Nazi War Criminal Images Shared by Department of Defense to Mark Battle of the Bulge Anniversary, Army Officer Says
A U.S. Army officer accused the Department of Defense (DoD) of accidentally sharing an image of a prominent Nazi war criminal today on the 75th anniversary of the Battle of the Bulge.
Lt. Col. Brian Fickel, a public affairs officer who's currently a full-time student at the U.S. Army War College in Carlisle, Pennsylvania, on Monday took to Twitter to share screenshots of an image posted by three official DoD-affiliated Facebook pages. The image depicted Joachim Peiper, also known as Jochen Peiper, a convicted war criminal who was a senior Waffen-SS officer in World War II.
"I saw the posts this evening when I was going through my personal Facebook," Fickel told Newsweek on Monday evening. "The images popped up back to back with a couple of the accounts and I was just very surprised by it. I screenshotted them and just tweeted about it."
Fickel's screenshots showed that the images were shared earlier this morning on three official DoD-affiliated Facebook pages: U.S. Department of Defense (DoD), XVIII Airborne Corps, and 10th Mountain Division.
Fickel asserted that he immediately understood that the posts were a "mistake" when he saw the images. "A big mistake but it was a mistake," he explained. "It was not intentional. I'm sure there was nothing bad intended. It was just an error in judgment. The military only wants to honor soldiers who fought in WWII."
"I was really just frustrated that we made a mistake like that," he added.
Newsweek can confirm that the images have been removed from all three DoD-affiliated Facebook pages at the time of publication. Newsweek reached out to the DoD for comment but did not receive a response in time for publication.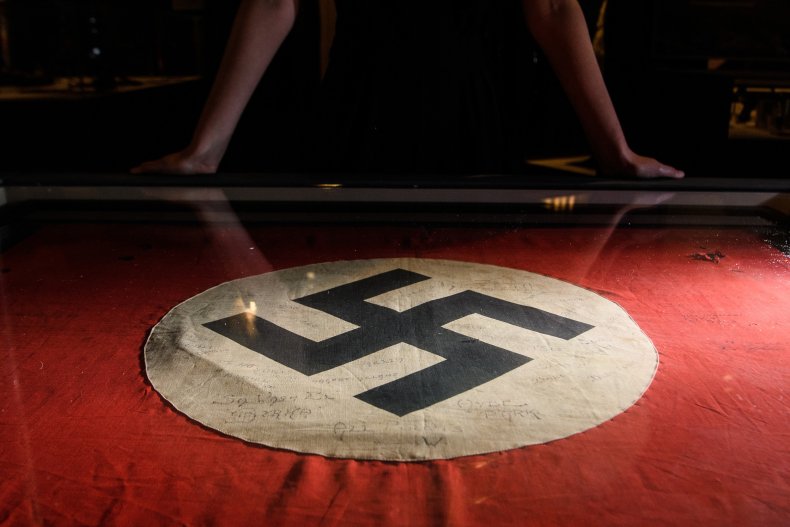 Fickel's post received more than 3,000 likes and nearly 1,000 shares roughly two hours after it was shared on Twitter. The officer said he first saw the Facebook posts moments before he shared the screenshots online.
The post has attracted the attention of several notable figures on Twitter, including Mark R. Jacobson, an associate teaching professor at the Walsh School of Foreign Service at Georgetown University.
In response, Jacobson, who previously served in Kabul, Afghanistan, as the first Deputy NATO Representative and Director of International Affairs at the International Security Assistance Force (ISAF), confirmed that the images were of a "war criminal." "I understand the desire to commemorate but maybe[10th Mountain Division] should chat with their command Historian or perhaps any historian before taking this approach," he tweeted.
The Battle of the Bulge, also referred to as the Ardennes Counteroffensive, one of the most important battles of WWII, took place from December 16, 1944 to 25 January 1945. The landmark fight was the final major offensive campaign by Germany on the Western Front and ended Adolf Hitler's last attempt to turn the tide of war.
U.S. Secretary of Defense Mark Esper commemorated the more than 19,000 U.S. troops that lost their lives to the Battle of the Bulge.
"Their efforts not only defended America but also ensured that the peoples of Europe would be free again," he said, before calling the battle "one of the greatest in American history."