Neo-Nazis Disrupt Arkansas Holocaust Remembrance Event to Voice Support for Professor Accused of Anti-Semitism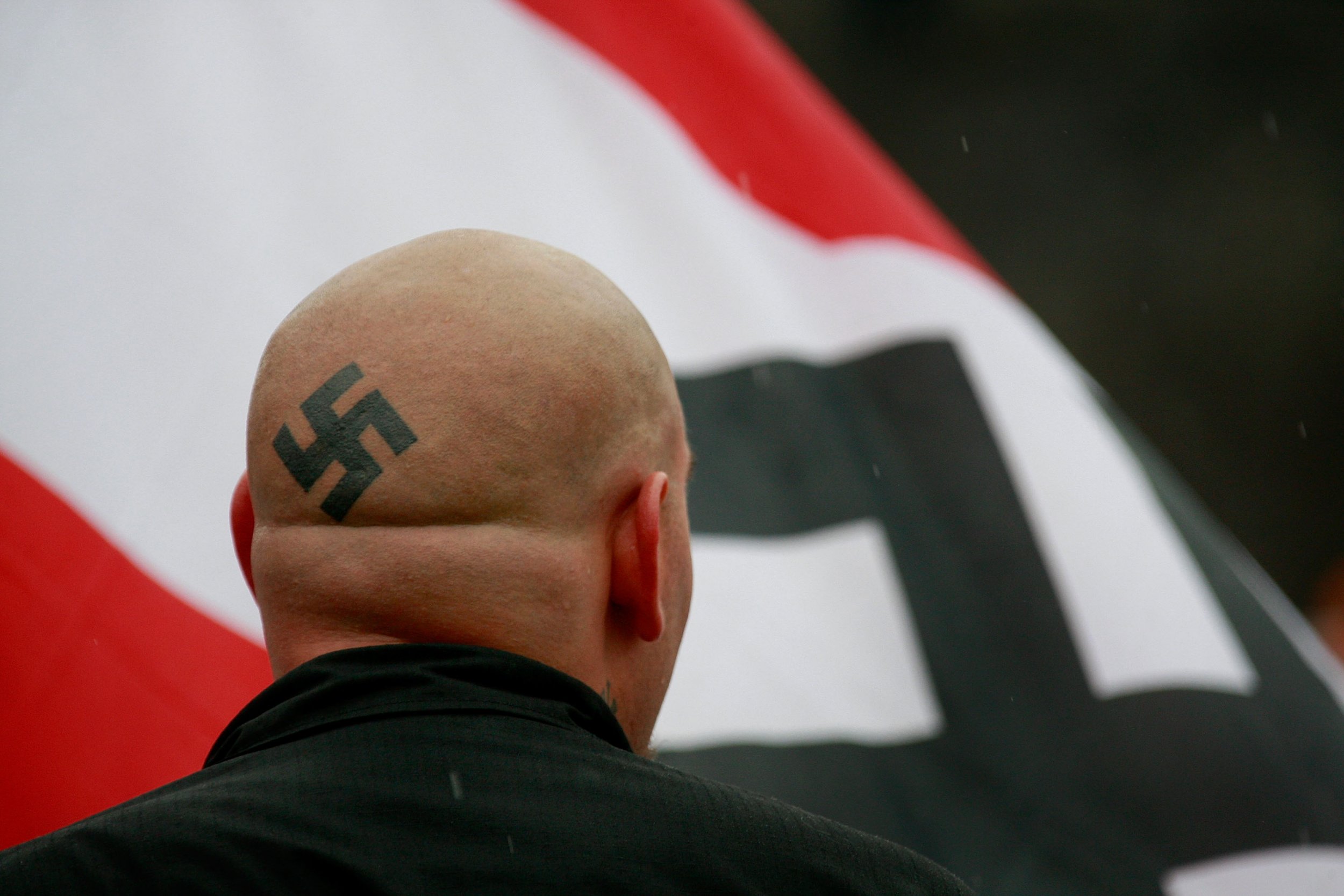 A Holocaust memorial event in Arkansas was interrupted by members of a white supremacist group demonstrating in support of a university professor accused of anti-Semitism.
The March of Remembrance in Russellville was disrupted by local Neo-Nazi group Shieldwall, whose members were seen waving swastikas and chanting as they marched down the street.
As reported by KSFM, the far-right group interrupted the remembrance event as part of ongoing protests in support of former Arkansas Tech University (ATU) professor Michael Arthur Link, who died in 2016, at age 79.
ATU announced in December 2018 that it would be naming a scholarship in honor of the professor who taught history there for 51 years, having received more than $190,000 from his estate.
In April, the Anti-Defamation League (ADL), along with dozens of Jewish community leaders, wrote a letter to ATU president Robin Bowen condemning the decision to name a scholarship after Link, following accusations of anti-Semitism and Holocaust denial against the professor.
"The evidence against Dr. Link includes anti-Semitic passages in his written work, testimony from former students and colleagues, and a well-documented 2005 incident in which Dr. Link presented anti-Semitic, neo-Nazi published texts in a graduate seminar as though they were legitimate historical works," the letter said.
According to Inside Higher Ed, one book Link used in his course was Debunking the Genocide Myth, written by French historian and so-called "father of Holocaust denial" Paul Rassinier.
"Over the course of Dr. Link's tenure, the University allowed him to expose thousands of students to these odious, dangerous mistruths under the guise of three deeply disturbing and absolutely intolerable tactics," the letter continues.
"First, Dr. Link presented misinformation as history. Second, he presented the anti-Semitic nature of this misinformation as though it were truthful, correct, and acceptable. Third, he presented the question of whether the Holocaust occurred—an irrefutable historical fact—as though it were an appropriate, valid point of debate."
ATU said it has found no evidence Link expressed or held anti-Semitic views.
Speaking to KSFM, Shieldwall leader Billy Roper confirmed that the rally, which interrupted the Holocaust memorial event, was to show support for Link.
"The rally that we held was a protest against the ADL and [ATU professor] Dr. Sarah Stein's attempts to intimidate and blackmail Arkansas Tech University into removing Dr. Michael Link's name from the scholarship he endowed," Roper said.
Roper was one of those who previously studied under the professor.
In April, hundreds of people gathered to protest against ATU's decision to name a scholarship in honor of Link, reported KATV.
Beryl Wolfson, a World War II veteran who was speaking at the event in Russellville, explained why he still attends such events across the country after witnessing the liberation of concentration camps himself.
"Never forget, because it could happen again, and I'm trying to get this out to the people so it won't happen again in any place," Wolfson said.
In a statement to Newsweek, Aaron Ahlquist, ADL South Central regional director, said: "It is deeply disturbing yet not surprising that members of the Shieldwall—a small neo-Nazi group that promotes racist and anti-Semitic rhetoric—found it acceptable to disrupt a Yom HaShoah event in Russellville, in order to defend a Holocaust denier.
"If the leadership at Arkansas Tech needed more evidence—even though ample has already been provided—that a scholarship under the name of Professor Link is problematic and offensive, they need look no farther than Billy Roper and his band of white supremacists who felt the need to diminish and disrespect the six million Jews who died in the Holocaust in an effort to support Link."
This article has been updated with comment from ADL.