Nazis Take Anger Over Kate Steinle Verdict to White House, Where They Are Outnumbered By 'Antifa'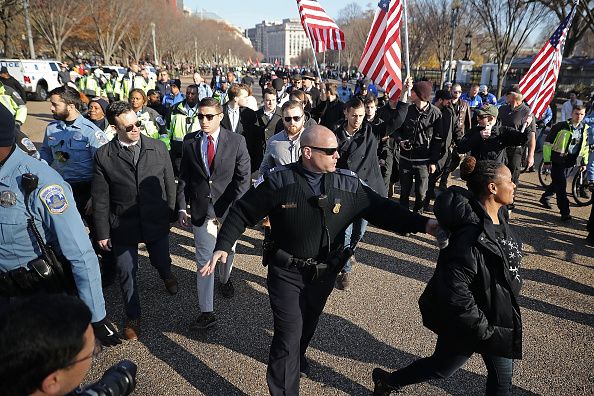 President Trump and Fox News aren't the only ones angry over the verdict in the Kate Steinle trial, wherein undocumented Mexican immigrant Jose Ines Garcia Zarate was acquitted of first- and second-degree murder, as well as most of the charges he faced.
Neo-Nazis and white nationalists, many of whom were present in Charlottesville, Virginia, this August when a young man allegedly murdered antiracist activist Heather Heyer, gathered in front of the White House this afternoon to use Steinle's death to call for stricter laws on immigration. The group, which numbered at roughly two dozen, according to eyewitnesses, featured Richard Spencer, the man who has become synonymous with so-called alt-right politics. It also featured Matthew Heimbach of the explicitly National Socialist group Traditionalist Worker Party (TWP) and Mike Enoch, a white nationalist blogger that has become a mainstay at events like these.
The group was met by anti-fascist protesters ("antifa"), who more than doubled them in number, according to eyewitnesses and streaming video of the event. These men and women waved red-and-black flags and shouted the protesters down with slogans like "Nazi punks fuck off!" The pop-up event lasted 20 minutes before Nazi and white nationalists protesters, backed by a police escort, disappeared into Washington, D.C.
Spencer at one point addressed Donald Trump directly, yelling through a microphone that, "Kate could have been your daughter, too."
"Kate Steinle's death has touched everyone that's here," Spencer yelled. "She represented everything that is white and wonderful about this country."
But he also appeared frustrated by the counterprotesters, and broke away from his speech at several points to attempt to ridicule them.
Garcia Zarate, born in Mexico, had been released from a San Francisco jail after a minor drug charge was dismissed before the killing. U.S. Immigration and Customs Enforcement (ICE) issued a detainer for him, but he was ultimately released under the city's sanctuary laws. Trump, as well as ICE Deputy Director Tom Homan, have spoken out over the verdict. Trump has called it "disgraceful."
But civil liberties advocates have noted that while the trial might have fit neatly into the president's message of ramping up deportations and tightening immigration laws, the evidence presented by prosecutors didn't support the charges that Garcia Zarate faced.
"[The] outcome of the Kate Steinle murder trial is not surprising, when knowing the facts about the bullet ricochet," Sam Knight, co-founder of the left-leaning publication District Sentinel wrote in a tweet. "Right-wing rage at [the courts] tells you everything you need to know about their love of "law and order" – non-existent when due process inconveniences racism."
Neo-Nazis and white nationalists have embraced the anger over the verdict by conservatives to draw more attention to their cause, using the hashtag #buildkateswall, referring to the president's unfulfilled campaign promise of building a wall along America's southern border. This isn't the first time they have attempted to take ownership over an issue that angered mainstream conservatives. In September and October, they tried to use anger over the NFL protests to increase recruitment by rebranding as "American Nationalism," a phrase that did not exactly take off with the press. Organized racists have also struggled to hold successful public rallies following the violence that took place in Charlottesville, Virginia, this August.
"After this small event, which was drowned out by counter-protesters and didn't last 30 min, you can see why public events have fallen out of favor on the far right after Charlottesville," Will Sommer, campaign editor for The Hill, wrote in a tweet about their brief appearance in D.C.