Neo-Nazis and White Nationalists Are Recruiting Trump Supporters Who Are Mad at Colin Kaepernick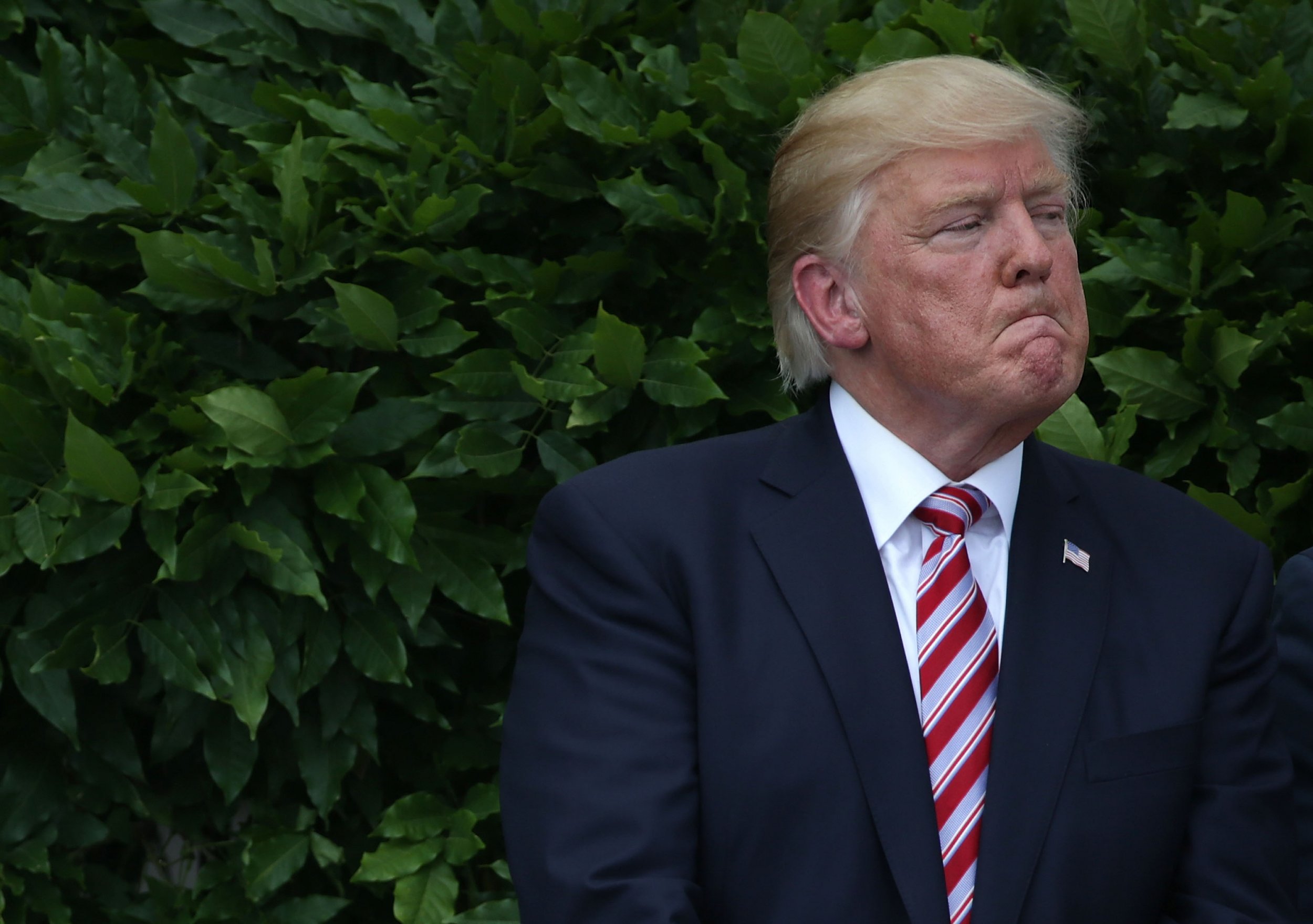 White nationalist organizer Billy Roper says the job of recruiting people to his cause—building a white ethnostate—starts with something as mundane as a trip to Walmart.
"I could be at the grocery store and be next to someone at the produce aisle and simply say, 'Wow, can you believe the price of produce these days?'" he tells Newsweek of the way he starts conversations on the subject in his hometown of Mountain View, Arkansas. The Southern Poverty Law Center calls Roper "the uncensored voice of violent neo-Nazism."
His "agitation" technique—highlighting shared grievances in an effort build up feelings of solidarity for a political cause—would be familiar to any labor organizer. But in an era in America when union participation is declining, inequality is widening and mistrust of authority is spreading, Roper and others are building alliances not based on shared economic interest but on the color of human flesh. Referring to the range of tolerated ideas in public discourse, he says President Donald Trump's election helped "shift the Overton window far enough to the right" for him to make new inroads.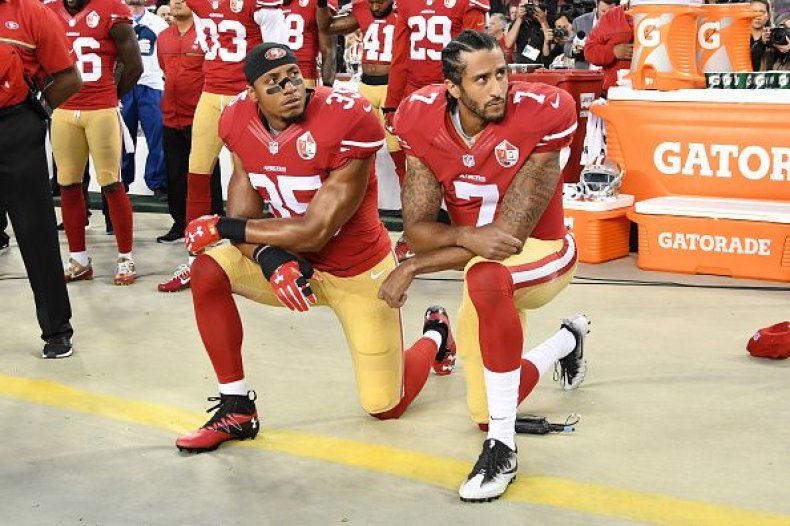 Enter Colin Kaepernick. The former San Francisco 49ers quarterback helped launch an influential protest movement over America's treatment of people of color that has gone on for two NFL seasons now, spreading across teams throughout the league. The protest movement has been harshly condemned by President Donald Trump and by Vice President Mike Pence, who walked out of an Indianapolis Colts game on Sunday because he "would not dignify any event that disrespects our soldiers, our Flag, or our national anthem." He said that even as white nationalists, neo-Nazis and other elements on the extreme far-right are actively swooping in to exploit feelings of anger in Trump's base, in an effort to ramp up their organizations, according to online propaganda and multiple sources who spoke to Newsweek.
"We all have tribal instincts that we need to sublimate through sports, but now politics has overtaken the game," Roper says of the NFL protests. "My bet is that when politics is on the field, whites will choose to identify with the white uniform they were born with."
Roper's comment will undoubtedly sicken civil rights activists like Kaepernick, who have been warning of the threat of white supremacy in the United States long before Trump made his now infamous "both sides" remark about that violence that took place in Charlottesville, Virginia, in August. But his words help give an indication of how white nationalists seek to radicalize passive white conservatives—"normies," as they're sometimes called by members of the so-called alt-right—and turn them into people willing to actively fight against things that many take for granted, like the social integration of different races in America.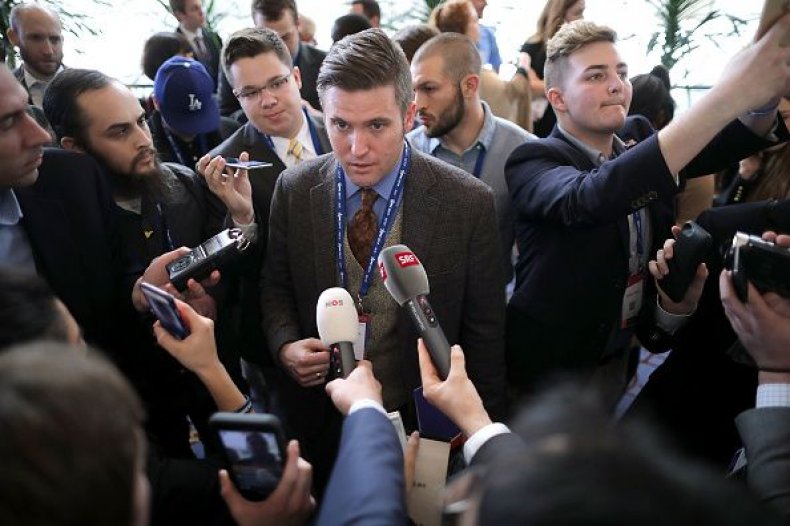 Richard Spencer, whose name and face have become ubiquitous with the white nationalist movement, tells Newsweek about how the NFL has opened up avenues of recruitment. "Kaepernick explicitly said this about race: The people who gravitate to flag waving and that sort of kitsch are usually white people. So, we will gladly take on those symbols" for the white nationalist movement.
Propagandists for the white nationalist cause are now adapting the rhetoric they use to frame the cultural debate around issues of patriotism. A white nationalist rally scheduled for December in Charlotte, North Carolina, which was ultimately canceled over security concerns, was billed as the "March Against Communism," for example. Vanguard America, a white nationalist organization, has formed a group called "Patriot Front" in recent months, according to antifascist activist Kit O'Connell, who noted to Newsweek that the group had stripped itself of some of the more overtly fascist symbols it employed in favor of more traditional images associated with Americana.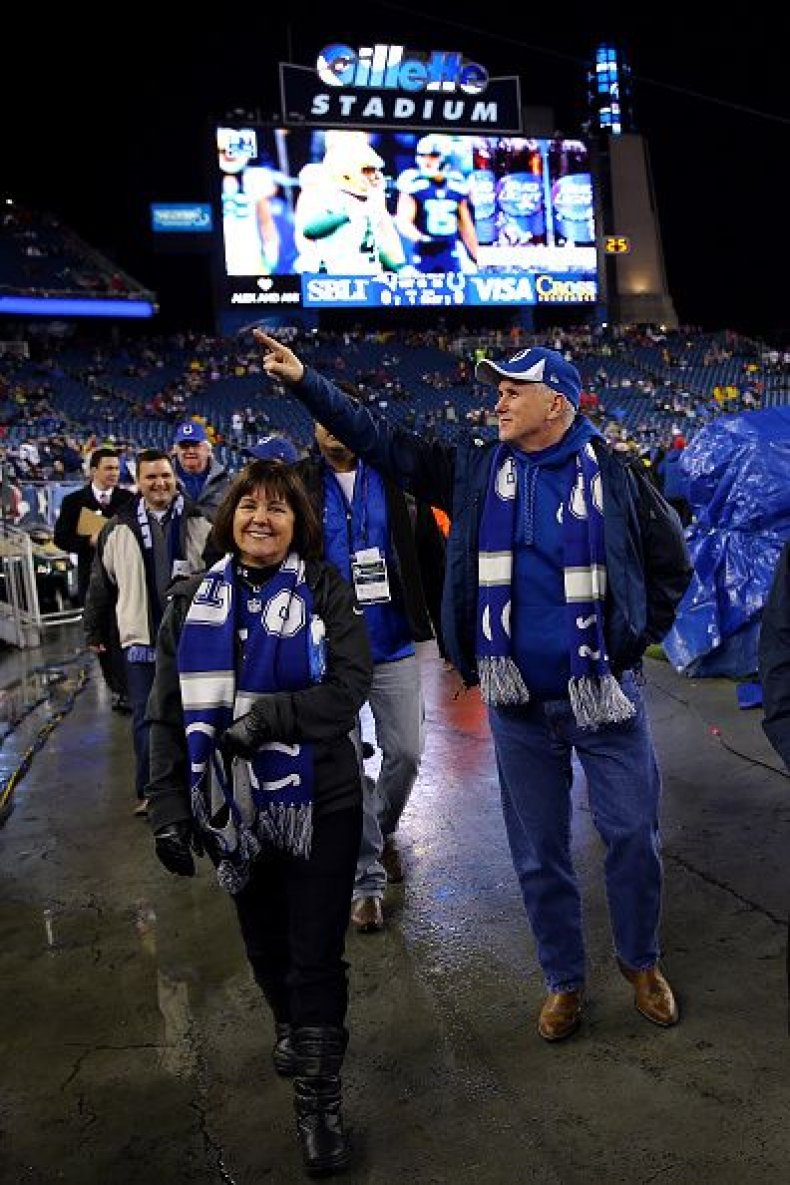 The Daily Stormer, a millennial-geared neo-Nazi propaganda website that filters its retelling of cultural events through the lens of Editor Andrew Anglin's paranoia about Jews, hatred of non-whites and entry-level appreciation of hipster culture, has published several posts suggesting that believers in "alt-right" politics adopt a banner of "American Nationalism"—a phrase intended to underscore the degree to which Anglin believes black NFL players and leftists lack patriotism.
"We now have the ability to rally all whites who do not agree to surrender their identity as an American around the ideology we have formed as the Alt-Right," Anglin, an open admirer of Adolph Hitler, writes about the NFL protests. "This is the moment we've been waiting for. We can be the carriers of the torch of the American nation and ride in, draped in the flag, as saviors of the people. Saving from the alien Jew and his evil hordes of brown invaders. The people will have no choice. We're going to be the only ones there to defend them."
This deliberately divisive rhetoric is nothing new, according to Joshua Rothman, professor and chairman of the Department of History at the University of Alabama.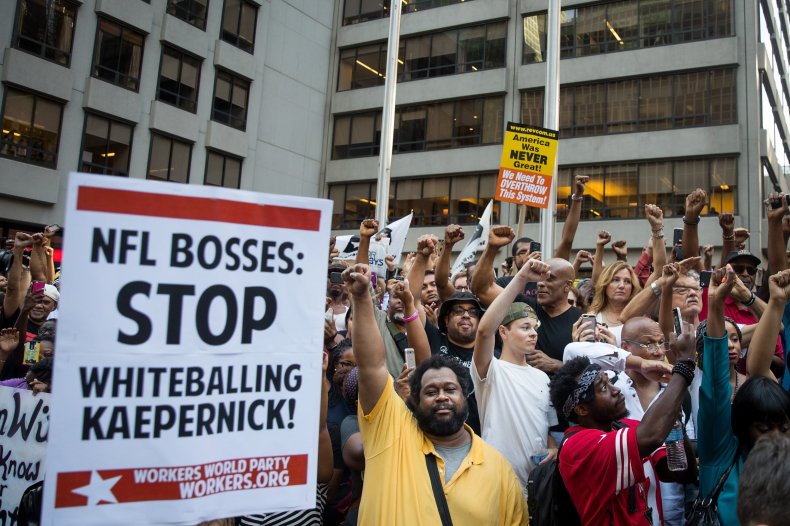 "If we look back on white reactions in America to black protests of any kind," Rothman tells Newsweek of the NFL protest movement, "there are many white people who just find it unacceptable."
Rothman notes that the KKK employed similar rhetoric to recruit members during the civil rights era. So did the John Birch Society, a far-right conservative advocacy group that places a strong emphasis on communist conspiracies.
"Being explicitly pro-Nazi has a narrow appeal for the far right," Rothman notes. "So, some conservatives do get sucked in on these ideas and end up being shocked" at what the people around them really believe.
The phenomenon creates headaches for civil rights activists and those on the other side of the political spectrum who sometimes struggle to make inroads with the kind of white men being targeted for recruitment by white nationalists. The way to counter it, according to leftists with whom I spoke, is to appeal to people's economic interests, rather than engage into a heated argument about patriotism.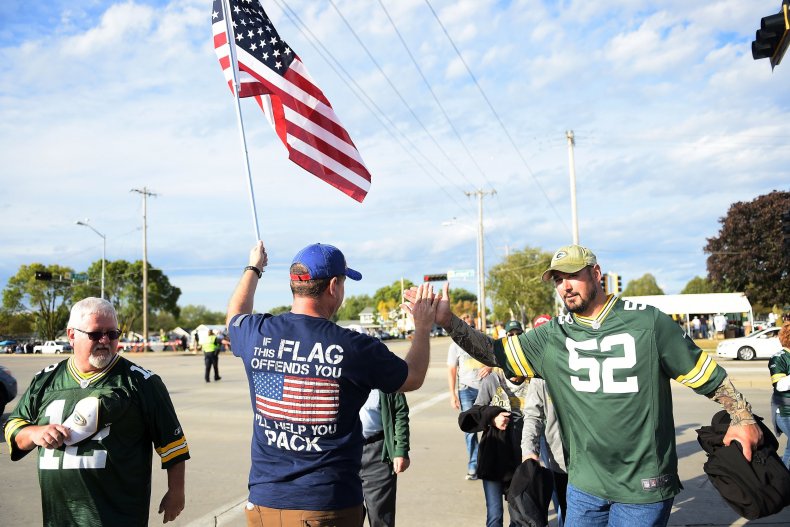 R.L. Stephens, a writer, organizer, and member of the Democratic Socialists of America National Political Committee, tells Newsweek that the framing of the cultural debate is misleading, and suggests that people like Spencer are more interested in power than helping whites.
"Richard Spencer's most important identity isn't white. It's landowner. He and his family own cotton fields in Louisiana and have received over $2 million in farm subsidies from the federal government. He does not care about flags, and frankly he doesn't truly care about white people either," Stephens opines, noting that 10 percent of white households in America live on less than $15,000 a year.
Shuja Haider, an editor for the left-leaning Viewpoint Magazine, says that to combat tactics like the ones described by Roper and others, activists on the other side of the debate have to fight for something, rather than simply against white nationalism.
"I think that in politics, you can't skip the step of arguing the affirmative," he adds. "It's not enough to be against inequality. You have to be for equality, otherwise you aren't standing up for anything at all."