'NBA 2K18' 2KTV Episode 32 Answers & Week 33 Challenges Revealed
NBA 2K18 has a new episode of 2KTV and a fresh crop of Weekly Challenges. In this short guide, we'll give you all the answers and tips you should know to maximize your VC and MT cash flow. The full details are below.
'NBA 2K18' 2KTV EPISODE 32 ANSWERS
Any answer
13.9 PPG
43 percent
Any Answer
Seven games
Jayson Tatum
Any answer
Any answer
The Proving Ground
Any answer
Any answer
John Starks
Kings
Any answer
As always the questions can't be redone once you've responded to them. So, if you want the most VC, make sure you press those buttons correctly. There are lots of "any answers" which is nice, but you'll get the biggest reward for nailing ones with specific responses. If you want to watch 2KTV episode 32 without the hassle of the questions, we've embedded it above.
'NBA 2K18 WEEK 33 CHALLENGES
This week the challenges are all about MJ himself. Here are all the key details and gameplay requirements you should know to get those top-tier cards for your MyTeam.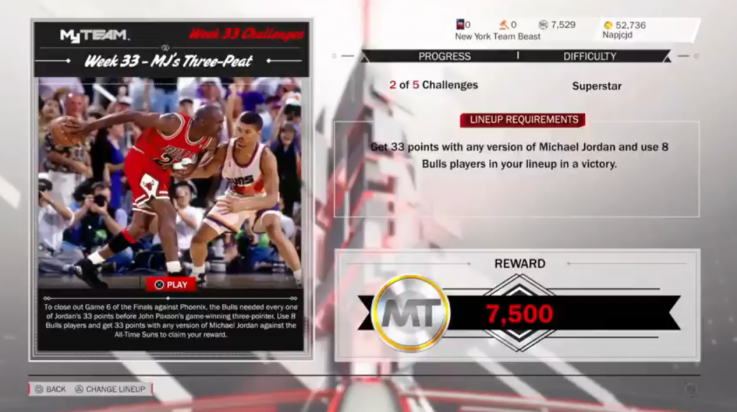 MJ's Debut: Play against the Wizards on Rookie and score 16 points with any version of Michael Jordan. [four-minute quarters, 600 MT]
MJ's First Title: Use eight Bulls players in your lineup against the Lakers and win the game on Pro. [five-minute quarters, 3,000 MT]
MJ's Three-Peat: Play against the Suns on Superstar with eight Bulls players. Use any version of Jordan and score 33 points. [six-minute quarters, 7,500 MT]
MJ's Flu Game: Play against the Utah Jazz on Superstar with eight Bulls players. Use any version of Jordan to score 38 points. [five-minute quarters, Jordan Day Pack]
MJ's Sixth Title: Play against the Utah Jazz on All-Star. You have four minutes in the fourth quarter with a five-point deficit. Use any version of Jordan and win. [1,000 MT]
If you can accomplish those feats, you'll get a bunch of MT and high-level Jordan cards from the pack reward in Challenge 4. The set kind of defeats the purpose of any grind you may have done to get a Pink Diamond Jordan, but at least you've got a ton more currency as a consolation prize.
NBA 2K18 is available now on PS4, PS3, Xbox One, Xbox 360, Switch and PC. The Weekly Challenges and requirements are consistent across platforms.
What are your thoughts on the Week 33 Challenges and the latest episode of 2KTV? How to you plan to spend that extra MT? Tell us in the comments section!
'NBA 2K18' 2KTV Episode 32 Answers & Week 33 Challenges Revealed | Gaming