'NBA 2K19' Anniversary Edition Has LeBron on Cover, Release Date Revealed
NBA 2K19 20th Anniversary Edition has been revealed by 2K Games, and, as you can see below, it's got Cavs superstar LeBron James on the cover. The news was accompanied by a live-action trailer recapping James' career highlights. Rappers 2 Chainz, Rapsody and Jerreau accompany the footage with a stirring spoken word performance.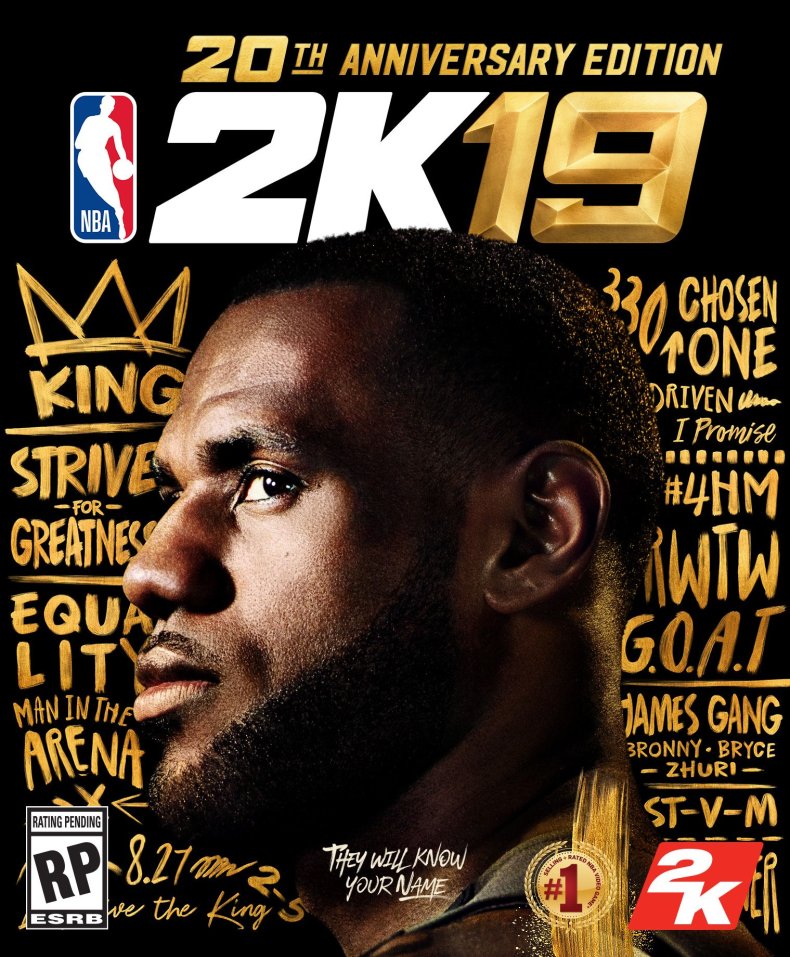 Much like last year's NBA 2K18 Legend Edition featuring Shaquille O'Neal, the 20th Anniversary Edition is a spiffier version of the $59 standard game. It releases Sept. 7 and comes with the following perks to justify its $99 price tag.
Play four days early
100,000 VC
50,000 MT
20 MyTeam League Packs (delivered weekly)
Sapphire LeBron James MyTeam card
10 MyTeam Heat Check Packs (delivered weekly)
Five LeBron James court murals for MyCourt
LeBron MyCourt skin
Lebron MyPlayer gear including 25 pairs of shoes
A 2K19 LeBron James poster
NBA 2K sticker sheet
A LeBron James wristband
The last three items are physical and are not included with digital purchases of the 20th Anniversary Edition.
The trailer doesn't show off much of the gameplay footage most 2K19 fans would care about, but it certainly establishes the game's tone for future reveals at E3 and beyond. Given 2K19's focus on LeBron and the tagline "they will know your name," it potentially tells us a lot about the game's Prelude demo or MyCareer mode. Emphasizing an athlete like LeBron, who was drafted out of high school, it's possible your MyPlayer might be privy to a similar path to greatness.
It's possible the 20th Anniversary Edition cover athlete may not be the same as the one on the standard edition. For example, while Shaq was on the Legend Edition last year, Kyrie Irving was featured on the $59 retail game.
Speaking of which, following the emergency cover swap that took place last year after Irving's surprise trade to Boston, it's possible 2K might find itself in the same position, given James' uncertain future in the season to come. He may stay with the Cavs, but could also join the Lakers if the right deal is made. Considering this cover emphasizes history, though, maybe the logo on the uniform doesn't matter.
NBA 2K19 comes to Xbox One, PS4, Switch and PC Sept. 11.
What are your thoughts on LeBron James gracing the NBA 2K19 20th Anniversary Edition cover? Will you pay the extra money for all those goodies? Tell us in the comments section!