'NBA 2K20' 2KTV Episode 8 Answers, Rewards & Free VC
NBA 2K20 2KTV episode 8 has arrived, and it promises more than 2,000 VC for answering some very easy trivia questions. Thankfully, we've got all the big answers you should know to maximize your payout. Want to upgrade your MyPlayer or dig deeper down the MyTeam rabbit hole? We're here to help.
NBA 2K20 2KTV Episode 8 Answers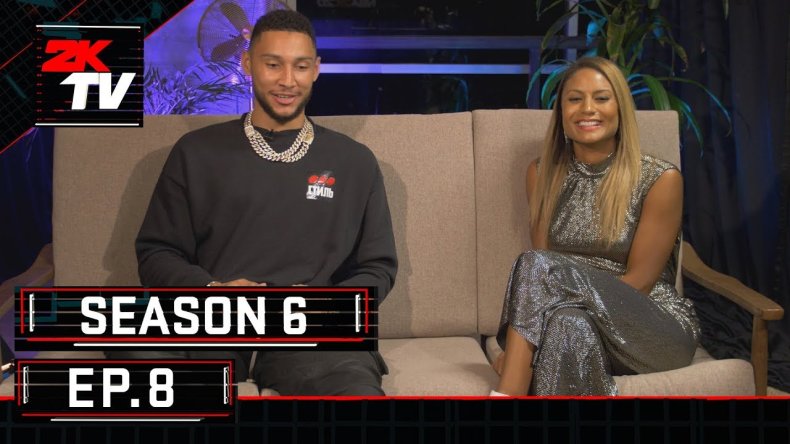 What is Ben Simmons' overall rating? 87 [200 VC]
Which weekend 2K Compete Event will you be playing? Any [100 VC]
Which card from the Lights Out pack would you want most? Any [100 VC]
Who was the NBA 2K19 Australian cover athlete? Ben Simmons [200 VC]
What Gem Level is Ben Simmons' current MyTEAM card? Sapphire [2KTV Clothing Item]
Who did the 76ers beat in the first round of the playoffs? Nets [200 VC]
What team are you going to play on? Any [100 VC]
What team are you going to play on? Any [100 VC]
Which one of these contenders do you think is most likely to win? Any [100 VC]
What is your overall rating? Any [100 VC]
Which current 76ers player would you choose? Any [100 VC]
When did Ben Simmons make his first All-Star Team? 2019 [200 VC]
Which Award did Poorboysin win the last two seasons? Playground Legend [200 VC]
Besides Point Guard, what position do you see the most of? Any [100 VC]
Which of these players have you seen? Any [100 VC]
What MyRep level do you have to reach to be featured on an episode of 2KTV? Legend [200 VC]
Vote for your #2KTVWOW Top Play of the Month Any [100 VC]
Who do you think is the best passer? Any [100 VC]
Get your unlimited Newsweek trial >
Compared to the past two weeks episode 8 of 2KTV is far more open-ended, with players being able to select any of the four possible options to get a small VC payout for a majority of the questions. Just because there's slightly less skill involved in the process, however, that doesn't mean its rewards are any less important. Like most recent editions of NBA 2K before it, NBA 2K20 places heavy reliance on VC as a means of character progression and cosmetic currency. Because VC is simultaneously tied to so many of the game's systems, it helps to seek out as much free VC as possible. Even with all the freebie questions in episode 8, the purse at the end is essentially the same as it's always been. With that in mind, you'd be silly to not take advantage of the offer.
NBA 2K20 is available now on Xbox One, PS4, Switch and PC.
What are your thoughts on NBA 2K20 so far? Did you get all the correct 2KTV answers for episode 8? Tell us in the comments section!
'NBA 2K20' 2KTV Episode 8 Answers, Rewards & Free VC | Newsgeek