'NBA 2K20' 2KTV Episode 9 Answers, Rewards & Free VC
NBA 2K20 has a new episode of 2KTV, and, just like the others, episode 9 offers a path toward free VC and an unlockable clothing item. Want at least 2,000 Virtual Currency to buff your MyPlayer or buy them some cool threads? Take a look at the answers below for all the details.
NOTE: While all the trivia questions listed below do appear during 2KTV episode 9, they may do so in a different order than what's listed here. As such, fans should keep a close eye on the full list of answers before starting the episode.
NBA 2K20 2KTV Episode 9 Answers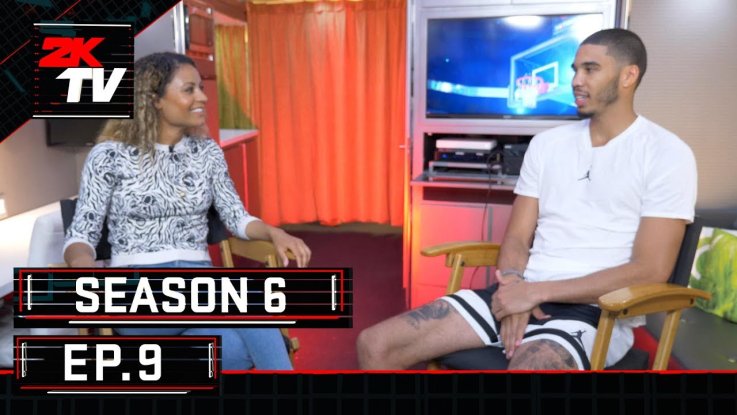 What is one of the prizes Choc DF received? Answer: Got Next VIP & Free Copy of NBA 2K21 [200 VC]
What award did Jayson Tatum win in his 2018 rookie season? Answer: All-Rookie First Team [200 VC]
Where do you play Jayson Tatum 1v1 in MyCAREER? Answer: St. Louis [200 VC]
What All-Star event did Jayson Tatum win? Answer: Skills Challenge [200 VC]
What is Jayson Tatum's overall rating? Answer: 85 [200 VC]
What gem level is Jayson Tatum's current card? Answer: Emerald
What build will you bring to the events? Answer: Any [100 VC]
Which one of these players from the Tim Duncan Prime Series pack has won the most NBA championships? Answer: Bruce Bowen [200 VC]
Do you think Handdatank will beat the 2KTV Challenge? Answer: Any [100 VC]
Who was the first community member to try the 2KTV Challenge? Answer: RedCityBoy [200 VC]
Which current SF would you choose to take on HoF Anthony Davis? Answer: Any Answer [100 VC]
What are your favorite types of #2KTVWOW Top Plays? Answer: Any [100 VC]
Vote for your #2KTV Top Play of Fall Answer: Any [100 VC]
Vote for your #2KTV Top Play of Fall Answer: Any [100 VC]
Just like episode 8 of 2KTV in NBA 2K20, episode 9 is pretty self explanatory in terms of offering players plenty of opportunities to get free VC just for offering their opinions on basic subjects. This week's actual trivia questions, though, are pretty challenging, which makes knowing the above-listed answers all the more important. There's about 1,000 extra VC in it for those who get all the skill-based questions right, and that's a lot of free currency to potentially waste. Just like several NBA 2K games before this one, NBA 2K20 places heavy reliance on VC as a means of MyPlayer progression and clothing purchases. Since it's tied to so many systems at once, getting as much free VC as possible is hugely helpful when it comes to staying competitive.
NBA 2K20 is available now on Xbox One, PS4, Switch and PC.
What are your thoughts on NBA 2K20 and episode 9 of 2KTV? Did you get all the trivia answers right? Tell us in the comments section!
'NBA 2K20' 2KTV Episode 9 Answers, Rewards & Free VC | Newsgeek