'NBA 2K20' Demo Release Time & How to Download on PS4, Xbox One & Switch
NBA 2K20 is almost here, and the game's developers at Visual Concepts have a free MyCareer demo to prove it. Below, we detail the demo's release time and basic download process across PS4, Xbox One and Switch.
When does the NBA 2K20 Demo release?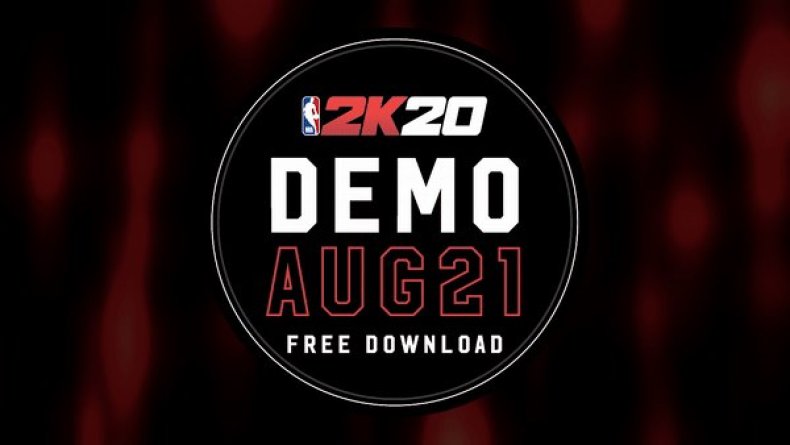 The NBA 2K20 Demo is expected to be released at 11 a.m. EDT August 21 on PS4, Xbox One and Switch. There is no pre-load available, and other regions will not be able to download the content early.
How do I download the NBA 2K20 Demo on PS4, Xbox One and Switch
To get the NBA 2K20 Demo, all you have to do is follow the traditional digital download process for your console once the release time arrives.
Open the PlayStation Store, Microsoft Store or Nintendo eShop.
Search for NBA 2K20 or NBA 2K20 Demo. Select the search results and confirm the download. If the store is not working, try these links: PS4, Xbox.
Finish the download, try out the new MyPlayer Builder and start working your way through the early moments of MyCareer.
What to expect from the NBA 2K20 Demo
The NBA 2K20 Demo is essentially your first look at the early moments of MyCareer and the game's new freeform MyPlayer Builder. Under the new system there aren't traditional Archetypes. Your players archetype is formed based on the stats you invest in most. Players put four basic points into Playmaking, Finishing, Shooting or Defense to get started. These builds can then be tested at any Overall level before starting your journey. Learn more details about Badges and Turnovers here.
As for story, the NBA 2K20 Demo is a new cinematic experience produced by LeBron James starring Idris Elba, Rosario Dawson, Charles Miner and more. Take your player through the early ranks of the NBA as he adjusts to the realities of trades, training and more. The basic idea looks similar to other Prelude demos, but the 2K20 offering features a fairly serious tone. That's all we know about the NBA 2K20 Demo for now.
NBA 2K20 releases September 6 on Xbox One, PS4, Switch and PC. The demo releases August 21 at 11 a.m. EDT.
Will you be downloading the NBA 2K20 Demo as soon as it releases? What are your thoughts on the MyCareer trailer? Tell us in the comments section!