'NBA 2K20' Soundtrack Released on Spotify - Tracklist Has Cardi B. & Travis Scott
NBA 2K20 finally has a soundtrack, and you can listen to it for free by clicking this link on Spotify. So far the playlist features nearly four dozen tracks from the likes of Travis Scott, Drake, Cardi B. and more. For the first time ever, the list of songs will grow as the season continues. Here's every cut on the album so far for those who don't have an account.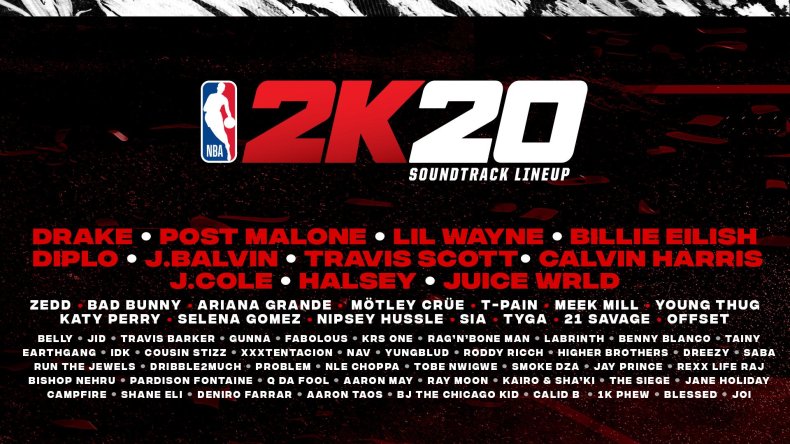 "Strawberries (feat. BJ the Chicago Kid)" - JID & BJ the Chicago Kid
"Hear Me Calling" - Juice WRLD
"Proud Of U (feat. Young Thug)" - Earthgang & Young Thug
"Mansa Musa" - Cardi B & Limitless Soundz
"Legacy (feat. Travis Scott & 21 Savage)" - Offset
"I Can't Get Enough" - Benny Blanco & Selena Gomez
"whoa (mind in awe)" - XXXTENTACION
"200 mph" - Bad Bunny & Diplo
"Run it Down" - Jay Prince
"Big Shot" - Gunna
"Dribble2Much (feat. Problem)" - Dribble2much
"MC's Ain't Like They Don't Know" - KRS-One
"Swishhh" - Dribble2Much
"Down (feat. Joi)" - Run the Jewels
"Butterfly" - Cousin Stizz
"Sandra's Rose" - Drake
"Play Wit Ya" - Dreezy
"Audio" (feat. Sia, Diplo & Labrinth)" - Sia
"Win (feat. Kenny Beats)" - Q Da Fool
"MyBoi - TroyBoi Remix" - Billie Ellish
"11 Minutes (with Halsey feat. Travis Barker)" - YUNGBLUD
"We Did It" - 1K Phew & WHATUPRG
"Wow - Remix" - Post Malone & Roddy Ricch
"Beautiful Smile" - Sabba & IDK
"I Don't Need No Help" - NLE Choppa
"I'M DOPE" - Tobe Nwigwe & David Michael Wyatt
"Grinding All My Life" - Nipsey Hussle
"Maintain" - Bally & NAV
"Uptown Vibes (feat. Fabulous & Anuel AA)" - Meek Mill
"Goat Talk" - (feat. Lil Wayne) - T-Pain
"365 - KUURO Remix" - Zedd, Katy Perry & KUURO
"Control" - Aaron Taos
"Superfly" - BLESSED
"Ran Off" - Denino Farrar & JAYWAYSOSA
"MONOPOLY (with Victoria Monet)" - Ariana Grande
"Live Wire" - Motley Crue
"Giant (with Rag'n'Bone Man)" - Calvin Harris
"Digital" - IDK
"How Did I Get Here (feat. J. Cole)" - Offset
"Superhuman (feat. Shane Eli)" - Campfire
"16 Hours" - Higher Brothers
"Something to Believe In" - Jane Holiday
"We Came to Win" - Kairo & Sha'Ki
"Rodman" - Pardison Fontaine
"So Sorry" - Ray Moon
"Back Up" - The Siege
For NBA 2K20, the soundtrack is compiled with help from the UnitedMasters music distribution service. Nine of the brand's artists are featured in the game itself, but there has already been a tease for more NBA 2K-related announcements in the future. Generally speaking, this year's soundtrack doesn't veer too far from the series' signature blend of hip-hop, EDM and pop tunes. We'll be interested to see if additional tracks are added to the actual game, or if they'll simply be tacked on to the end of this playlist. At least initially, there's a lot to like no matter which genre of music you prefer.
This NBA 2K20 soundtrack reveal arrives just a handful of days after the debut of the title's first player ratings. So far Visual Concepts has been dead silent with regard to the game's features, but we expect it won't be long before we hear more details along those lines.
NBA 2K20 releases September 6 on Xbox One, PS4, Switch and PC.
What are your thoughts on the NBA 2K20 soundtrack so far? Are there any artists missing from the tracklist? Tell us in the comments section!