'NBA 2K21' Agent Guide - Is Archie Baldwin or Harper Dell the Best Choice?
NBA 2K21 has a totally new MyCareer story that presents future NBA stars with more choices than ever before. Chief among them is the selection of your Agent, which has an impact on your VC payouts, how you accrue fans and even some of the brand endorsements you'll receive along the way. Should you sign with Archie Baldwin or Harper Dell? In this guide, we'll do our best to help you make that decision.
Archie Baldwin Vs Harper Dell - The Basics
Towards the end of your college run in the MyCareer story of NBA 2K21, Junior will have the opportunity to sign with two different Agents to further his career. The advantages and disadvantages of each are clearly explained in-game, but here's a recap of the differences for those who are just starting out.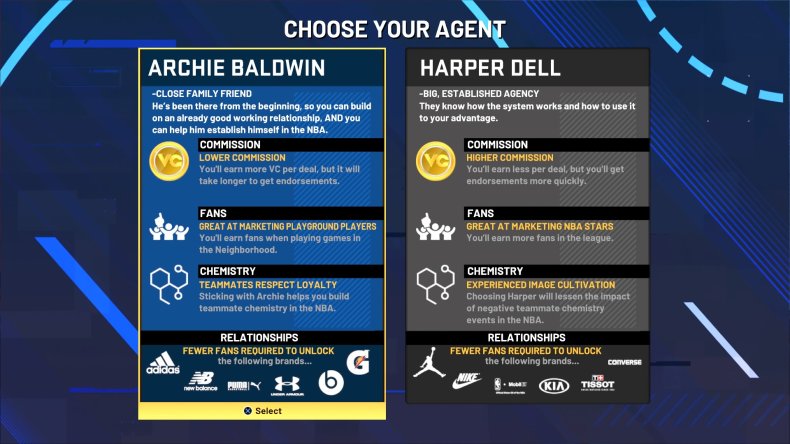 Archie Baldwin
Close Family Friend: He's been there from the beginning, so you can build on an already good working relationship, AND you can help him establish himself in the NBA.
Commission - Lower Commission: You'll earn more VC per deal, but it will take longer to get endorsements.
Fans - Great at Marketing Playground Players: You'll earn fans while playing games in the Neighborhood.
Chemistry - Teammates Respect Loyalty: Sticking with Archie helps you build teammate chemistry in the NBA.
Relationships - Fewer fans required to unlock: Adidas, New Balance, Puma, Under Armour, Beats and Gatorade.
Harper Dell
Big, established agency: They know how the system works and how to use it to your advantage.
Commission - Higher Commission: You'll earn less per deal, but you'll get endorsements more quickly.
Fans - Great at Marketing NBA Stars: You'll earn more fans in the league.
Chemistry - Experienced Image Cultivation: Choosing Harper will lessen the impact of negative teammate chemistry events in the NBA.
Relationships - Fewer fans required to unlock: Air Jordan, Nike, Mobil, Kia, Tissot and Converse.
So which Agent should you choose?
Since this is an early-game moment in your MyCareer, it doesn't appear that the choice between Archie and Harper has that big of an impact and should mostly be decided along the lines of personal preference. Your decision could be based on three factors:
Character: Are you a huge fan of The Wire or Michael K. Williams? The only way you'll see more Archie is if he's your Agent.
What do you like to play: If you play more Park or Pro-Am games, Archie is the right choice. If you prefer to experience MyCareer through the NBA storyline, then Harper makes more sense.
Specific endorsements: Is there one particular endorsement on the above list that you really want to have early on? Then maybe side with that Agent. It should be noted, however, that at some point you'll have the opportunity to get any brand deal you want regardless of the Agent you choose. In other words, you can still get a Converse brand deal at some point even if you sign with Archie.
Given that NBA 2K21 has only been out for a few hours, there's still a lot we don't know about the Agent choice that kicks off your journey. That being said, based on our playtests, even the above-listed advantages aren't that significant. As long as you play well, you can still get tens of thousands of fans each game at the Park or in the NBA even if you have the opposing Agent. There may be slight buffs here and there and some plot changes dictated by your choice, but don't stress too much about picking the "wrong" one. There is no wrong answer.
The only reason this subjectivity could change is in regard to VC glitches or farming methods. Through the past few years of NBA 2K, endorsements have been key to loopholes for grinding VC. While we haven't seen how VC glitches will work in NBA 2K21 quite yet, it may help to start with Harper so you can have an endorsement to exploit faster. By and large, however, your Agent choice is kind of up to you. At least right now, neither seems to have a clear advantage over the other.
NBA 2K21 is available now on PS4, Xbox One, Switch, PC and Stadia.
What do you think of NBA 2K21 so far? Did you go with Archie Baldwin or Harper Dell? Tell us in the comments section!