'NBA 2K21' MyTeam Explained - Badges, Limited Mode, Season Rewards & More
NBA 2K21 features a brand-new MyTeam mode that is deeper, more customizable and more rewarding than ever. In a detailed blog post, Visual Concepts Executive Producer Erick Boenisch outlines everything collectors should know about the new suite featured in this year's game. Badges are back, MyTeam Limited is a thing and seasons are about to make their debut. Here are the highlights fans should know from the content-rich explanation.
Next-Gen
Generational family cross-progression, and you can even swap between generations at will.
Next-gen NBA 2K21 will feature different gameplay and Badges that will convert at will to its closest counterpart.
Free Seasons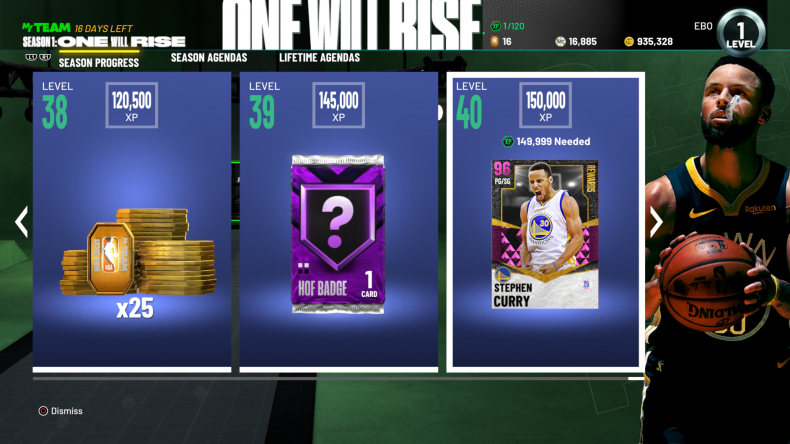 Seasons include new prizes across most modes.
New features in modes every season.
Seasons last about six weeks.
Daily, weekly and seasonal challenges for XP that works towards a seasonal reward.
Pink Diamond Steph Curry is the Season 1 overall reward.
New tiers will periodically be added to Domination.
New cards will be added to the market each season.
Triple Threat
New Vault and Cumulative Win prizes each season.
Triple Threat has a win threshold, but you can grind for Vault prizes after you hit it.
New TT board screen clearly shows the latest prizes.
The ball drops faster!
MyTeam Limited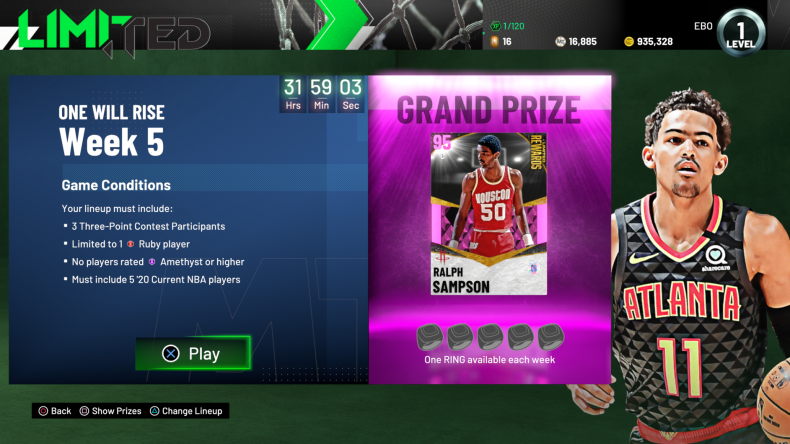 Fri-Sun with changing event rules that restrict lineups based on attributes such as age.
5v5 quest for Championship Rings.
Win and get a defined prize or trade it in for a mystery prize.
Rings are traded in every season for a prize based on the number of rings.
Getting every ring in a season gets you a high-value Grand Prize card.
MyTeam Unlimited
Nine leagues to play through with up to 12 games each.
Number of wins required to advance leagues increases each time.
If you lose, you need to win more games to stay at your current level.
Exclusive prize for going 12-0 in the final league.
Records reset seasonally with a new Grand Prize.
Exchange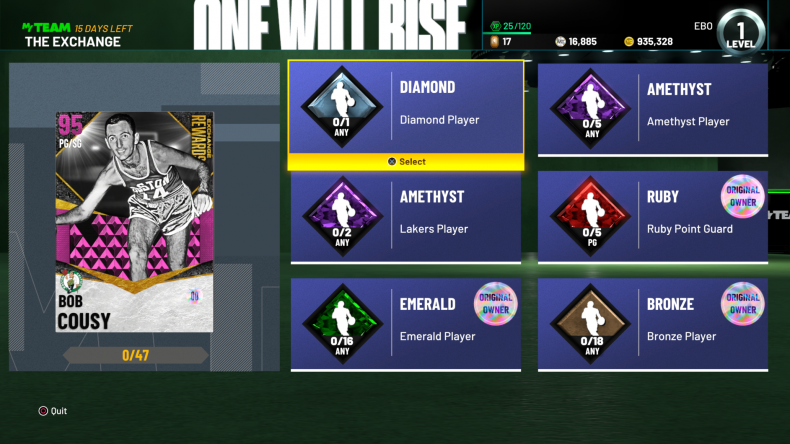 Exchange groups of cards for prizes.
Seasons contain new exchanges for exclusive cards.
Some rewards may look bad initially but may pay off in MyTeam Limited later.
Convert silver/gold contracts into diamond contracts or diamond shoes.
Badges
Bronze, Silver, Gold and Hall of Fame.
You need the previous level Badge to upgrade to the next tier.
Badges are limited by player archetype.
Evo cards can't get Badges this way.
Evo Customization
Players choose between branches to decide how Evo Badges are assigned.
Ascension
A new chance mini-game to earn rewards.
Players have a limited number of chances to try their hand at flipping over groups of 36 cards.
Those cards may offer MyTeam Points, Tokens or Packs.
Special Ascension Cards allow you to ascend to pick from a better quality group of 36 cards.
Players can also earn more chances to flip.
There is also a Grand Prize here, but it's hard to get
IDOLS series
Coveted collection starts in September and is spread across 15 releases with five cards per Series.
There are unique rewards for completing a Series.
IDOLS are past and present players.
Other
Signature Challenges are a new type of challenge chosen by players.
Grand Prizes include a Season Level prize, the Unlimited prize, the Limited prize, the Triple Threat Offline prize and the Ascension prize.
Tracker allows nine goals to display so you can keep track of all these objectives.
In other words, no matter which NBA 2K21 MyTeam mode is your favorite, there will be ample opportunities to earn Grand Prizes and smaller rewards for playing it. Those who make the most of the complete suite will have a greater chance of earning the seasonal reward, though, so you'll need to be well-versed to have the best chance at getting the best cards. While the new seasonal approach offers fans more regular interaction across every mode, this new collection of options surely won't sway those who never liked MyTeam's chance-based mechanics to give it a shot. For that passionate cult who likes to gamble on a fantasy experience, however, there are more chances to win, customize your existing cards and make use of ones you no longer want. Overall, this is a pretty compelling offering for a rather divisive style of gameplay.
NBA 2K21 releases September 4 on PS4, Xbox One, Switch, PC and Stadia. The next-gen version comes to PS5 and Xbox Series X this holiday.
What do you think of NBA 2K21 MyTeam based on these options? Do you like the seasonal approach and return of Badges? Tell us in the comments section!