'NBA 2K21' MyTeam Season 2 Revealed With New Rewards and Vince Carter Code
NBA 2K21 MyTeam Season 2 has officially been announced, and it's called "Next Is Now." As the offseason begins, 2K Sports intends to shine a light on some of the league's newcomers and top-tier talent alike. With that concept in mind comes the reveal of Triple Threat Challenges, Win the Weekend and more. Here's what players can expect to collect over the next six weeks.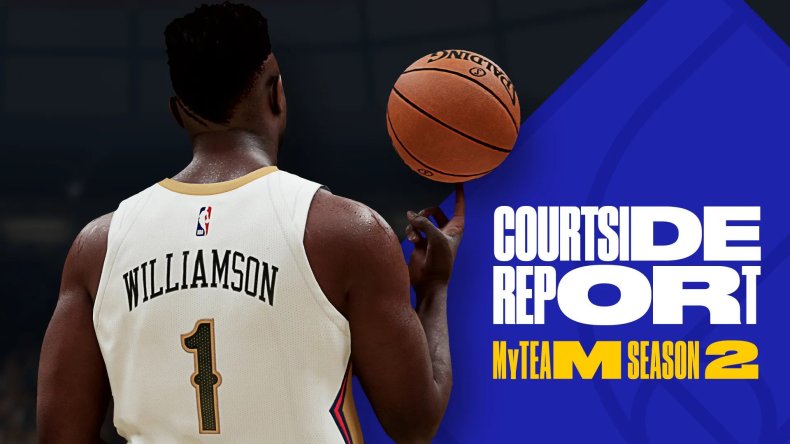 Starting with the rewards, this season's Level 40 Grand Prize is Pink Diamond Blake Griffin. There are also many more reward opportunities in MyTeam's other modes, like the all-new Triple Threat Challenges. Simply put, this brings single-player 3v3 action to the standard round of MyTeam Challenges. The Season will kick off with 10 challenge games to play at launch, with more coming in Spotlight Challenges over the course of the season. Completing all of these challenges offers a Diamond Rafer Alston card. If you can accumulate 450 wins in Triple Threat Offline, you'll also get Victor Oladipo.
While grinding for these prizes, weekends will become an especially important time to accrue XP. For starters, Championship Rings in MyTeam Limited will be easier to get than last season, making that mode's rewards far more attainable. In addition, the new Win the Weekend Agenda Set offers more opportunities to win across all modes. In other words, if you're having trouble making your way toward level 40 during the week, Win the Weekend essentially acts as your bonus buff. The same can be said for Original Owner Agendas, which will help boost longtime collectors as well.
As if that wasn't enough, there's even a reward you can get right now by expressing early interest in the upcoming Vince Carter Signature Challenge, based on Carter's clutch 2006 victory against the Raptors. Enter Locker Code VINCE-CARTER-GAME-WINNER, and you'll be given instant access to his debut card. If you can score 42 points and a few threes in a single game, you'll get 15 Tokens and a Hall of Fame Slashing Badge.
Grinding XP, however, is just half the fun. Over the course of six weeks, MyTeam Season 2 will introduce 40 new reward cards, including 12 new players for the Reward Market, three exchanges and more. Just for playing along with the pass, you'll get Free Agent cards for Zion Williamson, Luka Doncic, Rui Hachimura, Trae Young and Shai Gilgeous-Alexander. If you complete all the Next is Now Collections, you'll also get a J.R. Smith card.
Earning all these rewards will require plenty of work, but luckily 2K is doing its best to make that task easier by offering a seamless transition to next-gen platforms. If you happen to secure a PS5 or Xbox Series X/S this November, all progress from the current-gen game will transfer to the new one without hassle. In other words, don't be afraid to strive for that Griffin if you've got the willpower.
NBA 2K21 is available now on PS4, Xbox One, Switch, PC and Stadia. It releases on Xbox Series X/S November 10 and PS5 November 12.
What are your thoughts on MyTeam Season 2 and its rewards? Are these prizes enticing enough to bring you back to the 2K21 table? Tell us in the comments section!
'NBA 2K21' MyTeam Season 2 Revealed With New Rewards and Vince Carter Code | Newsgeek