'NBA 2K21' Update 1.02 Fixes Shooting & Crashes - Patch Notes
NBA 2K21 version 1.02 went live on all platforms early Monday morning, and 2K has finally released official patch notes for the multi-gigabyte download in its latest Courtside Report blog post. Those hoping for shooting tweaks and crash fixes will find a lot to love about the changes listed below. Here are all the major tweaks fans should know about.
NBA 2K21 Update 1.02 Patch Notes
General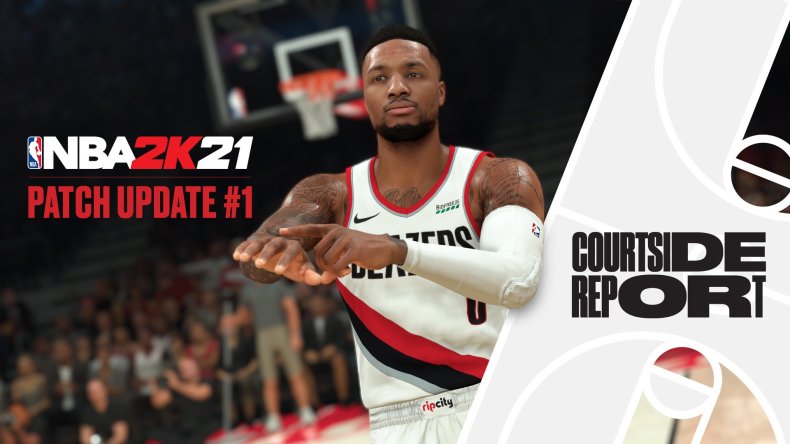 New Pro Stick Aiming/Shot Timing selector. On your first boot, you will now have the option to choose between using the new Pro Stick Aiming mechanic or the traditional Shot Timing mechanic. Your settings file will be updated with the appropriate selection. As always, you can visit your settings at any time to update your shooting preference.
Fixed several hangs that could happen when entering and exiting various game modes during the same session, or when idling out at certain areas.
Andrew Wiggins now appears with updated facial hair to more accurately represent his appearance.
Gameplay
Enabled the ability to use Pro Stick Shot Aiming with the Shot Meter setting turned off.
Ideal Shot Aiming point now determined by how slowly or quickly the Pro Stick is initially deflected when starting a shot. A slow flick will move the ideal aim point to the left, while a fast flick will move the ideal point to the right, giving players more consistency with Pro Stick shooting.
Changed Ante Up to use competitive slider settings (more skill-based).
When the Shot Feedback setting is set to "OFF," players and opponents will no longer see Excellent Release (green light) animations.
Fixed unwanted fadeaway shots that were playing after immediately shooting out of certain dribble moves.
Improved standing dunk reliability when using the Pro Stick.
Disabled the double team indicator in an effort to clean up the on-screen UI based on community feedback.
Added the ability to shoot driving floaters from further away from the basket.
Moving Park dribble moves were remapped to "holds" on the Pro Stick, allowing continued use of Hard Stops with L2/LT after unlocking the Park Handles badge.
Cleaned up some animation pops in the dribble move system.
Fixed ball physics bugs when Shot Timing was set to Real Player %.
Toned down the effectiveness of the Lead to Basket pass feature to prevent exploits.
MyCAREER
Fixed a Pro Am 3v3 hang that was being reported by the community.
Fixed a hang that some users reported when entering/exiting the Cages.
Addressed a case where some users reported loss of control of their MyPLAYER during gameplay.
Fixed an issue in MyCOURT where the player was unable to finish some mini-games with certain NBA players as AI.
Fixed a hang that could happen at the start of a 3-on-3 game in MyCOURT.
Fixed an issue where fan growth in Park games was not properly accumulating.
Addressed an issue where custom shoes were sometimes not showing up properly on other players in the Beach.
Fixed a hang that some users reported when transitioning between Beach instances.
Users will now receive the correct scene after winning the College Championship.
MyTEAM
Fixed a hang that would occur if the user was tracking an expired Agenda.
Fixed an issue where the progress bar would fail to show progress on the Agenda Tracker.
Fixed user interface issues when applying and upgrading badges to player cards.
MyLEAGUE / MyGM
2K Share Content (Draft Classes/Players/Rosters) should now properly function when accessed.
Tuning improvements to Player Progression, based on community feedback. With our new "Boom or Bust" system, player progression/regression has been completely re-written for 2K21 to provide a level of dynamism such that players will follow different career arcs in different playthroughs.
Addressed a MyLEAGUE item where the user would hang when selecting the Save As option after previously accessing the shared save list.
More info (from Gameplay Director Mike Wang on Twitter)
Target window for shot aiming depends on how quickly you move RS to start a shot. Slow flick = left, fast flick = right. So it's under your control now. You can also use shot aiming with meter off for a small boost.
Park moves off the drive are now mapped to RS holds, like the cross or behind back escapes when standing. Try flicking and releasing the RS for regular crosses/behind backs if you're accidentally getting park moves. LT/L2 will give you hard stops like you're used to.
You can shoot driving floaters from further away from the hoop (similar to 2K20.) If you want the pull-ups you were getting pre-patch, center the left stick before hitting the shot button/Pro Stick.
Nerf to fades is NOT in this patch but will be coming in patch 1.03, which is still in active development. Anklebreakers should work better today, but the full fix for them will also come in patch 1.03.
As far as gameplay-centric adjustments are concerned, the biggest changes coming to NBA 2K21 as a result of this new patch revolve around shooting. Starting with the basics, it makes sense to have players manually select between Pro Stick Aiming and more traditional methods upon first boot. At the very least, putting the choice in a more upfront location lets newcomers know that shooting might feel different as they begin their opening games.
For those who've taken the time to learn how Shot Aiming works, the new flick-based indicator should also aid in acclimation to the new system, as it allows players to be able to better predict where the ideal shot point will be rather than having it seemingly show up in a random spot like it had been before. And on the other side of the equation, fades can no longer be abused by griefers who were getting instant whites even when their shot aiming and timing were off. In that sense, while NBA 2K21 version 1.02 tries to make shooting more understandable, it also protects the game's increased skill ceiling against those trying to dismantle it.
Elsewhere in the patch, fans can expect the odd assortment of crash fixes and undocumented VC glitch adjustments designed to make farming premium currency more difficult than it previously was. Despite the delay in getting these notes posted, today's update does go a long way toward addressing some of the most glaring community concerns both large and small. There's still plenty of work to be done to make NBA 2K21 an ideal gameplay experience, but update 1.02 hopefully makes the situation better to varying degrees.
NBA 2K21 is available now on PS4, Xbox One, Switch, PC and Stadia.
What do you think of NBA 2K21 Patch 1? Does version 1.02 address your main concerns with the game? Tell us in the comments section!