'NBA 2K21' Update 1.04 Adds Halloween Courts and Fixes Faces - Patch Notes
NBA 2K21 update 1.04 released early Wednesday morning, leaving many fans curious about any changes the 11GB download might contain. Visual Concepts has officially responded to the fervor with a new round of patch notes in the latest Courtside Report blog post. If you think player faces and shooting feel a bit better than before, you are correct.
NBA 2K21 Update 1.04 Patch Notes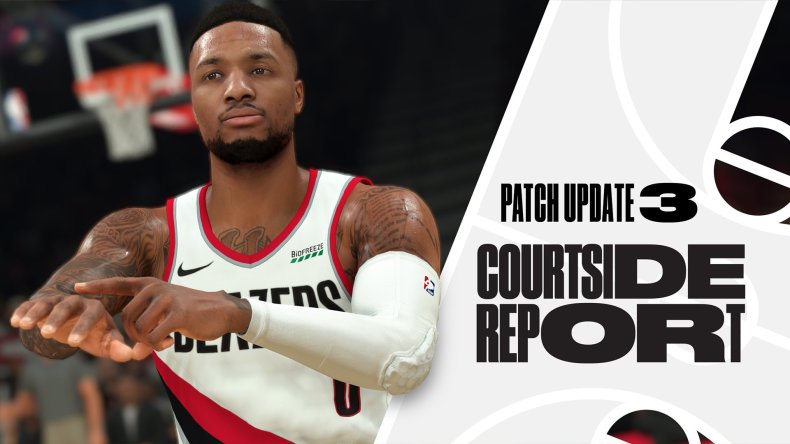 General
Halloween has come to 2K Beach! Beachgoers will now find Halloween-themed decorations throughout the Neighborhood.
Player likenesses have been improved for more than 60 NBA and WNBA players.
Welcome to the NBA Finals! Heat vs. Lakers is now the default Quick Play matchup.
Preparations for new 2K Beach Events coming later in October and November. Stay tuned for more information in the coming weeks!
Gameplay
Adjustments to make set screen movement more realistic.
Fixed content holes that led to inconsistent side step pull-up jump shots.
Changes to Shot Aiming system to prevent modded controller abuse.
Park dribble moves (still performed with L3) now require Hall of Fame Tight Handles badge to use. Also disabled park dribble moves when calling for screens to prevent conflict with switch screen side function.
MyCAREER
Fixed some issues where MyPLAYER doesn't win over new fans after certain in-game achievements.
Fixed a hang that could have happened when exiting MyCOURT after playing a 2v2 or 3v3 game in MyCOURT.
MyTEAM
Preparations for the first $250K MyTEAM Unlimited Tournament GameDay!
Preparations for the second Season of MyTEAM!
General improvements to The Exchange.
Added warning when skipping silver or gold Badge Upgrades for Hall of Fame Badges.
Addressed an issue when player cards appeared on Ball Drop boards
MyLEAGUE / MyGM
Fixed an issue where the incorrect logo may appear from downloading other user's save via the new Save Sharing feature.
Fixed a hang that was occurring in Play WNBA or NBA Today after being in WNBA Season mode.
For the most part, the biggest change players will notice after installing update 1.04 are the redesigned Park courts that help players maintain the spooky spirit throughout the month of October. Beyond that, the tweaks are fairly minor. Steph Curry's appearance has been updated to better reflect his current look, players no longer set odd screens while trying to perform a pick and pop, and cheaters using modded controllers have been nerfed.
That last issue is perhaps the most pressing, as modded controllers are widely available and have been wrecking games in Park for the past few weeks. While it's unclear precisely how shooting has changed to address the problem, our hope is that the fix doesn't alter the aiming system in drastic ways.
Despite offering a fairly solid NBA basketball experience, NBA 2K21 continues to struggle to find consistent footing, thanks to its divisive control scheme and a myriad of troubling bugs. Update 1.04 arrived just a few hours ahead of the 2K21 next-gen gameplay blog, in which developers outlined the big features designed to highlight November's PS5 and Xbox Series X versions. In fact, the Tight Handles change listed above was referenced as a next-gen alteration.
With that in mind, we hope some of the positive additions to that upcoming title find their way into this one. While current-gen NBA 2K21 continues to grow stable over time, it's hard to shake the sting of a third shooting adjustment since launch.
NBA 2K21 is available now on PS4, Xbox One, Switch and PC. It releases November 12 on PS5 and November 10 on Xbox Series X/S.
What are your thoughts on NBA 2K21 update 1.04? Do you like the Halloween court designs? Tell us in the comments section!