NBA 2K22 Live Stream: Shaq Wants to Keep Kids 'Outside, Active' With New Courts
NBA legend Shaquille O'Neal extended his giving nature by partnering with Icy Hot and NBA 2K22 to host a charity game for the sake of rehabbing basketball courts.
On October 18, The Shaquille O'Neal Foundation and Icy Hot hosted an NBA 2K22 Twitch event to help his initiative, "Combaq Courts," continue to fix blacktops across the U.S.
In an interview with Newsweek, the Hall of Fame center discussed his dedication to community service, which he attributed to his parents, Lucille O'Neal and the late Phillip A. Harrison.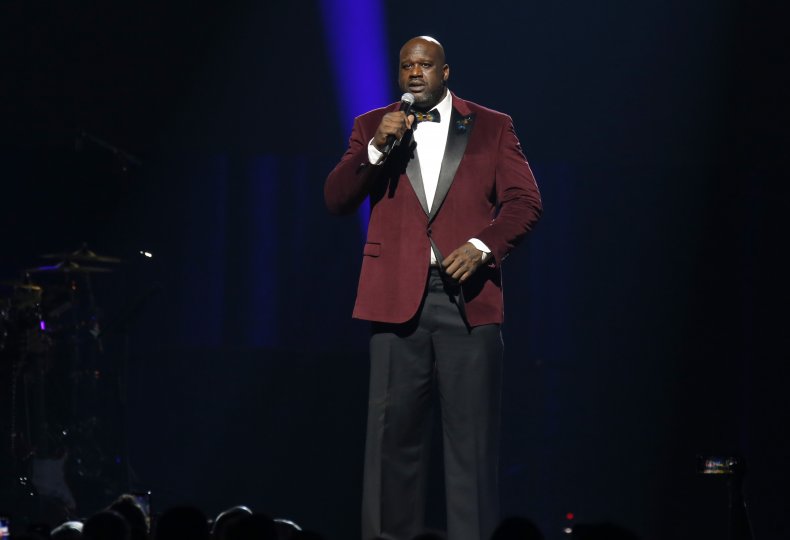 "Rehabbing courts and partnering with NBA 2K is something I've always wanted to do, said O'Neal. "It upsets me to go by a court that hasn't been fixed up. It hurts me because growing up, I lived in areas where the soccer fields were lit up and they had certain tennis courts, golf courses and baseball cages. The courts that I played on via Army bases was always immaculate."
O'Neal started rehabbing basketball courts in Newark, New Jersey in the early 1990s. He said that "Combaq Courts" will give kids the opportunity to play in better conditions.
"Combaq Courts gives kids something to do," he said. "We want our kids to be outside, active and following their dreams. If you look at half the NBA players, they all came from the blacktop."
O'Neal teamed up with popular Twitch streamer Kristopher London to host the Twitch charity game between Twitch superstar Nick Eh 30 and WNBA Champion Ariel Powers, who were a part of Team Icy. Popular Twitch streamers GoldGlove and CatchNastyGaming who were a part of Team Hot.
O'Neal partnered with pain relief company Icy Hot 17 years ago and credits the product for helping him win multiple championships. He began using the menthol cream after sustaining a thigh injury.
Shaq has had a vested interest in E-sports, starting with his 2016 investment in NRG Esports, which was co-founded by Sacramento Kings co-owner Andy Miller. NRG lends its support to adjacent streaming teams with game titles such as Overwatch and Call of Duty.
He was the star of the classic action game, Shaq Fu, which was released in 1994.