NBA Restart Dates, Time, TV Schedule and Live Stream Details
Over four months since Utah Jazz center Rudy Gobert became the league's first player to test positive for coronavirus, the NBA makes its long-awaited return on Thursday night.
A lot has changed since March and while the NBA left no stone unturned in its bid to return, the remainder of the regular season and the playoffs will look significantly different from their usual selves.
The NBA has invited 22 teams to the bubble at ESPN's Wide World of Sports Complex at Walt Disney World Resort in Orlando, Florida, where players and coaches have been isolating since the beginning of the month.
Each of the teams will play eight seeding games to determine the 16 teams that will qualify for the playoffs, meaning 88 of the 259 regular-season games that were still to play when the season was interrupted will be played out.
As things stand, the Milwaukee Bucks, Los Angeles Lakers, Toronto Raptors and Boston Celtics are the only teams to have secured a playoff spot. For the remaining 18 teams, it's all still to play four in their eight seeding games, which will last until August 14.
While the MLB has expanded its postseason due to this season's unusual circumstances, the NBA has retained the usual format with each of three conference rounds and the NBA Finals to be played on a best-of-seven basis.
The process of determining the 16 playoff teams, however, will have the added twist of a play-in tournament should the ninth-placed team in a conference finish within four games of the eighth-best team.
Off the court, the threat of coronavirus will continue to hang over proceedings, even though the bubble in Orlando has so far proved successful.
Here's all you need to know ahead of the NBA restart.
When does the NBA season resume?
The NBA season restarts on Thursday, July 31. The New Orleans Pelicans take on the Utah Jazz at 6:30 p.m. ET, before the Los Angeles Lakers play the Los Angeles Clippers at 9 p.m. ET.
The seeding games will run until August 14, with the playoffs set to begin on August 17.
TV coverage
The remainder of the regular season and the playoffs will be broadcast across ESPN, ABC, TNT and NBA TV.
It is worth noting, however, that not every seeding game will be broadcast on national TV.
Live stream
A live stream will be available via each of the four broadcasters' digital platforms as well as via fuboTV, Sling, Hulu, YouTubeTV and AT&T Now.
At the moment, fuboTV, Hulu and YouTubeTV offer free trial options. All the seeding games are also available to stream via NBA League Pass, subject to local market restrictions.
TV Schedule
July 30
Utah Jazz vs. New Orleans Pelicans—6:30 p.m., TNT
Los Angeles Clippers vs. Los Angeles Lakers—9 p.m., TNT
July 31
Memphis Grizzlies vs. Portland Trail Blazers—4 p.m., NBA TV
Boston Celtics vs. Milwaukee Bucks—6:30 p.m., ESPN
Houston Rockets vs. Dallas Mavericks—9 p.m., ESPN
August 1
Miami Heat vs. Denver Nuggets—1 p.m., ESPN
Utah Jazz vs. Oklahoma City Thunder—3:30 p.m., ESPN
New Orleans Pelicans vs. Los Angeles Clippers—6 p.m., ESPN
Los Angeles Lakers vs. Toronto Raptors—8:30 p.m., ESPN
August 2
Portland Trail Blazers vs. Boston Celtics—3:30 p.m., ABC
Sacramento Kings vs. Orlando Magic—6 p.m., NBA TV
Milwaukee Bucks vs. Houston Rockets—8:30 p..m., ABC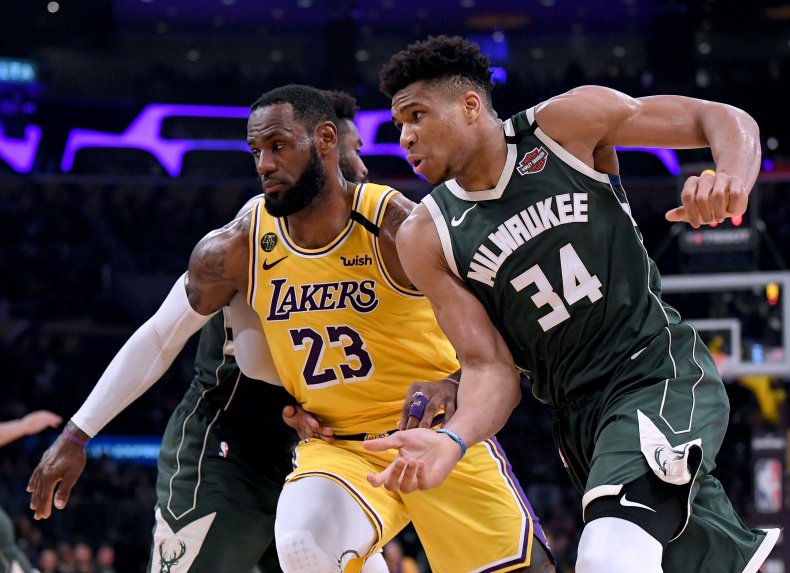 Current playoff standings
Eastern Conference (* Denotes team that has clinched a playoff spot)
Milwaukee Bucks* 53-12
Toronto Raptors* 46-18
Boston Celtics* 43-21
Miami Heat 41-24
Indiana Pacers 39-26
Philadelphia 76ers 39-26
Brooklyn Nets 30-34
Orlando Magic 30-35
The Washington Wizards (24-40) are the only other Eastern Conference team that will play in Orlando from July 31.
Western Conference (* Denotes team that has clinched a playoff spot)
Los Angeles Lakers * 49-14
LA Clippers 44-20
Denver Nuggets 43-22
Utah Jazz 41-23
Oklahoma City Thunder 40-24
Houston Rockets 40-24
Dallas Mavericks 40-27
Memphis Grizzlies 32-33
While just one extra Eastern Conference team will feature in the remainder of the regular season aside from the eight currently holding a playoff berth, the Western Conference will have a total of 13 teams.
Aside from the current top eight teams, the Portland Trail Blazers (29-37), New Orleans Pelicans and Sacramento Kings (both 28-36), San Antonio Spurs (27-36) and Phoenix Suns (26-39) will compete for a postseason berth.