NBA Christmas Schedule 2018: LeBron to Face the Warriors, Celtics Host 76ers
NBA fans are in for a Christmas treat, with news that the Los Angeles Lakers will face the Golden State Warriors on December 25.
According to league sources cited by ESPN and the New York Times, LeBron will travel to Oakland on Christmas Day to face the team he has lost three of the last four NBA Finals to.
LeBron, who signed a four-year deal worth $153 million with the Lakers at the beginning of last month, has faced the Warriors in the NBA Finals each year since 2014.
The four-time MVP averaged 34 points, 10 rebounds and 8.5 rebounds as the Cavs were swept in June. It will not be the first time LeBron plays the Warriors on Christmas Day, as he did so last year. The game was watched by 8.82 million viewers, placing it 10th in the list of most-watched Christmas games since 2001.
The 2004 matchup between the Lakers and the Miami Heat—which marked the first time Kobe Bryant and Shaq went head-to-head since the latter left L.A.—was watched by 13.2 million viewers. Six years later, the two teams met again in a game that was watched by 13.1 million viewers, the second-highest audience for games televised on Christmas Day.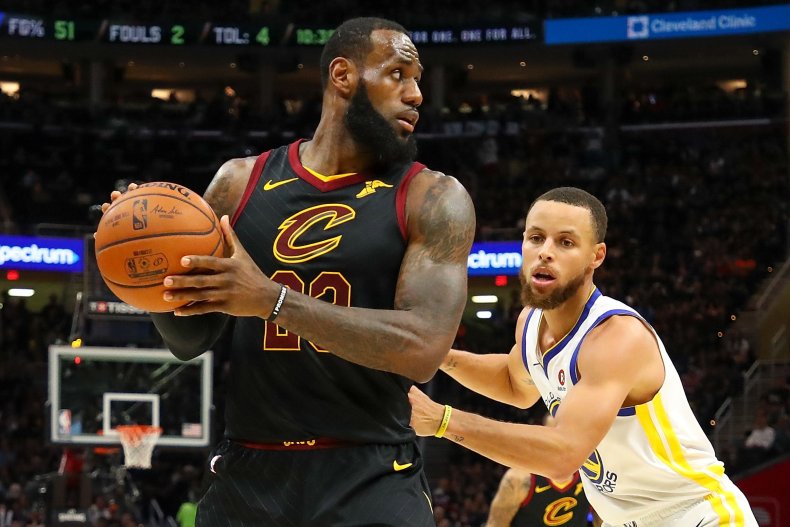 While the Lakers' trip to Oakland is arguably the pick of the crop, it is by no means the only televised game—nor the only mouthwatering matchup. The Boston Celtics host the Philadephia 76ers as the two teams expected to battle for supremacy in the Eastern Conference go head-to-head.
The two teams faced each other in the Eastern Conference semifinals last season, which the Celtics won 4-1. With Gordon Hayward and Kyrie Irving set to return from long-term injuries, Boston is poised to dethrone Cleveland as the top team in the Eastern Conference and the Sixers are expected to be their main rivals.
Meanwhile, Giannis Antetokounmpo and the Milwaukee Bucks will face the New York Knicks at the Madison Square Garden. The Bucks have not planned on Christmas Day since 1977 and it remains to be seen whether Knicks big man Kristaps Porzingis will have recovered in time from the serious ACL injury he, coincidentally, suffered in a game against Milwaukee in February.
Russell Westbrook and Paul George will travel to Houston, as the Oklahoma City Thunder face the Rockets, as reported by ESPN, while the Utah Jazz will spend Christmas at home, hosting the Portland Trail Blazers.