When Will Tyronn Lue Return? Cavs Coach Sets Date For Comeback From Illness
Tyronn Lue will return to the sidelines at the Quicken Loans Arena on Thursday evening (April 5), having missed nine games with health issues.
Lue, the head coach of the Cleveland Cavaliers, will be back in his station when the team hosts the Washington Wizards, according to ESPN.
He has been absent since March 18 when the Cavs beat the Chicago Bulls at United Center. Lue had remained in the locker room for the second half due to illness.
Lue, the report says, has been suffering with chest pain and lack of sleep, along with other health complications. But he has been back with the team over the last week and will be on the touchline Thursday.
In his absence, associate head coach Larry Drew has taken the reins and the team has gone 8-1.
"Ty's been around the team I would say the last five to six days. He's kind of been gradually getting back into it. I can see that the guys have already embraced him," Drew, said as quoted by ESPN.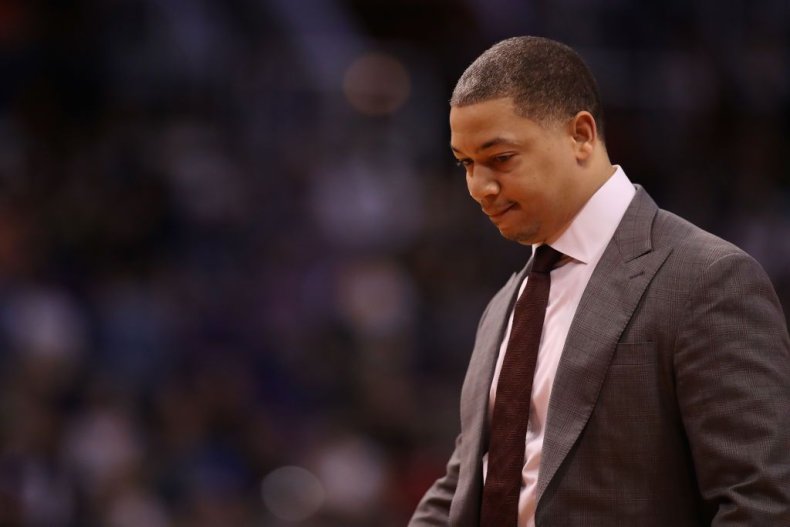 "So, it's just a matter of him being more hands on now once he does get back. I personally, just from what I've seen, it looks like everybody has rolled their sleeves up and just waiting for the day he comes back so they can get to work.
"You can see that the guys, they have totally embraced him, and he has embraced them, as well. But I think that feeling-out period, I think that's over with."
Drew, though, has been proud of the team's achievements and still has no idea what the Cavs' potential is this year.
"I still say we're only scratching the surface, I really do," Drew said Wednesday.
"I still think we can get our young guys, our new guys, they're still kind of feeling their way through this. They, I can look at their face and tell that they're just thinking, they're just trying to think of what to do. They're not letting their natural basketball instincts take over."