Dallas Mavericks owner Mark Cuban remains optimistic the NBA's plans to resume the season in Florida are safe despite the recent spike of coronavirus cases across the U.S. and that the bubble-like environment in Orlando will "make players safer."
Having been suspended since March 11, when Utah Jazz center Rudy Gobert became the first player to test positive for COVID-19, the NBA season is set to resume on July 31 at ESPN's Wide World of Sports Complex at Walt Disney World Resort in Orlando.
A spike in COVID-19 cases across the U.S., however, has cast a cloud over the NBA's plans with at least 15 states—including Florida—either pausing or reversing plans to reopen after the lockdown.
On Tuesday, Florida's Department of Health reported 6,000 new cases of COVID-19, bringing the state's tally to over 152,000, just three days after it had recorded its highest single-day total with 9,585.
Cuban dismissed the suggestion the spike of cases in Florida had increased the risk of resuming the NBA season.
"It hasn't really increased at all," Cuban said on Tuesday during an appearance on TIME 100 Talks. "There's obviously risk, but each and every day, the science improves and the medical response has gotten smarter.
"Look, the number of cases just goes to show you that you need to be quarantined, you need to be safe, you need to be diligent, we need to wear our masks and to take the necessary precautions, and that's exactly what we'll do."
The Mavericks owner then suggested players would be safer in Orlando than they would be elsewhere in the country, as more stringent health guidelines will be enforced in the NBA bubble.
"If the general population in all of these cities, including Dallas, had followed those same precautions and hadn't gotten overly confident that this was behind us, we wouldn't be experiencing what we are today. So I think the bubble will actually make our players safer," Cuban said.
Appearing at the same event, NBA commissioner Adam Silver also struck an optimistic tone when discussing the league's resumption plans, echoing Cuban's points about players being safer in Orlando than they would be outside the bubble.
"I am absolutely convinced that it will be safer on this campus than off this campus because there aren't many situations that I am aware of where there is mass testing of asymptomatic employees," he explained.
"In some ways, this is maybe a model for how other industries can ultimately open. But I am only going to say we will be responsible and watch what is happening, but the biggest indicator will be if we begin to see a spread in our community."
The commissioner acknowledged the spike in COVID-19 cases was a concern the NBA was monitoring closely and that a prolonged increase could scupper plans to resume the season.
"One thing we are learning about this virus is much [is] unpredictable, and we and our players together with their union look at the data on a daily basis. If there were something to change that was outside of the scope of what we are playing for, certainly we would revisit our plans," Silver said.
"We are testing daily. We haven't put a precise number on it, but if we were to see a large number of cases and see spread in our community, that would of course be a cause to stop as well."
Silver's comments came on the same day ESPN reported the Brooklyn Nets had reopened their training facility after DeAndre Jordan and Spencer Dinwiddie tested positive for coronavirus earlier this week.
The duo will sit out the season restart, along with team star Kyrie Irving, who has been ruled out for the remainder of the campaign with a shoulder injury he sustained in March.
The Denver Nuggets closed their facility on Saturday after two players tested positive for COVID-19. Nuggets star Nikola Jokic tested positive last month while being back in his native Serbia.
A host of players—including Los Angeles Lakers guard Avery Bradley and Washington Wizards forward David Bertans—have already announced plans to skip the remainder of the season, citing either concerns of coronavirus or the desire to avoid injuries ahead of free agency.
As of Wednesday morning over 2.63 million cases of coronavirus had been reported in the U.S., by far the highest tally of any country in the world.
Of the over 510,600 deaths recorded worldwide so far, more than 127,400 have been recorded in the U.S., according to Johns Hopkins University, which has been tracking the outbreak using combined data sources.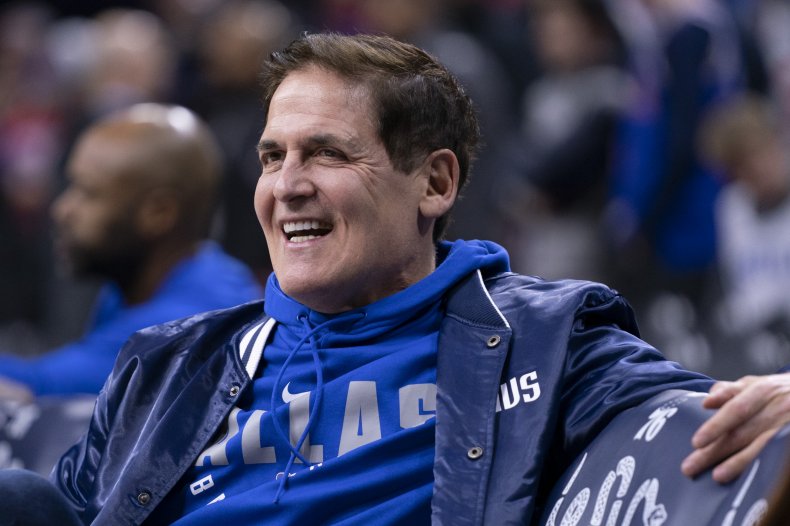 Uncommon Knowledge
Newsweek is committed to challenging conventional wisdom and finding connections in the search for common ground.
Newsweek is committed to challenging conventional wisdom and finding connections in the search for common ground.
About the writer
Dan Cancian is currently a reporter for Newsweek based in London, England. Prior to joining Newsweek in January 2018, he was a news and business reporter at International Business Times UK. Dan has also written for The Guardian and The Observer.