NBA Could Force Mark Cuban to Sell Dallas Mavericks Following Workplace Misconduct Allegations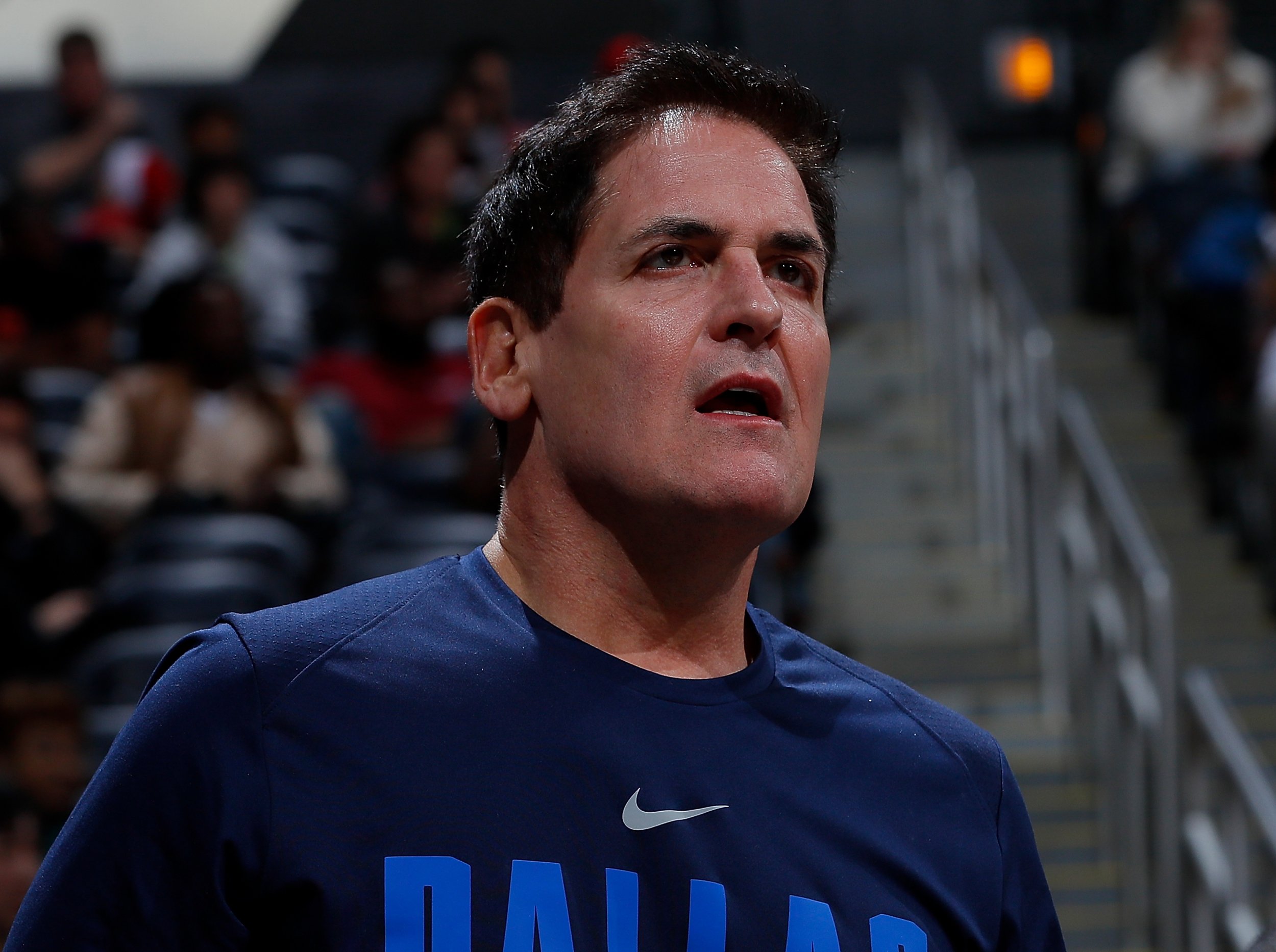 Mark Cuban could be forced to sell the Dallas Mavericks after a tumultuous couple of days saw him fined by the NBA for suggesting his team should tank, while the franchise also became embroiled in a sexual harassment scandal.
On Wednesday, a report by Sports Illustrated alleged former Mavs president Terdema Ussery, who spent 18 years at the franchise, had made sexually suggestive remarks to a number of women.
A day later, Cuban was fined $600,000 by the league for suggesting his team would be better off losing the remainder of its games this season.
Discussing both developments on ESPN's Pardon the Interruption (PTI), the show's co-host Tony Kornheiser said that NBA's executives would be keeping a close eye on the Mavs.
"I could envision the league saying 'We don't want him [Cuban] owning this team anymore, we don't think he is good for the league'," he said.
In the past, the league has forced owners to sell their franchise, most notably in the case of former Los Angeles Clippers owner Donald Sterling, who in April 2014 was fined $2.5m and banned from attending NBA games after a recording of him making racist remarks was released by TMZ Sports.
Following pressure from NBA Commissioner Adam Silver, Sterling sold the team a month later.
PTI's other co-host, Michael Wilbon, insisted the Mavs' case was completely different from the Clippers, as Cuban was allegedly unaware of events behind the scenes.
However, Kornheiser replied: "He [Cuban] is one of the most hands on guys in the league, it is going to be very hard to believe he knew nothing about this."
The Sports Illustrated report added team website reporter Earl Sneed was twice accused of sexual assault during his spell as a Mavericks employee, including a guilty plea in a case that was dismissed when he met the conditions.
Sneed has since been fired. Cuban told Sports Illustrated that human resources director Buddy Pittman has also been given his marching orders, after further details of the report emerged.
Evan Krutoy and Anne Milgram have been appointed by the franchise to lead an independent investigation into the scandal, but Kornheiser suggested the NBA should set up its own inquiry.
"The league should step in today, thank Dallas for launching their own investigation without being asked to do so and then take over," he said.
The expose also revealed Ussery, who joined the Mavs in 1997 and left in 2015, had been investigated by the Mavs over similar accusations in 1998.
"It was a real life Animal House ," one former organization employee was quoted as saying by the report. "And I only say 'was' because I'm not there anymore. I'm sure it's still going on."
Mavs' icon Dirk Nowitzki, who has spent two decades with the franchise, said he had been left "disgusted" by the reports.
"It's very disappointing," Nowitzki told The Dallas Morning News. "It's heartbreaking. I'm glad it's all coming out. I was disgusted when I read the article, obviously, as everybody was."
Meanwhile, Cuban admitted he "had earned" his latest fine, after making remarks about tanking.
"I'm probably not supposed to say this, but, like, I just had dinner with a bunch of our guys the other night, and here we are, you know, we weren't competing for the playoffs," he told told Julius Erving on the "House Call with Dr. J" podcast on 18 February.
"Adam [Silver] would hate hearing that, but I at least sat down and I explained it to them [...] But being transparent, I think that's the key to being kind of a players' owner and having stability."