NBA 2019 Draft: After Zion Williamson, Here Are the Other Top 10 Prospects
In the 16 years that have passed since LeBron James was selected with the number one overall pick, few NBA drafts have generated the kind of excitement produced by the class of 2019.
The main factor behind such high expectations is Zion Williamson, the consensus number one pick who is expected to become the cornerstone of the New Orleans Pelicans for years to come.
R.J. Barrett and Cam Reddish, Williamson's teammates at Duke, are also expected to be selected in the top 10, along with Murray State point guard Jay Morant and Texas Tech sophomore Jarrett Culver.
Here, Newsweek has picked the potential top 10 picks.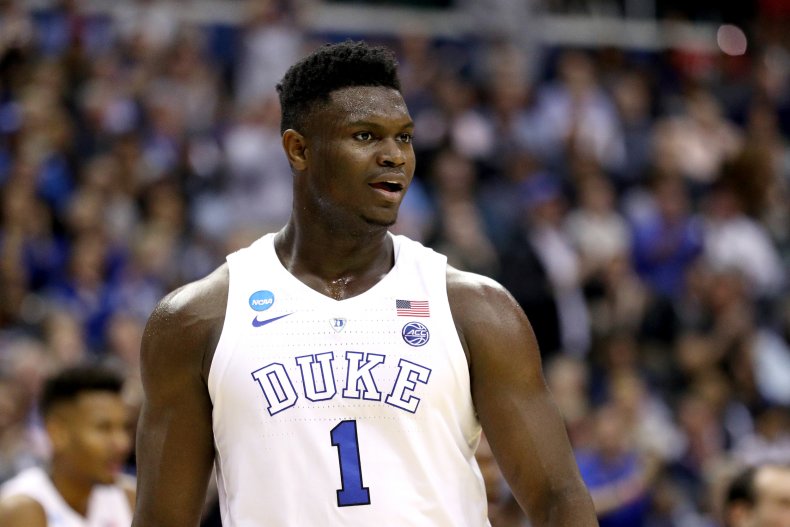 Zion Williamson Power forward (Duke, freshman)
It is hard to look past Zion Williamson. In fact, it is practically impossible. Not since LeBron James entered the draft straight after high school in 2003 has a player generated as much expectation as the soon-to-be-former Duke Blue Devils.
A physical specimen, at 6 foot 6 and 272 pounds, Williamson is an 18-year-old in the body of a NBA athlete and looks poised to make an immediate impact.
The consensus first overall pick and an NBA superstar in waiting.
Ja Morant Point guard (Murray State, sophomore)
Williamson might have polarized attention in the lead-up to the draft but Morant could be a star in his own right. A consensus top-three draft pick, the Murray State point guard combines speed and athleticism with excellent passing instincts.
He averaged 24.5 points and 10 assists per game last season.
R.J. Barrett Shooting guard (Duke, freshman)
If Williamson dominated headlines at Duke, Barrett wasn't far behind. At 6 foot 6 and with a 6-10 wingspan, he is the prototype of a modern NBA player and averaged 22.6 points, 7.6 rebounds, and 4.3 assists per game in his solitary season at Duke.
Occasionally prone to poor shot selection, he has plenty of time to improve as he only turned 19 last week and has already said he wants to be drafted by the New York Knicks.
Jarrett Culver Shooting guard (Texas Tech, sophomore)
Some consider Culver as top-four pick, while others have him a little lower down the order. He was a major factor in Texas Tech's first ever run to the Final Four, averaging 18.5 points, 6.4 rebounds and 3.7 assists last season.
A two-way player, his versatility can go a long way in offsetting what remains a somewhat suspect jump shot.
De'Andre Hunter Power forward (Virginia, sophomore)
Among the best defenders in college basketball last season, Hunter was a threat at both ends of the court, registering 15.2 points and 5.1 rebounds per game while shooting 43.8 percent from beyond the arc.
While physically imposing at 6 foot 8 and 227 pounds, ESPN noted Hunter is a good but not great athlete and might not be as explosive as some fellow potential top five picks.
Coby White Point guard (North Carolina, freshman)
A point guard who flourishes in open court—30.7 percent of his offense came on the break last year—White is a proficient long range shooter, both off the dribble and off the catch.
He has improved as a passer but his decision-making can still let him down at times—he averaged 2.7 turnovers last season.
Darius Garland Point guard (Vanderbilt, freshman)
From playmaking ability and a shooting threat, Garland seemingly has everything NBA teams look for in a modern point guard. However, at 6 foot 2 he might have to answer questions over his size and defensive contribution.
He tore a meniscus last year, which ended his season after just five games.
Cam Reddish Small forward (Duke, freshman)
The third of Duke's trio of freshmen set to be picked in the top 10 is an intriguing prospect. A dynamic shooter blessed with excellent technique from three-point territory, Reddish's efficiency in college left a lot to be desired.
He scored 13.5 points per game while shooting just 35.6 percent from the field.
Sekou Doumbouya Power forward (Limoges CSP, France)
One of the most talked-about prospects in France by the time he was 15, the Guinean-born big man can play either forward spot courtesy of a 6-foot-9 frame and an 8-11 standing reach.
Still raw in some aspects, the 18-year-old could be a physical threat at both ends of the court.
Brandon Clarke Center (Gonzaga, junior)
A versatile defender who is as at ease defending the rim as he is on the perimeter, Clarke dished out an impressive 3.2 blocks in 28.1 minutes on the court last season.
A solid finisher around the rim despite lacking the size of a traditional center, Clarke is an intriguing top 10 prospect.