NBA Draft 2019: Expert Predictions, Who Is Going Where, Draft Order
Rarely has the NBA draft carried such a mixture of excitement and inevitability, and Zion Williamson is at the root of both.
During a solitary season at Duke, Williamson's impact transcended college basketball and from the moment he entered the draft it was considered little more than a formality that he would be selected with the first overall pick.
That pick belongs to the New Orleans Pelicans, who struck gold in the draft lottery on May 15 and are now braced to make Williamson the cornerstone of their franchise.
A generational talent, the 18-year-old has induced the kind of excitement around the draft last seen when LeBron James entered the league in 2003. Here's what experts have to say about the Duke phenomenon.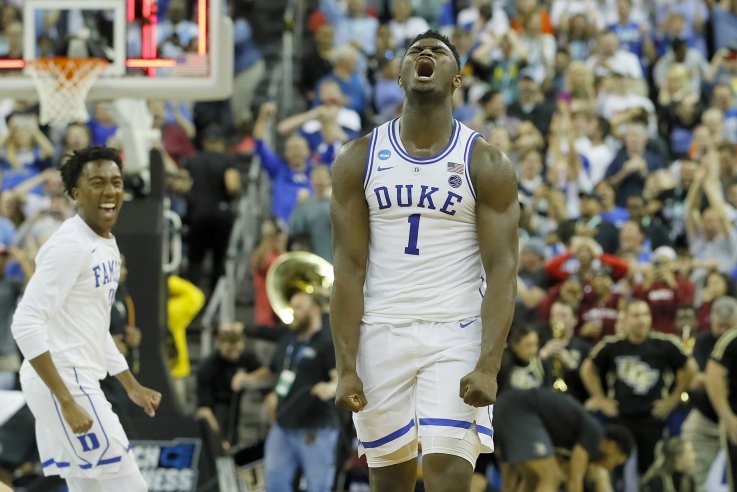 Jeremy Woo—Sports Illustrated
Williamson is a generational talent and Woo expects him to get even better in New Orleans.
"To maximize his ability long-term, Williamson will gradually need to expand his skill set in a way that relies less on his explosiveness and more on craft," Woo explained.
"His athletic gifts and the fact he plays so hard and cares so much should ensure he remains productive until he gets to that point. Few college players were ever so dominant."
Marc Spears—The Undefeated
New Orleans might not be as big a market as New York or Los Angeles, but Spears suggests that Williamson's talent is such that he will take the NBA by storm anyway.
"One NBA general manager said Williamson lost out on about $100 million in marketing by going to New Orleans over Los Angeles or New York," he wrote.
"But being the face of a small-market team in the South will be a good entry into the NBA for the South Carolina native. James and Giannis Antetokounmpo have proved that you don't have to be in a large market to get attention. Ultimately, it's your game that speaks loudest."
Jonathan Tjarks—The Ringer
Away from Williamson, there are a number of intriguing prospects in the draft. None more so than Murray State point guard Ja Morant, who is expected to be the number two overall pick.
"Morant is an elite passer who can get wherever he wants to go on the floor and pick apart a defense," Tjarks wrote.
"He can make every pass in the book, and he might be an even better passer at the next level, when he's playing with more talented teammates than he did at Murray State.
Ricky O'Donnell—SB Nation
O'Donnell believes Gonzaga's Brandon Clarke is among the potential dark horses for a top-10 pick even if he was way off the NBA's radar earlier this year.
"At this point, he's projected as a lottery pick in our most recent mock draft, despite turning 23 years old before what would be his rookie season," he said.
"Keep overlooking Brandon Clarke at your own peril. Just know that, Zion Williamson aside, there hasn't been a better player in college basketball this season."
Mike Schmitz—ESPN
R.J. Barrett impressed at Duke alongside Williamson but Schmitz believes that the 19-year-old was held back at college level and could become a lot more dominant in the NBA, providing he finds the right team to fit his game.
"As long as he has space, as long as he has shooters around him, R.J. Barrett has the chance to be one the most dynamic shot creators in the NBA."
Rob Dauster—NBC Sports
Virginia power forward De'Andre Hunter is considered a potential top-five pick in a number of mock drafts. While Dauster believes he could have a big impact on the league, he warns of some significant risks.
"I do not think there is a better defensive prospect in this draft, and I would not be surprised if Hunter ends up making NBA All-Defensive teams during his career," he explained.
"The fact that he can do all of that while, in theory, being able to knockdown threes and attack closeouts makes him a valuable and in-demand player in the modern NBA. The problem, however, is that Hunter's ceiling isn't all that much higher than his floor."
Brad Botkin—CBS Sports
Williamson to New Orleans is a formality, while the Memphis Grizzlies and the New York Knicks look set to select Morant and Barrett. Beyond that, however, Botkin believes there's space to get creative.
Namely, he suggests the Pelicans should trade Jrue Holiday to Phoenix for the number six pick, Josh Jackson, Mikal Bridges and T.J. Warren.
"The Pelicans enter a full youth movement after dealing Anthony Davis by acquiring the No. 6 pick, to pair along with the No. 4 pick, as the jewel of this trade. Bridges slots as a solid 3-and-D guy with ideal size and versatility on both ends, and again, maybe Josh Jackson pops. Warren makes the money work."
Complete first round order
New Orleans Pelicans
Memphis Grizzlies
New York Knicks
New Orleans Pelicans (from Los Angeles Lakers)
Cleveland Cavaliers
Phoenix Suns
Chicago Bulls
Atlanta Hawks
Washington Wizards
Atlanta Hawks (from Dallas Mavericks)
Minnesota Timberwolves
Charlotte Hornets
Miami Heat
Boston Celtics (from Sacramento Kings via Philadelphia 76ers)
Detroit Pistons
Orlando Magic
Brooklyn Nets
Indiana Pacers
San Antonio Spurs
Boston Celtics (from Los Angeles Clippers via Memphis Grizzlies)
Oklahoma City Thunder
Boston Celtics
Utah Jazz
Philadelphia 76ers
Portland Trail Blazers
Cleveland Cavaliers (from Houston Rockets)
Brooklyn Nets (from Denver Nuggets)
Golden State Warriors
San Antonio Spurs (from Toronto Raptors)
Milwaukee Bucks
NBA Draft 2019: Expert Predictions, Who Is Going Where, Draft Order | Sports