NBA Fans Lose Minds Over Report Ben Simmons Won't Play for 76ers Again
Training camps may start next week, but NBA Twitter is already in midseason form.
Basketball fans on the social media platform went crazy after ESPN reporter Adrian Wojnarowski broke the news Tuesday that Philadelphia 76ers guard Ben Simmons intends to never play for the team again.
Simmons and the 76ers have feuded all offseason, after coach Doc Rivers and franchise forward Joel Embiid laid into the embattled point guard after their season-ending loss to the Atlanta Hawks in Game 7 of the 2021 Eastern Conference semifinals.
However, details have emerged that the rift between Simmons and the 76ers actually stemmed from the team's failed attempt to get James Harden in a trade last season. According to KRON-4 News, Simmons was unhappy that the 76ers had told him he was likely to be dealt, yet was forced to play out the season after the deal fell through. Harden ended up on the 76ers' Atlantic division rival, the Brooklyn Nets.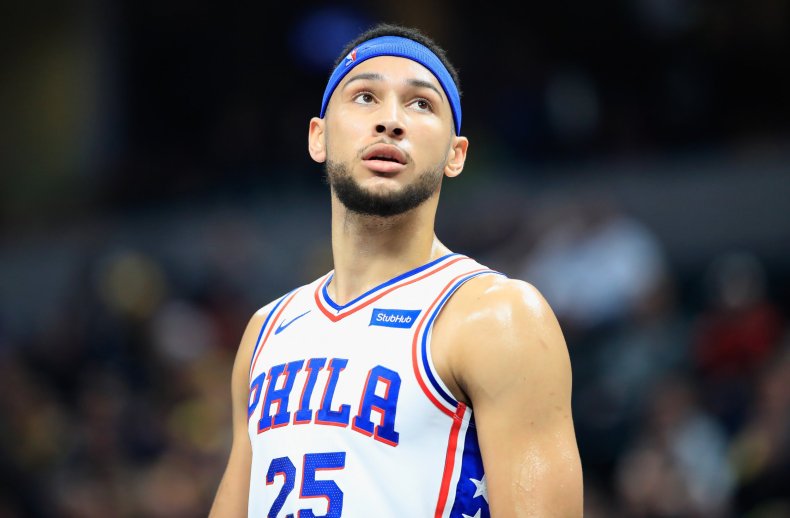 It had been previously reported that Simmons would not report to 76ers training camp when it opens next week, which Wojnarowski confirmed. He then added a bombshell that Simmons and 76ers brass haven't spoken with each other since August and that the star would sit out as long as he needed to until he was traded — even if he were fined or suspended without pay, which the NBA-NBPA collective-bargaining agreement entitles Philadelphia to do.
Basketball fans took the Woj bomb and let their imaginations run wild by speculating future destinations for the three-time All-Star and 2018 NBA Rookie of the Year.
Fans of the Minnesota Timberwolves were especially excited after BetMGM announced that their team is the betting favorite to land Simmons (+400), with the Houston Rockets (+450), Sacramento Kings (+650) and San Antonio Spurs, Golden State Warriors and Toronto Raptors (+800) following.
Philadelphia fans and media took the opportunity to rip Simmons, as they have historically been good at.
Some took the opportunity to dunk on the 76ers, specifically team president Daryl Morey, for not trading Simmons for Harden last season, especially since Simmons would likely be dealt for a clearly aging and diminished John Wall if he ends up in Houston.
Some used this opportunity to work on their meme skills.
Others took the opportunity to bask in the dramatic soap opera that makes the NBA season so much fun.
Meanwhile, Philadelphia 76ers players remained conspicuously silent on social media. Yet, they'll undoubtedly have to answer questions about Simmons' absence when training camp opens Monday.