NBA Finals 2018 Live Stream: Where to Watch as Warriors and Cavs Resume Rivalry
The 2018 NBA Finals get underway on Thursday night as the Cleveland Cavaliers and the Golden State Warriors go head-to-head for the fourth consecutive year.
ABC will broadcast the best-of-seven series exclusively and games will also be available via the ABC app and on the ABC website. However, given the NBA Finals coverage is produced by ESPN—this is the 16th consecutive year the broadcaster has covered the final series on ABC—the games will also be available for streaming via the ESPN app.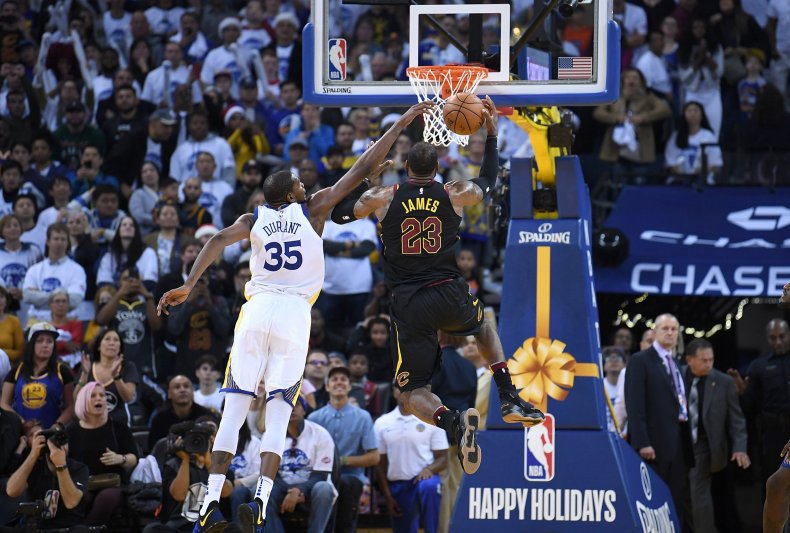 As part of its coverage, ESPN will unveil its first "NBA Surround" feature, which will include pre-game and in-game second-screen streaming offerings for every game and dedicated post-game shows on ESPN2 or ESPNEWS.
In March, the NBA and YouTube TV struck a deal which will see the latter becoming the first ever presenting partner of the NBA Finals, with every game of the series to be streamed live.
FuboTV will also be streaming the games live and, like YouTube TV, is a paid service, although it offers a seven-day trial, so fans can use it to watch the Finals and then cancel afterwards.
The NBA Finals get underway at 9 p.m. EDT on Thursday night and here's the complete schedule. (* Indicates games that will only be played if necessary).
Game 1 – Cavs @ Warriors: Thursday, May 31, 9 p.m. EDT, ABC
Game 2 – Cavs @ Warriors: Sunday, June 3, 8 p.m. EDT, ABC
Game 3 – Warriors @ Cavs: Wednesday, June 6, 9 p.m. EDT, ABC
Game 4 – Warriors @ Cavs: Friday, June 8, 9 p.m. EDT, ABC
Game 5* – Cavs @ Warriors: Monday, June 11, 9 p.m. EDT, ABC
Game 6* – Warriors @ Cavs: Thursday, June 14, 9 p.m. EDT, ABC
Game 7* – Cavs @ Warriors: Sunday, June 17, 8 p.m. EDT, ABC