NBA Finals 2019: Will Klay Thompson Play in Game 4?
The Golden State Warriors are hopeful Klay Thompson will be available to play in Game 4 of the NBA Finals on Friday night.
The guard missed his team's 123-109 loss in Game 3 with a hamstring injury he picked up in the second game of the series against the Toronto Raptors.
While Thompson was determined to play, the Warriors opted against running the risk of aggravating his injury and the 29-year-old was inactive for Game 3.
"The whole point was to not risk a bigger injury that would keep him out of the rest of the series," Warriors coach Steve Kerr was quoted as saying by ESPN.
"So that was the decision we made, and I feel very comfortable with it. Never would have forgiven myself if I played him tonight and he had gotten hurt. So you live with the decision you make, you make a wise decision, the wisest one you can, and then you live with it and move forward.
Thompson had not missed a single playoff game since the Warriors first made it to the postseason in the 2012-13 campaign but Kerr hinted his absence might be short-lived.
"The good thing is, Klay has done well the last two days," the Warriors head coach said. "Now he has a couple more days to heal, and hopefully he'll be out there on Friday."
Thompson averages 18.5 points, 2.5 assists and three rebounds per game so far in the Finals and his absence was sorely felt in Game 3, which saw the Warriors lose an NBA Finals game on home court for the first time since 2016.
Stephen Curry scored a postseason career-high 47 points but the defending champions had no answers for Toronto.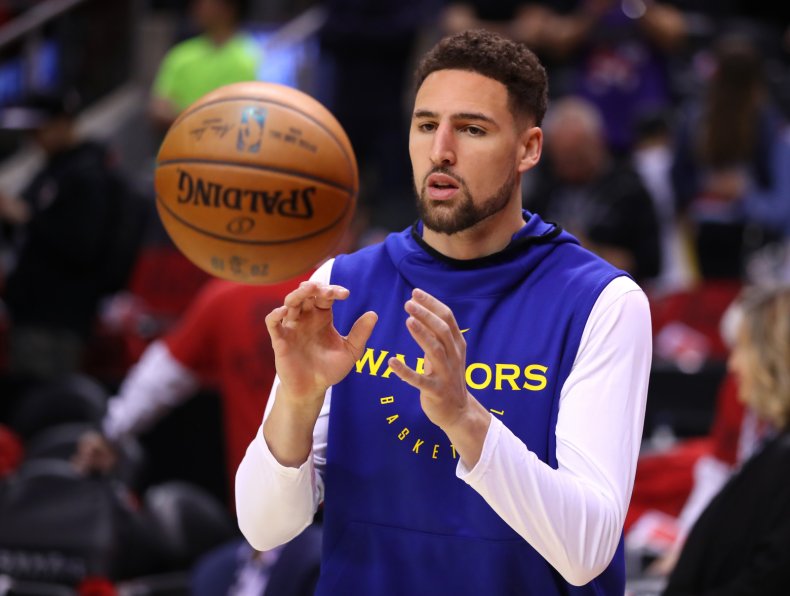 Raptors star Kawhi Leonard admitted his team was surprised by Thompson's absence.
"I didn't find out until right before tip-off," the 2014 NBA Finals MVP, who top scored for his team with 30 points, told NBC. "They told us [earlier] that he was playing tonight, and that was the mindset going out on the floor, that he was playing."
Toronto point guard Kyle Lowry added playing the Warriors without Thompson had given the Raptors a major boost. "When you lose an All-NBA-type player in Klay, an All-Star… It definitely changes their team," he said.
The Warriors were also without Kevon Looney, who has been ruled out for the series with a costal cartilage fracture he suffered in Game 2. Long-term absentee Kevin Durant also sat the game out as he continued to recover from right calf strain that has kept him out of action since May 8.
Kerr, however, was cautiously optimistic that the two-time reigning NBA Finals MVP could be involved in some scrimmages on Thursday.
"If possible, we'll get him together with some of our young guys, maybe a few of our coaches, and try to get him out on the floor," he said. "That would be the next step."