NBA Finals 2019: Will Klay Thompson Play in Game 3?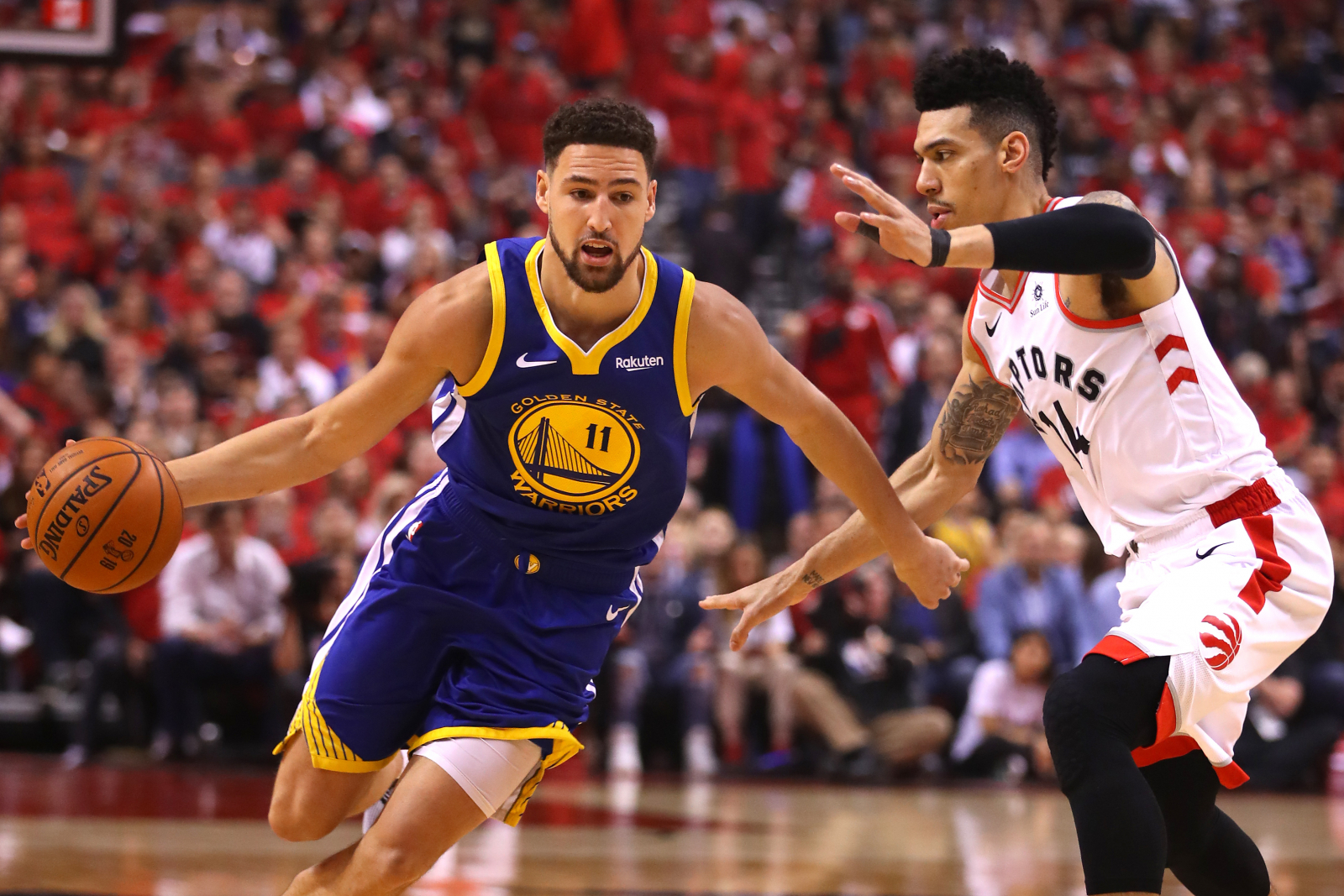 The Golden State Warriors are still hopeful Klay Thompson will feature in Game 3 of the NBA Finals on Wednesday night.
The five-time All-Star suffered a hamstring injury in Game 2 on Sunday, when he still managed to be the Warriors' top scorer, finishing with 25 points, five rebounds and five assists in 32 minutes on the court.
Thompson left the court in the fourth quarter on Sunday after complaining of hamstring tightness and the defending NBA champions have officially listed him as "questionable" for Game 3.
The guard underwent an MRI scan on his hamstring on Monday and ESPN reported he should be available to play with a mild strain when the series moves to Oakland, California.
After Game 2, Thompson minimized concerns over his injury, suggesting he would be fit to play in Game 3. However, Warriors coach Steve Kerr suggested the team would have to be careful.
"Klay said he'll be fine, but Klay can be half-dead and he'd say he's [fine]," he told the Associated Press.
"We'll see. He pulled his hamstring. He thinks it's minor—I don't know what that means going forward."
However, the San Francisco Chronicle suggested the hamstring issue might be enough to keep Thompson, who averages 18.5 points, 2.5 assists and three rebounds per game so far in the Finals, out of Game 3.
With 120, Thompson is the Warriors' leader in terms of postseason games played, one ahead of Draymond Green and 12 ahead of Stephen Curry.
Even more impressively, he has not missed a single playoff game since the Warriors first made it to the postseason in the 2012-13 campaign, his second season in the league.
While the Warriors are wary of rushing Thompson back, they also desperately need one of their best players on the court given Kevin Durant is still out.
The two-time reigning NBA Finals MVP hasn't played since May 8 because of a right calf strain and his return date remains uncertain. On Sunday, Kerr hinted that it was "feasible" Durant would be able to play after just one practice session.
Last week, Yahoo Sports' Chris Haynes reported the Warriors believed Durant would return in Game 4, with Game 3 considered a more optimistic option.
Durant and Thompson aren't the only injury concerns for the Warriors. Forward Kevon Looney was ruled out for the rest of the series with a right upper body fracture he suffered in Game 2 and Andre Iguodala is dealing with a calf problem.
Game 3 tips off at 9 p.m. on Wednesday night in Oakland, with the series tied at 1-1.