Talking With the Man Who Has Photographed the Last 34 NBA Finals Locker Room Celebrations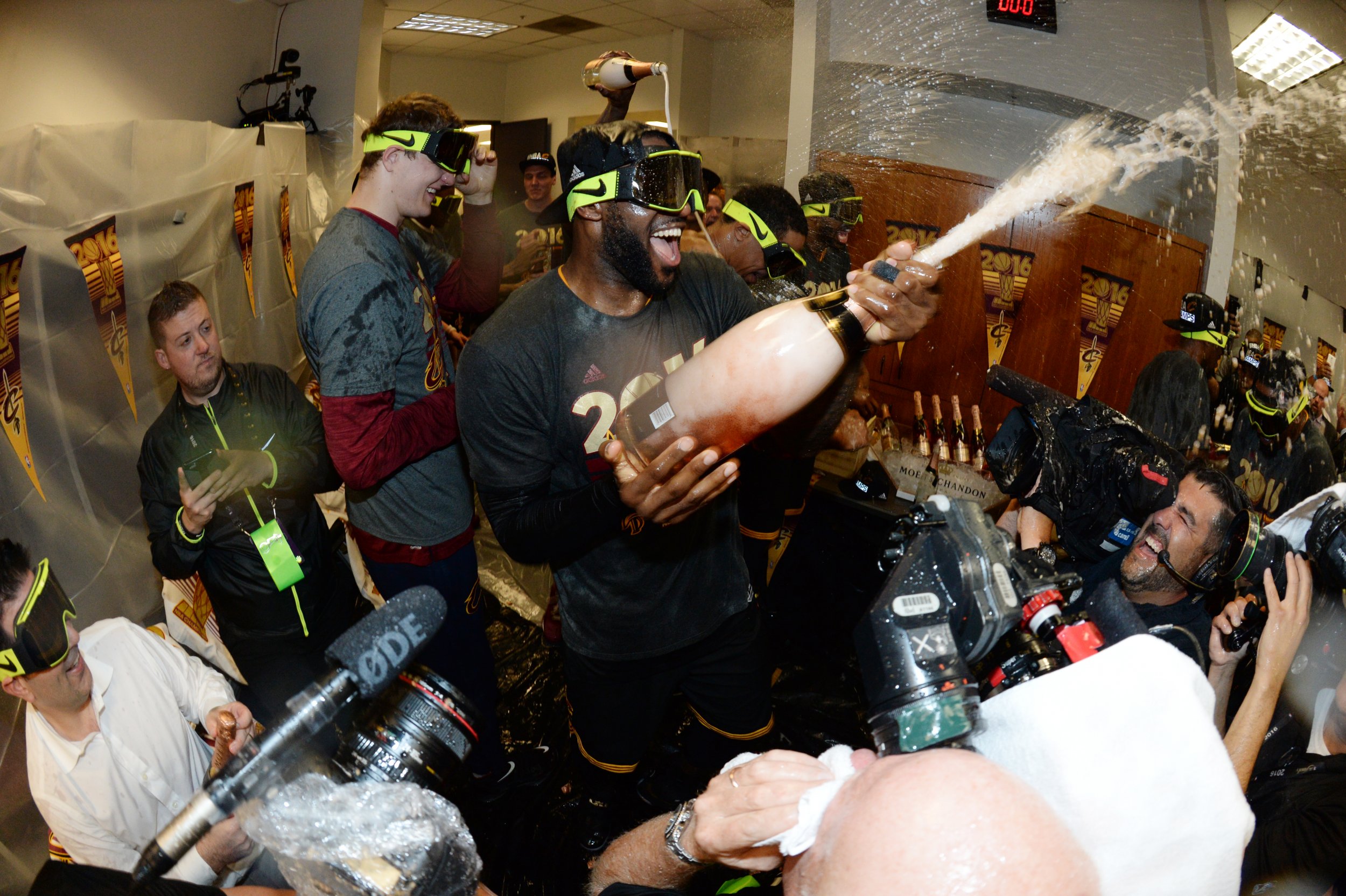 No one knows more about the anatomy of an NBA Finals celebration than Andrew D. Bernstein. Not Michael Jordan. Not Kobe Bryant. Not even Phil Jackson, who has so many rings he needs to break out a few toes if he wants to wear them all at once. In fact, Bernstein has participated in nearly three times as many title celebrations as the Zen Master Jackson. He has been doused with champagne jettisoned from bottles held by Bird, Magic, Jordan, Olajuwon, Duncan, Kobe, Shaq, Wade, LeBron, Dirk, Curry and scores of other champions history has forgotten.
It's tough, though, that incessant flow of alcohol in the winners' locker room, when you're a photographer like Bernstein, who has covered every NBA Finals since 1983. Expensive camera equipment and beer don't typically mix very well. But after 34 straight championship celebrations, and seven following Game 7s, it turns out you learn a thing or two about how to keep your camera dry. (And, in case you can't, you have an extra one stashed in the shower.)
Newsweek was able to catch up with the 58-year-old Bernstein after the most recent Finals madness died down (for those who missed it, Cleveland beat Golden State in seven games) to get some insight into what made this matchup special, where it fits in basketball history and Kevin Love's unique ability to crush beer cans into his face with his bare hands.
What's your first move right when the final buzzer sounds?
There's a lot that happens way before that. Being Game 7, you have to be prepared for either team to win. My preparation starts earlier in the day. I have special gear that I use in a deciding game. I run on the court, and then I run into the locker room with that same gear. My assistant brings out my locker room camera and flash with about four or five minutes to go in the game. I have a fanny pack with extra flash, extra batteries, an extra lens, a towel, and I strap that on so that I can just jump up. The whole idea is to get into the fray as it's happening. I was lucky this year because it happened right in front of me, on the Cavs' bench side. We can't go on the court before the buzzer, but when the buzzer hits zero, I'm right on the court.
The other part of the preparation is that as a group, we meet way ahead of time and decide who goes where and who does what. The court is very, very restricted. Only a couple of people on the photo side are on the court and inside the ropes and all that. I'm usually that guy, but then you have to decide who runs into the locker room ahead of the team, who runs off the court with the team, who shoots the team photo on the court and all that stuff. Then there is a second wave of photographers that come in once the locker room is open. It's all about preparation and experience, but it's also a crap shoot. You've got to get lucky.
How did this post-title LeBron compare to LeBron after the two titles in Miami?
When he won the first one [in 2012], that was very reminiscent to me of when Jordan won his first one in '91. Jordan had been in the league seven years and when he won I took that iconic photo of him holding the trophy with his dad and he's crying. It was similar with LeBron in Miami because it took him that long to get to the mountain top and win it. This one was a lot different. It's reminiscent of when Kobe won his fifth title in 2010 against the Celtics. It was...I don't want to call it vindication, but Kobe has said publicly that that fifth title was his most important one, because it avenged the loss in 2008, which was very painful. It came toward the end of his career. To me, it is a similar feel. With all the backstory attached to [LeBron this year], being down 3-1; no team had ever come back to do that; they're in the visiting arena; they're on the road. The whole story of coming back to Cleveland for the sole purpose of bringing them a title. I think it's a wonderful story. I was right there with him when he fell on the ground. I have a great picture of him on the ground sobbing. That was reminiscent to me of Jordan, when he won his second one, and he fell to the ground and couldn't contain himself. All the emotion comes out at that point.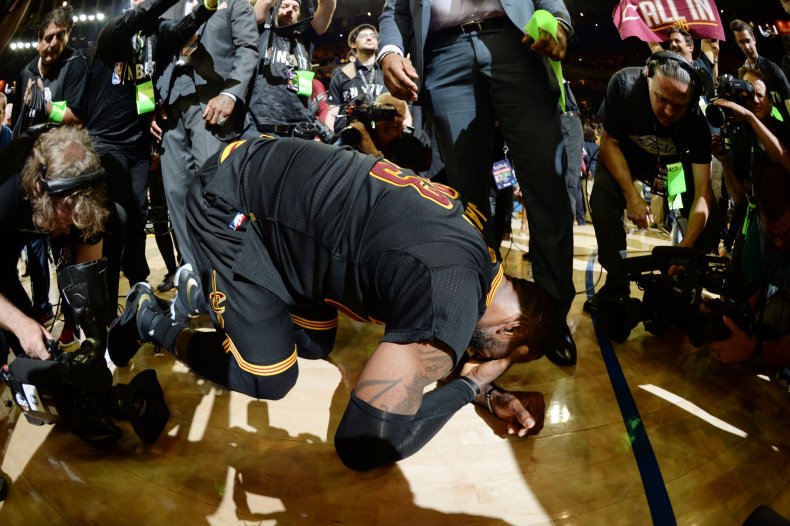 The scene on the floor after the buzzer sounds seems like total chaos. How cutthroat is it for you when you're trying to get the picture you want? Are you elbowing other photographers and handlers out of the way?
It looks like it's a mob scene. It kind of is and it kind of isn't. The NBA does a good job of limiting who initially can get on the court. If you don't have an armband, security doesn't let you on the court. All of us who rushed the court there at the end have done this many, many times together. There's a lot of team personnel and that stuff, but we all kind of work together. It's been a long time since there was any sort of altercation. It's a very controlled chaos. My mantra has always been to go directly to the star player. Jordan, Olajuwon, Duncan, LeBron, Kobe. Any of those guys, you go to them first. Luckily [this year] it happened right in front of me. The first picture was just a big group hug and then I found LeBron in there. I just stayed with him the whole time, basically until he went up on the podium. Then I'm the guy inside the ropes who shoots the trophy presentation, the MVP presentation and then I actually did the team photo. Then, as soon as that is done I beeline it out of there into the locker room, and luckily I got in there right before LeBron. Then all hell broke loose.
Can you remember a Finals when so many people were crying? LeBron was, obviously, but so were JR Smith, Tyronn Lue and a few other guys.
I don't really remember that. I go back to Michael in '91, but that was kind of brief. He didn't do it on the court; he did it very briefly in the locker room with the trophy. I don't remember any of the Lakers guys crying...Celtics. Pistons. Bulls. There was so much emotion in this series because of what was at stake. All of those guys were aware that Cleveland hadn't won a major title in 50-something years. LeBron's promise to bring a title back. Coming back from down 3-1. I think it just all came to a head. I think it's wonderful that the guys can show emotion like that, and let their guard down. It's a beautiful thing. LeBron had his kids there. For his kids to see him so emotional with a fulfilled goal and dream. As a father I think that's a beautiful thing.
As far as this story line and improbability of the comeback, where does this one rank for you? Which other Finals that you've covered stand out like this one will for years to come?
The first one that comes to mind in terms of story line and backstory is the '85 championship when the Lakers beat the Celtics for the first time after God knows how many times they lost to them in the Finals. They won it in Boston Garden. No team had ever beaten the Celtics for a championship in Boston Garden. The story line is pretty similar. They were pretty much written off after Game 1, which was the Memorial Day Massacre, where Kareem was just lambasted in the press because he had a bad game in Game 1. People were predicting a Celtics sweep. What's interesting about that series was that there were four days between Game 1 and Game 2. So Pat Riley was able to get the team to regroup. Kareem completely did a 180 and ended up being the MVP of that series. For them to win in Boston Garden, it was so incredibly dramatic. The Lakers-Celtics rivalry of the '60s happened before my time, but it was certainly very heavily felt.
I think this is a rivalry now, the Cavs and the Warriors. I think we're going to see this go on for a while. It's very similar to Showtime versus the Celtics. Blue-collar eastern city versus the West Coast style of play. Three-pointers while the East is grinding it out. There are a lot of great story lines. And you can't lose sight of the 73-9 record. This was an epic Finals and definitely ranks in the top 5.
Do you have a strategy once you get back into the locker room, or is it just spin around and reel off as many frames as possible?
It is a free for all. It's somewhat controlled chaos. We know what is going to happen. The players wait until all the star players are in. They have to do on-court interviews right after [the game]. Most of the players are already in there poised and ready to go with their champagne and goggles. The lockers are wrapped in plastic. They put plastic sheeting on the carpet, which is insane. It was like a skating rink in there once it got wet. At one point a cooler of ice spilled on the floor, and there were ice cubes all over the place, champagne bottles everywhere.
You have to get that first moment of impact when the bottles are opened. They deferred to LeBron for that. LeBron came in and made a little speech before he let go. They just went crazy. I don't wear a poncho. I have no plastic on my gear. I just go for it. I'm used to it. What happens to the gear happens and I worry about it later. That's why I have extra stuff. As soon as I run in I stash my extra camera in some place safe. I put it in the shower. There was a point when my flash did freeze up. It got too wet and I had to switch flashes out. But yeah, you just kind of go for it. I call it combat sports photography.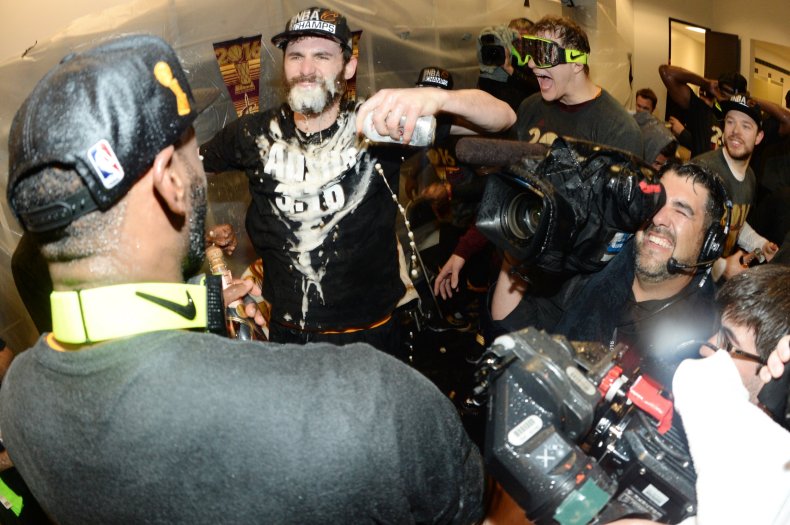 Have you ever seen someone crush beers into their face like Kevin Love did?
No. I've never seen that. But I did get a good picture of it. When the LA Kings won [the Stanley Cup] in 2012, I was in their locker room, and those guys party pretty hard. You'd think with hockey players I would have seen that first, but no, I'd never seen that happen.
Is there any way the locker room celebrations have changed in the past 5, 10, 15, 20 years? The locker rooms are probably bigger in the new arenas...I guess there's is probably less cigar smoking...
It kind of surprised me that there was some cigar smoking being done in the Cavs locker room. I hadn't seen that in a while. I hadn't seen it actually in the locker room since the Jordan days. But nothing has really changed. It's still the same crazy scene. Things have gotten more controlled as far as who gets in there first. From my standpoint, it's easier when the road team wins, just because of the nature of how many people you have to deal with if it's the home team. In Oracle Arena, the hallway from the court to the locker room is so small and congested for the home team compared to the visiting team. I kind of shudder to think what that scene would have been like. But the way I approach it hasn't really changed, either. It's a little easier technically with digital as opposed to film. That at least is a plus on our side.
Your most famous picture is probably the one of Jordan holding the trophy with his dad after winning his first title. Were there any tender, quieter moments like that this year, or was it just straight chaos?
It was pretty chaotic except there was a moment when LeBron was kind of cradling his face up against the trophy. Things had died down by that point a little bit. He was taking pictures with different people. I just kind of caught him in a very pensive moment, right in the middle of the locker room. He's kind of got his eyes closed and he's got both trophies in his hands. That was a nice moment. But there was no moment…I think it was Kobe's second championship where he ended up in the shower in a crazy jacket he was wearing with the trophy. I happened to see him in there. He was trying to collect himself. Also, after the first championship, in the Lakers' training room, Kobe and Shaq ended up in there together, and then Magic came in, away from everyone else. But that didn't happen in this one. It was a pretty big locker room, which was good. Sometimes they're really tiny. This one at least allowed people to maneuver.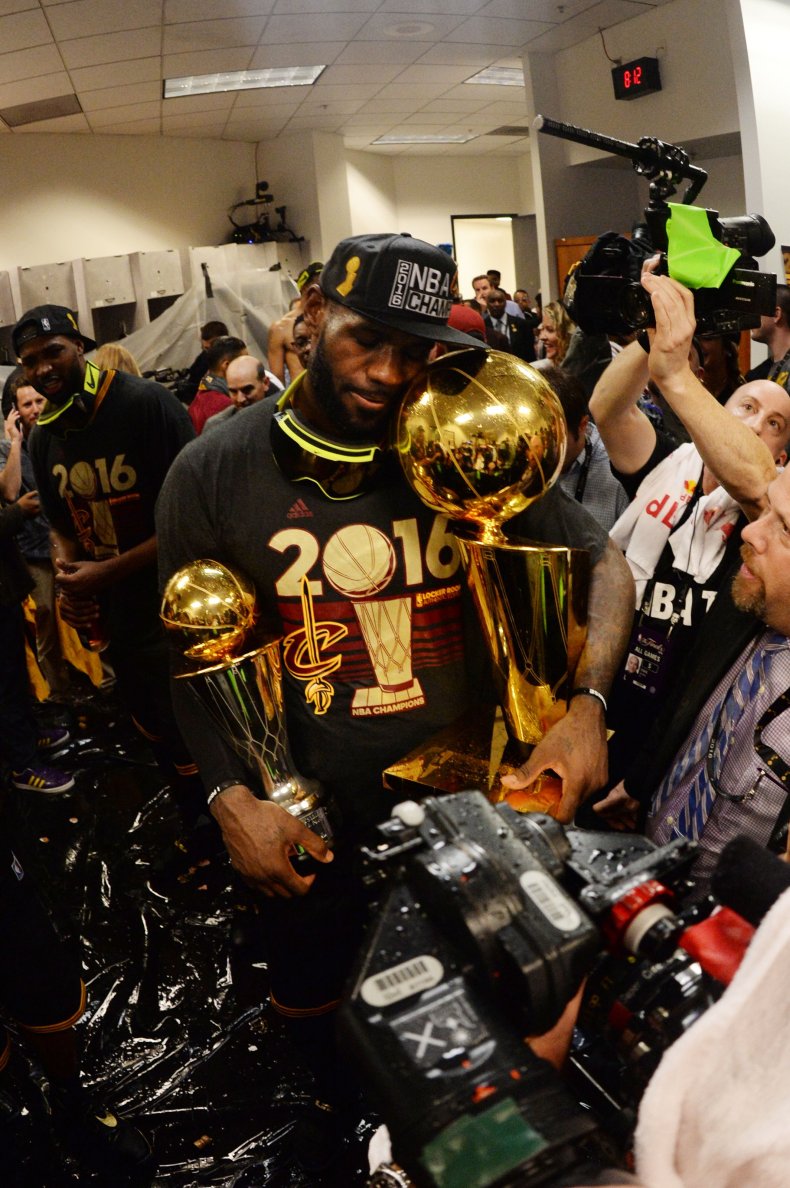 Was there any other part of the celebration this year that stood out to you or that you found amusing?
Obviously, it was a devastating loss for the Warriors at home, and I thought it was really classy of them to wait on the court. Most of the players waited to try to congratulate the other team. I specifically saw Draymond and Curry and Steve Kerr and a few of the other guys, just watching and waiting. It was very reminiscent of the Stanley Cup, when the team hoists it up and the other team is just standing there waiting to do the handshake line. I thought that was very classy [of the Warriors] and spoke of true professionalism.
The only other thing really stood out is that I've never been part of a Finals that spoke to how important it was to the city. I can't really think back on any other Finals that was just such a labor of love, do-or-die for the actual city that was being represented. The first thing LeBron said was, "Cleveland, this is for you," which is wonderful. Other cities like L.A., Boston and Chicago have all had championships of some kind, recently. Even Dallas, with the Cowboys. So that really stood out. That kind of delineates this Finals from any other one, how important it was to the players to bring something to the city. Then you saw that when they got back to the airport. That was insane. It was a beautiful thing, really.
And for LeBron, after he came back, there was kind of a sense that he would have failed if he wasn't able to win a title for Cleveland...
There are a lot of humanistic aspects to the story. The fact that LeBron came back and sort of apologized and admitted he probably never should have left. He came back after all the animosity and anger toward him after he left. He asked for forgiveness from the city and the owner. There was forgiveness and acceptance. There was a lot of real-life human stuff going on. It wasn't just about sports. You don't see that humanity and humility that often in sports. That, to me, was pretty cool, too. I was happy for LeBron. I don't have a relationship with him, but you could really feel the weight on his shoulders as the series started to slip away. He came through big time. It had to be very relieving.