NBA Finals 2019: What the Experts Say Ahead of Game 5 Toronto Raptors vs Golden State Warriors, Predictions
The Golden State Warriors could welcome back Kevin Durant when they play a crucial Game 5 against the Toronto Raptors on Monday night.
The two-time reigning NBA Finals MVP has not played since May 8, when he suffered a calf strain in Game 5 of the second-round series against the Houston Rockets.
While the 30-year-old is officially listed as questionable, there's a growing feeling he might finally make his long-awaited return. Whether that would be enough for Golden State to win in Toronto for the second time this series and keep the Finals alive remains to be seen.
The Warriors have looked mentally and physically deflated without Durant. Up until the beginning of the Finals, the defending champions were 31-1 in games in which Stephen Curry had played and Durant had not.
That aura of invincibility, however, has all but evaporated as the Raptors bulldozed their way to a 3-1 lead. While playing Durant might not be enough to rescue the series, experts believe the Warriors have to roll the dice at this stage.
Here's what some prominent figures within the NBA media circle have had to say ahead of Game 5.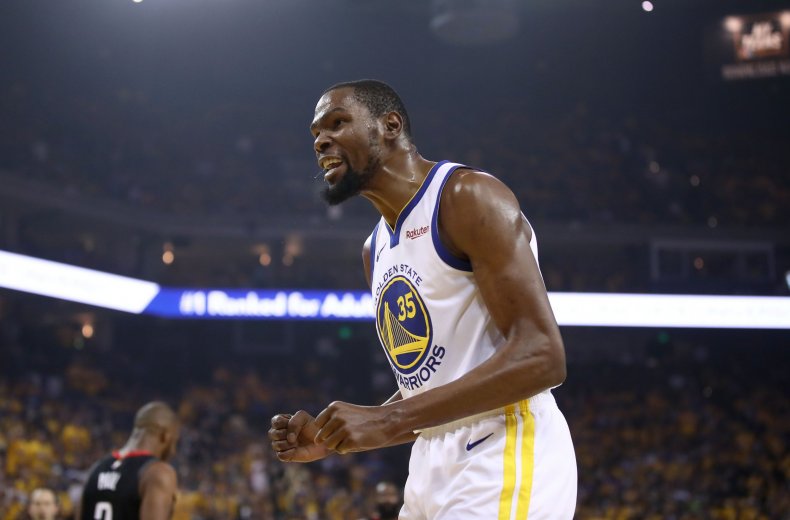 Vincent Goodwill—Yahoo Sports
While the Warriors have their backs firmly against the wall, Goodwill believes returning in Game 5 would be the perfect scenario for Kevin Durant.
"Durant appears to be presented with a win-win: If he plays and performs to his standards, against all logic that says he should be rusty after missing so much time, he'll be the hero he's always wanted to be," he wrote.
"If he's less than himself, it's certainly understandable given the injury, the fact that opposite him will be a guy playing the ball of his life, and that Durant hasn't come up short individually many times in his career."
Dan Wolken—USA Today
Like Goodwill, Wolken also argues that Durant and the Warriors have nothing to lose by playing the two-time NBA Finals MVP in Game 5.
"At this point in the series, with the Warriors down 3-1, there's nothing to lose for either the team or Durant's brand if he comes back now—even if he's significantly less than 100 percent. Nobody will blame him if he fails to make the difference."
Kurt Helin—NBC Sports
Helin echoes the thought of his colleagues, arguing Durant is the only card left for the Warriors to play.
"Expect to see him out there," Helin wrote in his column.
"It is the only card the Warriors have left to play in an NBA Finals they trail 3-1 and have been outplayed in 10 of the 12 quarters.
"Durant back on the court is an important turn in this series, if he can go. It certainly fuels Golden State's dream of turning the 3-1 tables in the Finals and writing their own historic comeback saga."
Kirk Goldsberry—ESPN
Goldsberry argues that whether Durant plays or not, the Warriors are going to need someone to step up and help Klay Thompson and Stephen Curry.
"The Dubs' role players have mostly been awful in this series. Even with Kevin Durant now listed as questionable, Golden State likely needs some help beyond its star backcourt to extend this series, whether KD plays or not.
Rohan Nadkarni—Sports Illustrated
Nadkarni believes it's a case of too little too late for the defending champions.
"Short of KD heroically leading a 3–1 comeback, his Finals will be remembered for his injury and why he didn't play in the first four games while people spun yarns for Klay Thompson and Kevon Looney, who returned from their own maladies to contribute."