NBA Finals: JR Smith's Blunder in Game 1 Broke Twitter
There is losing Game 1 of the NBA Finals and then there is losing Game 1 of the NBA Finals like Cleveland did on Thursday night.
Trailing 106-107 with 4.7 seconds left, the Cavs had the chance to win the game, as George Hill went to the free throw line after being fouled by Klay Thompson. Hill scored the first of his two attempts but missed the second, only for Cavs forward JR Smith to secure what appeared to be a crucial offensive rebound.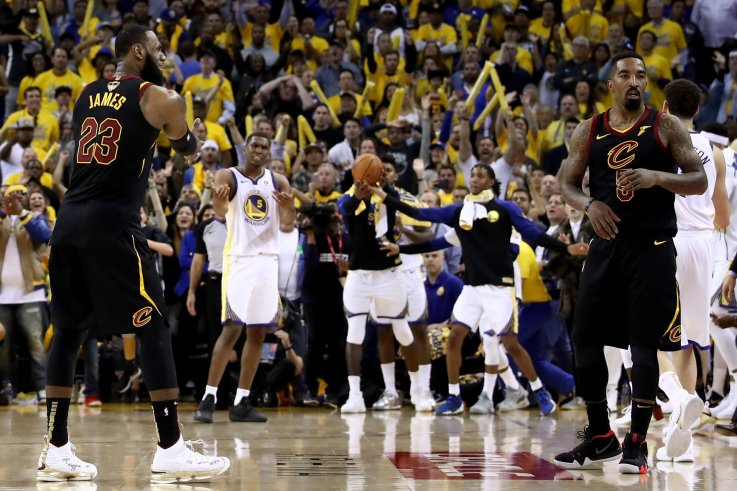 Inexplicably, however, instead of firing up a shot that could have granted the Cavs an unlikely win, Smith dribbled towards the perimeter. When he realized the mistake, Smith frantically dished the ball out to Hill, for a three-pointer which missed the target and which might not have counted anyway.
Handed an unexpected lifeline, the Warriors went on to win Game 1 124-114 in overtime, despite LeBron James' 51 points—a career-high in the Finals for the three-time NBA champion.
After the game, Cavs coach Tyronn Lue said Smith " thought we were up [by] one [point]" but the Cavs' forward had a different version.
"I was trying to get enough to bring it out to get a shot off," Smith was quoted as saying by ESPN. "I knew we were tied; I thought we were going to call timeout. If I thought we were ahead, I'd have held on to the ball and let them foul me."
However, that contradicts Smith's reaction in the aftermath of his play, when he was caught on camera mouthing "I thought we were ahead" to LeBron.
It will be hard to establish whether Smith did in fact get the score wrong but if the reaction on the internet was anything to go by, he's unlikely to ever live the incident down.
NBA players couldn't believe what they saw...
And neither could the broadcasters or the general public...
Others suggested Hill should be taking some of the blame for missing his second free throw.
NBA Finals: JR Smith's Blunder in Game 1 Broke Twitter | Sports