NBA Finals: The Key Numbers Ahead of Warriors Vs Cavs Part 4
For the fourth consecutive year the Golden State Warriors and the Cleveland Cavaliers meet in an NBA Finals. Will Steph Curry and Kevin Durant claim a second title in a row or can LeBron James single-handedly drag the Cavs over the line and cause an upset of historic proportions?
Newsweek has crunched down the key numbers ahead of Game 1 on Thursday night.
1
Apart from LeBron James, Kevin Love is the only Cleveland player to have a double figure average in terms of points scored in this postseason. LeBron will need a lot more support against Golden State.
4
The big number going into the series. This is the fourth consecutive year Cavs and Warriors will be playing for the title of NBA Champions.
5
The years since a team has won back-to-back titles. The Warriors have the chance of becoming the first team to do so since the Miami Heat in 2013. Winning a third title in four years would see them draw level with the Bulls as the league's joint-third most successful franchise—they also won two titles as Philadelphia Warriors in 1947 and 1956.
6
Unless Cleveland can pull off a major upset, LeBron will lose in the NBA Finals for the sixth time in nine attempts. Only Elgin Baylor and Jerry West have lost more—eight each—but LeBron has three titles, while Baylor and West have just one between them.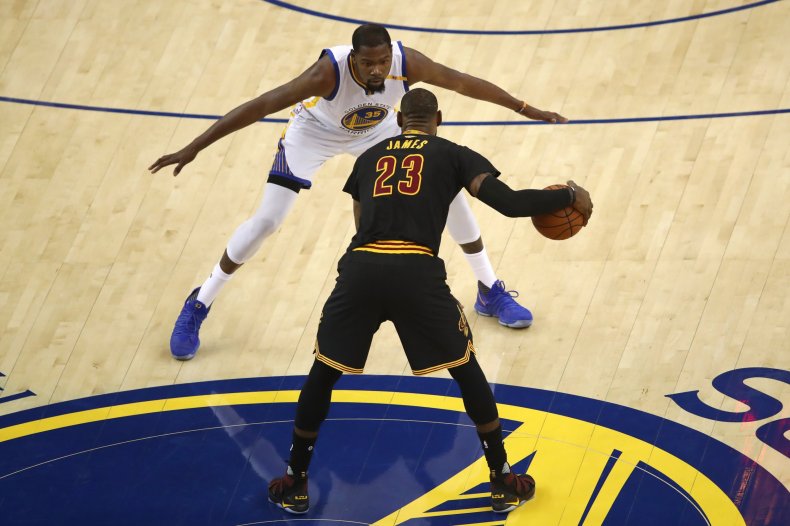 12.5
LeBron has played 600 more minutes than any Warriors player ahead of the Finals, meaning he has effectively played 12.5 games more than any of the players he will face from Thursday night.
17
The Warriors are the biggest favorite going into an NBA Finals in 17 years. The last time the bookies had a bigger favorite was when the Lakers took on the Sixers in 2001.
34
LeBron is averaging 34 points in this playoffs, the second-best return of his postseason career. To put things into context, the next three players in the Cavs roster by offensive production—Kevin Love, Kyle Korver and George Hill—combine for 33.4 points per game.
77
Percentage chance FiveThirtyEight gives the Warriors of winning the title. ESPN Forecast suggests the Warriors have a 81% chance of winning, while Basketball Power Index has it at 91%.
130
In this postseason so far, the Warriors have outscored opponents in the third quarters by a combined 130 points.
612
The number of points LeBron has scored in the postseason so far. More than anybody else has done in playoffs history.
650
The Cavs are ranked +650 outsiders going into the series, the biggest price of any team LeBron has ever got to the Finals with. The Cavs were +180 when they beat the Warriors in seven games in 2016 and +360 when they lost to San Antonio in 2007, in LeBron's first appearance in the Finals.