Miami Heat Injury Update: How Long Are Jimmy Butler, Goran Dragic and Bam Adebayo Out For?
The Miami Heat have defied expectations throughout the playoffs but they may have to dig even deeper than they expected if they are to win a first NBA title since 2013.
Game 1 of the NBA Finals against the Los Angeles Lakers could have hardly gone worse for the Heat, who lost veteran guard Goran Dragic and All-Star big man Bam Adebayo to foot and shoulder injuries respectively, while Jimmy Butler, Miami's leading scorer in the playoffs, was in clear discomfort after rolling his ankle.
While Butler is expected to play Game 2, the presence of Adebayo and Dragic remains in doubt and there are concerns the latter could be out for the remainder of the series.
It would be a major blow for the Heat, who began the series as the second-biggest underdog in almost two decades, and were blown out 116-98 by the Lakers on Wednesday night.
Jimmy Butler
The Heat All-Star guard rolled his left ankle shortly before halftime and looked to be in clear discomfort as he hobbled off the court. Butler, who leads Miami in scoring in these playoffs with 20.8 points per game, returned for the second half but admitted after the game that his ankle felt far from perfect.
"A little bit sore, I'll be OK. Some treatment, and get ready to go again," he said. "I think I gotta be ready to go. We'll see how it feels tomorrow, but I'm gonna be fine."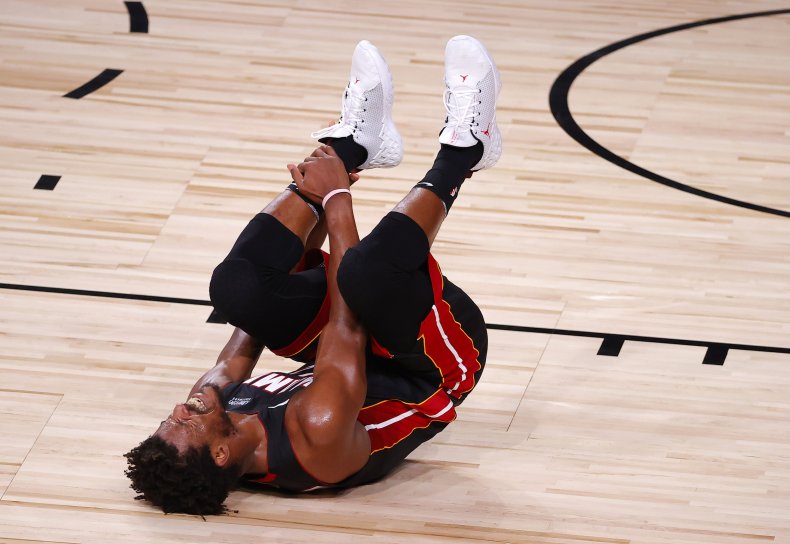 Goran Dragic
Dragic appeared to injure his left leg as he drove against Rajon Rondo in the second quarter. The veteran guard, the Heat's second-most prolific scorer in these playoffs with 16.5 points per game, didn't exit the game immediately but did not return after half-time.
According to ESPN's Rachel Nichols, the 34-year-old was ready to return to the court at the beginning of the third quarter, only to make his way back to the locker room after being stopped by a team staffer.
ESPN's Adrian Wojnarowski and The Athletic's Shams Charania both reported Dragic suffered a plantar tear in his left foot and his presence for the remainder of the series is in doubt.
"I know he's as tough as anybody, and it's the Finals," Miami coach Erik Spoelstra said of Dragic. "But I don't have an update on his foot right now."
NBA injury expert Jeff Stotts suggested Dragic will undergo additional testing over the next 24 hours to establish the extent of the injury, as players can play on a partially torn plantar fascia. However, he warned that Dragic may not come feature in the Finals again as over the last 15 seasons, NBA players have missed an average of 13 games after suffering plantar fascia tears.
"It is possible to play on partially torn plantar fascia but the injury is often very painful and limiting," Stotts wrote in a post published after the game.
"Modifications to the athlete's shoes can be made to help with the associated symptoms but are by no means a cure. Time remains the best course of treatment, especially for a complete tear or rupture.
Bam Adebayo
Adebayo looked to have to hurt his left shoulder after driving against Dwight Howard in the third quarter, before subsequently exacerbating the injury as he contested an offensive rebound. The All-Star big man left the game with six minutes left in the third quarter, clutching his shoulder as he walked off the court.
The Heat called the injury a left shoulder strain and said Adebayo was examined by team physician Dr. Harlan Selesnick and then underwent X-rays on his left shoulder, which were negative.
The 23-year-old, who leads Miami in rebounds, assists and blocks in these playoffs, had suffered a similar injury towards the end of Game 4 in the Eastern Conference Finals, when he got tangled up with Boston Celtics guard Jayson Tatum as the two fought for possession.
After the game on Wednesday night, Heat coach Erik Spoelstra said he wasn't sure whether Adebayo had re-aggravated his previous injury or whether he had suffered a new one, while Tim Reynolds of the Associated Press reported he was determined to play in Game 2 on Friday night.