NBA Fines Kevin Durant $50,000 For Exchange With Actor Michael Rapaport
NBA superstar Kevin Durant will be fined $50,000 by the league for a recent exchange of private messages with actor Michael Rapaport, who claims he was threatened by the Brooklyn Nets player.
Rapaport earlier this week tweeted that he often gets threats, but never figured Durant would be one making them.
"I receive threats and disgusting messages DAILY, but never in my wildest dreams did I think @KDTrey5 would be among them," Rapaport's Tuesday tweet said. "The (snake emoji) himself is now threatening me, bringing up my wife and wants to fight. This is supposed to be America's sweetheart right? #ImDaRealMVP".
A series of private messages allegedly took place right before Christmas, according to Rapaport. The messages contained threats and anti-gay slurs. Once this became public, Durant became apologetic for the language that went back and forth between himself and the actor.
"I'm sorry that people seen that language I used," Durant said. "That's not really what I want people to see and hear from me, but hopefully I can move past it and get back out there on the floor."
The exchanges between Durant and Rapaport go back to December 22, when the Nets defeated the Golden State Warriors, 125-99. Durant conducted an interview with the TNT crew, and Rapaport tweeted about it.
"KD seemed deeply in his feelings with the @NBAonTNT crew after the game. DAMNIT he's super sensitive about everything. Don't do the interview," Rapaport stated.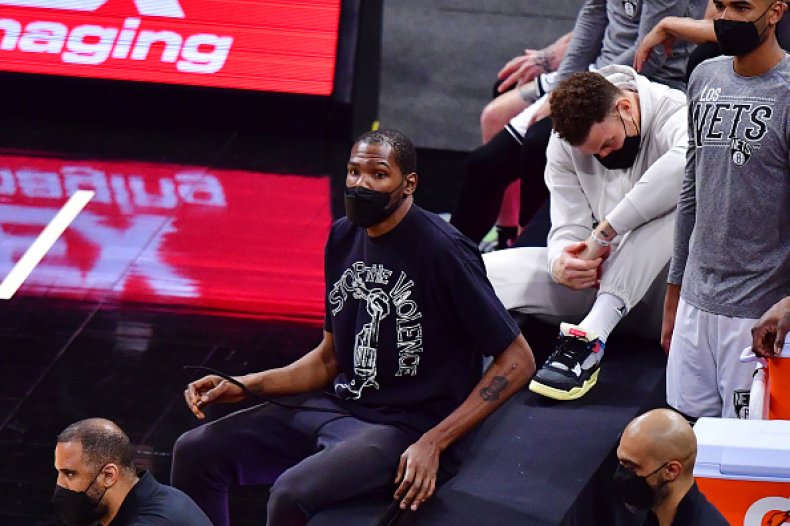 This sparked a series of private messages between the two that spilled over into the next day, December 23.
Durant, who goes by KD, allegedly commented to Rapaport, "U a bitch."
The alleged response from Rapaport was, "Just do the f*cking interview & if your upset about something they've said SAY SOMETHING. Up there looking like you were gonna cry & shit".
Further in the exchange, Durant called the actor a "clown", "c*nt", a "p*ssy", "bitch ass", "piece of shit" and a "pale pasty cum guzzling bitch." KD allegedly went on to tell Rapaport to "suck a d*ck" and then eventually said, "All you do is c*ck suck other men for attention."
Durant also allegedly challenged Rapaport to a street fight at a public corner, in which Rapaport responded, "Go help the kids in BROWNSVILLE BROOKLYN & stop being a f*cking Puzz".
Durant hasn't played in the last 21 games after a hamstring injury in February. His Nets are 34-15 and in first place in the Eastern Conference, a half game ahead of the Philadelphia 76ers. They are three games behind Western Conference-leading Utah Jazz for the best overall record in the NBA.
Durant plans to return to the floor soon, telling reporters Thursday that his rehabilitation is going well and that he "feels great."