When Will Isaiah Thomas Be Back? LA Lakers Point Guard Excused With Hip Problem
Isaiah Thomas has traveled across the country to have his hip assessed after pain in the long-standing trouble spot failed to subside and kept him out of the Lakers' last two games.
Thomas, who traded from the Cleveland Cavaliers to the LA Lakers in February, was ruled out of their games on Saturday (March 24) and Monday due to the continuous hip issue.
He reportedly left the team in Detroit, where the Lakers lost to the Pistons on Monday 112-106, to head to New York and see a specialist.
The 29-year-old point guard was traded to the Cavaliers in the summer as part of a deal that saw Kyrie Irving joining the Celtics, where Thomas had shot to fame.
But it quickly grew clear that he was not the same player and the Cavs moved him on to the Lakers. Overall this season, he is shooting a career-worst 38.3 percent from the field, and has a career-high 3.2 turnovers for each contest.
Read More: What does the future hold for Isaiah Thomas?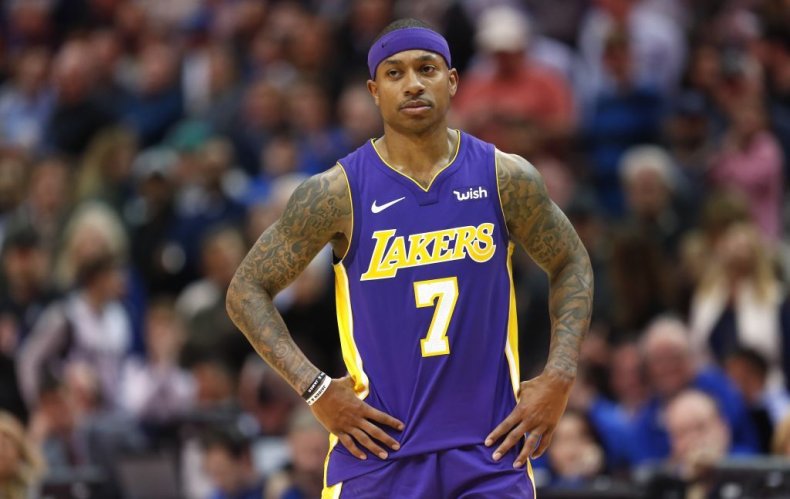 The injury has clearly caused problems for Thomas, but it has been an issue in the past. During last season's Eastern Conference finals, he was shut down after just two games because of a tear in the muscle by his pelvis.
By the time Thomas had completed his rehab, he was playing for the Cavaliers, making his return on January 2 in a win over the Trail Blazers. But he didn't last long there.
Overall, Thomas has averaged 15.6 points and 5.0 assists for the Lakers since being traded, and he has played a total of 32 games for both Los Angeles and Cleveland this season.
The Lakers are unclear on when he will return from New York. They face the Mavericks at Staples Center on Wednesday and are currently 11th in the Western Conference.