Karl Malone's Stats, Net Worth and Salary History Compared to Michael Jordan
Throughout his stellar career, Michael Jordan played a pivotal role in building two separate dynasties with the Chicago Bulls. MJ was the cornerstone upon which Phil Jackson built a team that won three consecutive titles between 1991 and 1993 and he was again the Bulls' talisman when the franchise clinched a second three-peat between 1996 and 1998. It is not coincidence the Bulls did not win the title during Jordan's two-season hiatus away from the game.
Jordan's own dominance in Chicago, however, also ensured other potentially era-defining NBA teams never quite established themselves.
If it wasn't for Jordan, Charles Barkley and Patrick Ewing may not have retired without an NBA tittle to their names. The former and his Phoenix Suns lost to MJ in the 1993 NBA Finals, while the latter's New York Knicks were defeated five times in six playoffs meetings against the Bulls between 1989 to 1996.
Karl Malone's name could also be added to the list.
"The Mailman" retired as the NBA's second-most prolific scorer in history behind Kareem Abdul-Jabbar. During 19 seasons in the league, Malone won two MVP awards, was a 14-time All-Star and made the All-NBA first team on 11 occasions.
However, he never managed to secure an NBA title, largely thanks to Jordan, who inspired the Bulls to defeat Malone's Utah Jazz in the NBA Finals in 1997 and 1998.
In fact, Malone's name will remain forever linked to the play that defined Jordan's final act as a Bulls player. In Game 6 of the 1998 NBA Finals, with the Jazz up 86-85 and 22 seconds left, Jordan stripped Malone of the ball, dribbled down the court, before sinking the game-winning jumper with 5.2 seconds left to clinch a third consecutive title for Chicago.
When the Jazz and the Bulls met a year earlier, Jordan had some extra motivation to stop Malone.
"I'm not saying he wasn't deserving of it," Jordan said of Malone winning the MVP title in 1997 on Episode 9 of The Last Dance, ESPN's 10-part documentary chronicling Jordan's final season with the Bulls
"All I'm saying is that that fueled the fire in me. [I said] 'Okay, you think he's the MVP? That's fine, no problem.'"
Chicago and Utah arrived in the NBA Finals with the two best regular season records—69-13 for the Bulls and 64-18 for the Jazz—with Jordan and Malone both posting MVP-worthy seasons.
"The Mailman" averaged 27.4 points, 9.9 rebounds, 4.5 assists, and 1.4 steals on 55 percent shooting from the field, while Jordan averaged 29.6 points, 5.9 rebounds, 4.3 assists, and 1.7 steals while shooting 48.6 percent of his field.
Malone top scored for the Jazz in each of the six games in the Finals, compiling a double-double in the first four games of the series. Jordan, meanwhile, scored more points in four games en route to a fifth NBA title and a fifth NBA Finals MVP crown.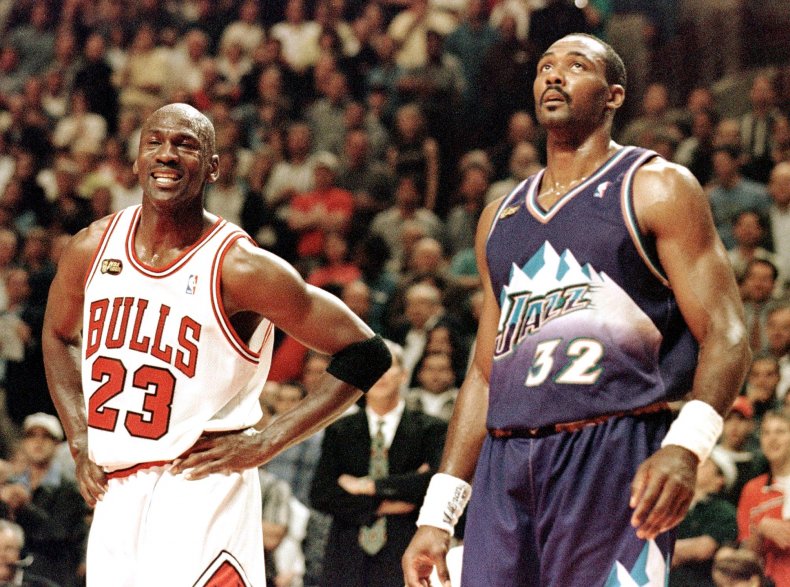 MJ's most famous contribution to the series came in Game 5 when he battled through food poisoning to score 38 points as the Bulls defeated the Jazz 90-88 on the road, in the so-called "Flu Game".
Allegedly debilitated by a bout of flu, Jordan only got out of bed a few hours before the game tipped off and produced one of the greatest performances of his career, despite looking distinctly worse for wear.
At the end of the game, Jordan famously collapsed into Scottie Pippen's arms, creating one of the most iconic images of his career. In Episode 9 of The Last Dance, however, Jordan revealed he had not suffered from flu but from food poisoning.
Jordan finished the Finals with an average of 32.3 points, six assists—both team-high figures—and seven rebounds per game, while Malone led the Jazz in points and rebounds with 23.8 and 10.3 respectively.
A year later, Malone and Jordan crossed path again in the NBA Finals, with both teams arriving into the playoffs with the league's joint-best record.
The Bulls again prevailed in six games, despite a valiant effort from Malone, who recorded four double-doubles and finished with a team-high average of 25 points and 10.5 rebounds per game.
The Jazz No. 32 also led the team in blocks, field goal percentage and minutes played.
Jordan, meanwhile, led the Bulls in points, steals and minutes per game with 33.5, 1.8 and 41.7 respectively.
While Jordan outshone Malone in terms of success, the latter can at least console himself with earning more in salaries than MJ during their respective careers.
According to Basketball Reference, Jordan's combined salary earnings during his NBA career totaled $93.3 million, compared to Malone's $105.9 million. Significantly, however, Malone never made more than $5.1 million per year up until Jordan retired for a second time at the end of the 1998 season.
From the 1999-00 season, Malone made $66.4 million over the course of his final four seasons with the Jazz, compared with a combined $38.6 million in the previous 13 years in Salt Lake City.
Jordan, however, became a commercial icon during his NBA career when Nike launched the Jordan brand and Forbes estimates his value at $2.1 billion, making him the fourth richest African American.
Malone's value, meanwhile, is estimated to be approximately $75 million.