Watch: Andre Ingram, Lakers' 32-year-old Rookie, Dishes in NBA Debut
After 10 years in the G League, 32-year-old Andre Ingram was both veteran and rookie on Tuesday night as he made his first ever appearance in a Lakers jersey.
On Monday, he was told he had been called up for NBA action after 384 games in the developmental league, and the following day Luke Walton was calling him to the touchline at Staples Center.
"Everyone was like, 'Man, when you get it, just let it go,'" Ingram told ESPN. "Everyone was like that. All the players, all the coaches."
And he did just that. It shouldn't have been a surprise that the man who holds the all-time record for G League 3-pointers sunk his first four shots, including three from behind the arc.
He went on to finish the night with 19 points and three blocks, with the only blot being that the Lakers lost the game 105-99 to the Houston Rockets. But that didn't stop Ingram, watched by his wife and kids, enjoying the experience.
Take a look as he takes to the Staples Center floor:
"From the team warm-ups, the atmosphere was electric," he said. "You could feel something in there. MVP chants [while at the free-throw line], that's just crazy. Like I said [to myself], 'Make the free throw, make the free throw, make the free throw.'
"It's been a joy. Ten years in the D League, but it wasn't like 10 hateful years or years I didn't enjoy. I enjoyed my time in the league and all of my teammates, and I heard from every one of them."
Here, Ingram drilled his first three-pointer:
And it wasn't only his teammates and family who were congratulating him. Rockets star Chris Paul made his way over to Ingram as he entered the floor in the first quarter to congratulate him.
"I told him I heard about his story and that grind is unbelievable," Paul told ESPN. "I told him 'much respect.' Ten years grinding in the G League, and to finally get an opportunity and to play like that, that is pretty special."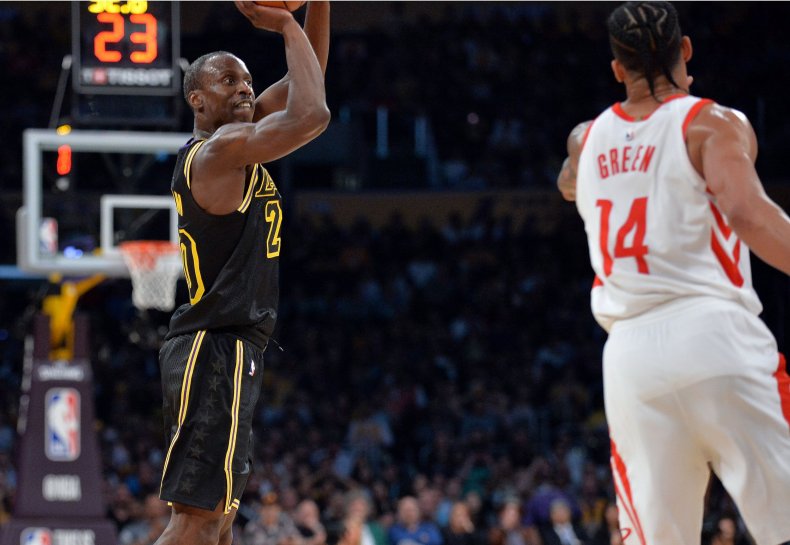 Watch: Andre Ingram, Lakers' 32-year-old Rookie, Dishes in NBA Debut | Sports