Boston Celtics guard Marcus Smart has announced he plans to donate blood to researchers looking for a treatment for coronavirus.
The 26-year-old is one of four NBA players who will take part in the National COVID-19 Convalescent Plasma Project, an experimental treatment that doctors hope could help high-risk patients recover from the virus.
According to a memo obtained by ABC News, the NBA has written to the physicians of the 30 franchises on Sunday to encourage players who have recovered from COVID-19—the disease caused by the new strain of coronavirus—to take part in the treatment. While the identity of the three players who will join Smart has not been revealed, the Celtics guard's agent confirmed his client will take part.
On March 19, the Celtics confirmed Smart had contracted COVID-19 but he has since been given the all-clear by the Massachusetts Department of Health on Friday.
"Corona Free as of two days ago," the former Oklahoma State alumni tweeted on Sunday night. "Thanks for everyone's thoughts and prayers and I'm doing the same for everyone that's been effected by this. Stay safe and stay together—apart! Much love!"
Dr. Michael Joyner, an anaesthesiologist at Mayo Clinic and a member of the leadership team of the National COVID-19 project, told ABC News he believed the experimental treatment "can be disease-modifying and reduce duration and severity in some patients."
The therapy uses the antibodies in the blood donated by subjects who have recovered from coronavirus to treat the virus in high-risk patients and that blood from professional athletes could be particularly valuable to research.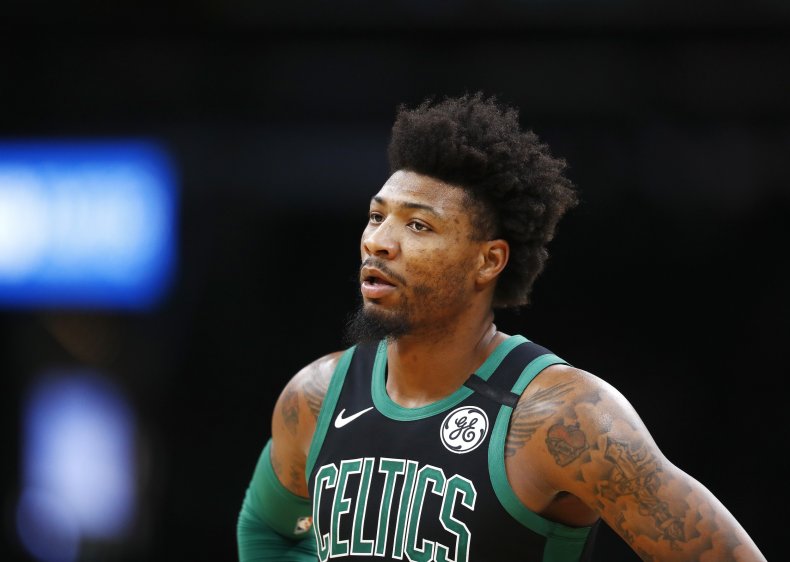 "These are big men with blood volumes, and as a result [they] have a lot of plasma volume," Joyner explained. "Frequently people who are physically trained also have an increase in their plasma volume from what you would expect from them just being regular-sized guys."
Joyner praised the players who volunteer to take part in the scheme and dismissed criticism they had received preferential treatment, while members of the general public struggled to get access to tests.
The NBA has come under fire for operating so-called VIP lanes and testing players and the entire staff of teams that had reported one case of coronavirus. Two weeks ago, the Brooklyn Nets came under criticism from New York City mayor Bill De Blasio for testing all their players after four players, including Kevin Durant, had tested positive.
"I think you have to do what's in front of you right now," Joyner said. "The players themselves had nothing to do with getting into the VIP lane. It's one of those things about celebrities in the United States, and we're not going to solve that problem in the middle of this crisis."
Aside from Smart, Utah Jazz duo Rudy Gobert and Donovan Mitchell have also both recovered from the virus.
The two were officially cleared by the Utah Department of Health (UDOH) last week, the Jazz said in a statement released on Friday.
"The UDOH has determined that all Jazz players and staff, including two who tested positive for the novel coronavirus, no longer pose a risk of infection to others," the team said.
Gobert became the first NBA player to test positive for coronavirus on March 11, shortly before the league decided to suspend the season indefinitely.
Detroit Pistons forward Christian Wood, who faced the Jazz on March 7 and guarded Gobert, has also recovered. Wood tested positive a week after the game, but according to The Athletic's Shams Charania he was cleared from coronavirus last week.
Together with the Nets quartet and Smart, Gobert, Mitchell and Wood are part of the 14 players or team members to have tested positive to COVID-19. Two weeks ago, the Philadelphia 76ers and the Denver Nuggets both announced members of their organizations had tested positive for COVID-19, but neither team confirmed whether any of their players were affected.
On the same day, two Los Angeles Lakers players were also confirmed to have tested positive for the virus.
As shown by this graphic provided by Statista, as of Wednesday morning almost 190,000 cases have been reported in the U.S.—the highest tally in the world.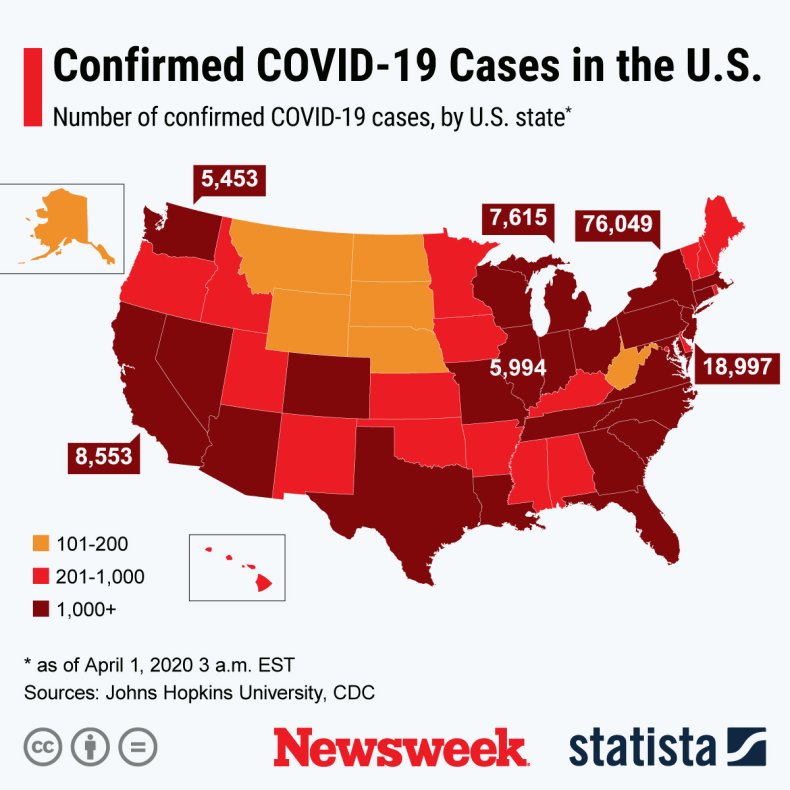 Over 4,000 deaths have been recorded in the U.S. and almost 7,000 people have recovered, according to Johns Hopkins University, which has been tracking the outbreak using combined data sources.
Over 42,000 people have died globally since the outbreak of coronavirus began in Wuhan, a city located in China's central Hubei province, late last year. There have been over 861,000 confirmed cases globally, with almost 178,000 recoveries.
Uncommon Knowledge
Newsweek is committed to challenging conventional wisdom and finding connections in the search for common ground.
Newsweek is committed to challenging conventional wisdom and finding connections in the search for common ground.
About the writer
Dan Cancian is currently a reporter for Newsweek based in London, England. Prior to joining Newsweek in January 2018, he was a news and business reporter at International Business Times UK. Dan has also written for The Guardian and The Observer.