Why NBA, MLB and PGA Tour Are Ditching Nasal Swab for Saliva COVID-19 Tests
Ever since the novel coronavirus pandemic ground sports to a halt in March, testing has been identified as a key requirement for professional sports to resume during the outbreak.
As the first COVID-19 outbreak swept across the U.S., the Centers for Disease Control and Prevention and Dr. Anthony Fauci, director of the National Institute of Allergy and Infectious Diseases, both warned that without widespread testing any flickering hopes of leagues returning to action would be swiftly extinguished.
With the PGA Tour and the MLS resuming and the NBA and the MLB both ready to follow suit at the end of the month, the focus on testing has shifted from its availability to its accuracy and its invasiveness.
When golf resumed last month, footage of players undergoing tests consisting of nasal pharyngeal swabs—the long nasal swab in layman's terms—went viral on social media and were not for the faint-hearted.
"Sure, it's uncomfortable for a second," said three-time major winner Jordan Spieth when asked about the procedure before the Travelers Championship at the end of June.
As more leagues gear up to resume, however, the invasive deep nasal swab could soon be a thing of the past, for professional athletes if not for the general public.
"Saliva is fast becoming a preferred testing as a less invasive option to painful nasal pharyngeal swabs," Jason Feldman, CEO of Vault Health explains to Newsweek.
Before the pandemic struck, Vault Health was part of so-called telehealth companies, which connect patients with their doctors via video calls, and was predominantly focused on men's sexual health and weight loss therapies.
As coronavirus hit, Vault swiftly broadened its horizons and devised an at-home saliva testing package. The test has proved an immediate hit with leagues across the U.S. and Vault has supplied tests to the PGA, NBA, MLS, LPGA, NHL and WNBA.
Crucially, the saliva-based test are also more accurate than the nasal swab. According to Vault Health, 98 percent of saliva tests provide either a positive or negative result, with just two percent of tests delivering an inconclusive result.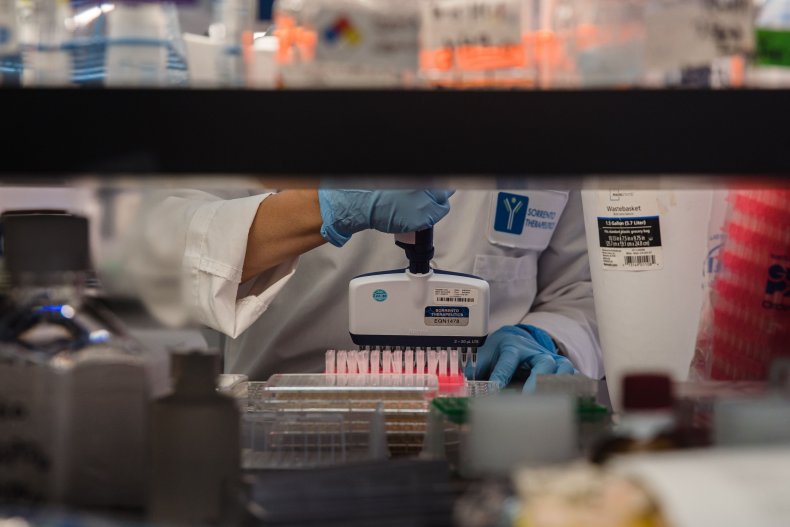 The test can detect fewer than 200 copies of viral genes per milliliter of saliva, and can detect the presence of virus in the saliva within two days of infection and up to 28 or more days after infection.
Across all known gene sequences of SARS-CoV-2, the test detects the ones in the genes of interest over 99 percent of the time, making it highly sensitive and specific for those genes.
Emerging data on false negative rates of saliva-based COVID tests place the false-negative ratio (FNR)—the ratio of subjects affected by an illness whose test results wrongly suggest they are disease-free to all those subjects who have the disease—in the 0 to 10 percent range.
The figure is far lower than those of nasopharyngeal swab-based tests, which are in the 25 percent to 35 per range.
Figures provided by Rutgers indicated their FNR is approximately 1 percent based on available data.
The procedure for a test is relatively straightforward and far less painful than a deep nasal swab, particularly for players who have to undergo tests on a daily basis.
The test costs $150 and is supervised via a Zoom video call. The tube containing the saliva is then mailed overnight to Rutgers University's lab—known as RUCDR Infinite Biologics—with results normally available within 48 to 72 hours.
The short turnaround is extremely important for leagues like the NBA and the PGA Tour, where players are kept in a bubble-like environment and knowing the outcome of a series of tests as swiftly as possible is imperative.
"Before the first practice we test at home to ensure nobody is sick or putting their teammates at risk," Feldman adds.
"Teams test multiple times a week within their practice facilities to ensure the safety and integrity of the bubble. A 'positive' infection means a player, trainer or staff member is not allowed into the facility until they are tested back as 'negative' status.
"Every league uses a different test protocol, and all expect fast turnaround to ensure the ongoing safety of their teams."
Aside from the health aspects, testing is a very delicate issue for the major U.S. leagues from a PR standpoint. Leagues are mindful of the impact conducting mass testing among the players may have at a time when widespread tests for the general public remain at a premium.
In March, New York City mayor Bill De Blasio criticized the Brooklyn Nets for testing all of their players after four individuals—including Kevin Durant—had tested positive for COVID-19.
"It was incredibly complicated," Andy Levinson, the PGA Tour's senior vice president of tournament administration, told The New York Times earlier this month when discussing the Tour's testing policy.
While the saliva tests are more accurate and less invasive, Feldman admits some logistical challenges remain.
"Teams are only effective when they have all their players together at practice," he explains. "Coordinating testing all of the players, athletic crew and staff with a combination of at-home and at-practice testing is a challenge."
According to Johns Hopkins University, which has been tracking the outbreak using combined data sources, the U.S. reported a record 77,300 new coronavirus cases in 24 hours on Thursday.
The graphic below, provided by Statista, shows the figure is the highest one-day total for the pandemic so far.
As of Friday morning, over 3.57 million cases of coronavirus have been reported in the U.S., by far the highest tally of any country in the world.
Over 138,300 deaths have been recorded in the U.S. and over 590,600 people have died globally since the outbreak of coronavirus was first identified in Wuhan, a city located in China's central Hubei province, late last year. There have been over 13.8 million confirmed cases worldwide.