Who Will Win NBA MVP? 2017-18 Season Has Six Early Contenders
The 2017-18 regular season is still less than a quarter complete, as of Thursday afternoon. That's far too early to start compiling any kind of M.V.P. list, right? Anything could happen between now and June, within reason that is. The Nets aren't making the playoffs, for instance.
The NBA's league leaders through 18 games, though, look likely to stay there for the rest of the year, barring injury—either because they have been here before or due to sheer statistical dominance. In that sense, it kind of makes sense to look at who has dragged his team along through the season so far. Here are your—almost certainly massively too early—M.V.P. candidates to succeed Russell Westbrook.
LeBron James
Through the Cavaliers' early-season struggles, and then their current five-game winning run, James has been a totem. Without James, the Cavs would be swimming in the miasma of the middle of the Eastern Conference. He will be 33 on December 30 but James is averaging 28.7 points per game so far this season—above his career average and good for third in the league. Perhaps more impressively, as he ages, is the fact that James keeps producing while Tyronn Lue leans increasingly heavily on him. While Lue has been unable to stick with a settled backcourt, James has averaged 37.7 minutes per game. Only Giannis Antetokounmpo plays more, per night, than "King James." And no player is worth more to his franchise.
Kyrie Irving
James's "little brother" couldn't guide the Celtics to 17 straight wins, as Boston's incredible run ended at the hands of the mediocre Heat on Wednesday night. Professional sport sometimes doesn't make sense, Chapter 542. Just under a quarter of the way through the season, though, and the Celtics already have a sizeable lead in the Eastern Conference—four full games ahead of the Pistons and Raptors and four-and-a-half ahead of the Cavaliers. Irving has provided Boston with offensive impetus in the season-long absence of Gordon Hayward—he scored 47 points against the Mavericks on Monday night. Just as importantly, he has already begun to fulfil his mission statement: Producing at clutch moments and guiding a youthful franchise toward what looks like a possible Championship-contending season.
James Harden
For much of this season so far, the Rockets have only been able to field half of their All-NBA backcourt. Chris Paul's return has been gathering pace—the ex-Clipper had 23 points and 11 assists on Wednesday as he and James Harden demolished the Nuggets. But it's Harden who has been powering the NBA's second-best offense. He leads the NBA with 31.1 points per game. And look at the league's top ten scorers: Only James, with 8.3, comes anywhere close to Harden's 9.8 assists per game. Defense will always be a question mark, as will Harden's ability to perform with the Rockets' season on the line in the playoffs. But those two concerns don't diminish his worth.
Kristaps Porzingis
The Knicks are starting to look like a possible playoff contender in the East, and that's down in no small part to the scoring efforts of Porzingis. He ranks fourth in the NBA in that category, with 27.3 p.p.g. He's also collecting 7.4 rebounds per game. But the most interesting thing about Porzingis is his versatility, in an era when "big men" can no longer stick to the paint. "The Knicks have a 7-foot-3 forward who can shoot the three, score down low, run the floor and produce coast-to-coast highlight plays and finish ridiculous one-handed alley-oops," Alex Wong wrote in a Sports on Earth profile of the Latvian on November 21. While Porzingis is doing everything on the court, the Knicks have hope.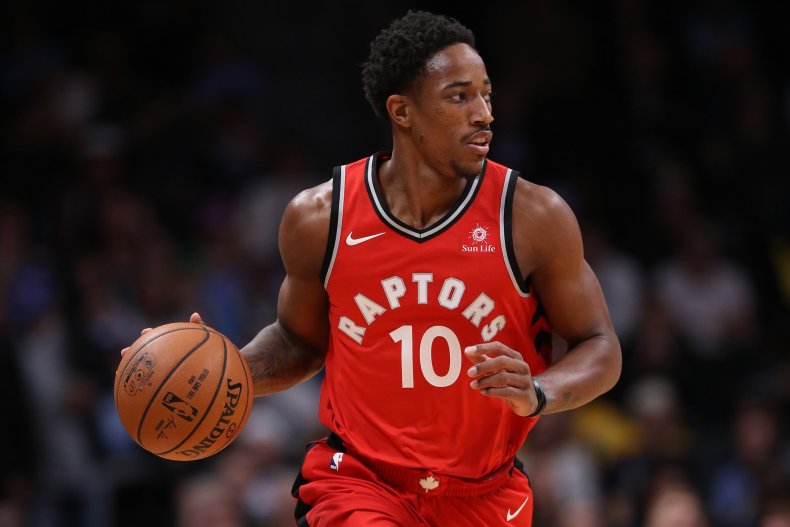 DeMar DeRozan
Why does it feel like DeRozan, one of the NBA's two best shooting guards along with the Wizards' Bradley Beal, never quite gets the credit he deserves? Maybe it's more of a perception problem among journalists than within the NBA. The Compton native is, after all, a three-time All-Star and was named to the All-NBA Third Team this year. Or perhaps it's a combination of playing in a market where hockey will always rule, and DeRozan's playing style: A guard who would prefer to drive to the basket in an era where the three-pointer reigns predominant. Whatever it is, the perception needs fixing. DeRozan ranks eighth in the league in scoring, and he's the best player on the Eastern Conference's third-best team right now, one that lacks another elite scorer besides Kyle Lowry. Oh, and this is tangential—but DeRozan and Lowry are maybe the NBA's most entertaining combination to watch.
Giannis Antetokounmpo
The future of the NBA is now, and it's 6 feet 11 inches tall and plays every position on the court with sublime ease. The Bucks may struggle to clamber out of the Eastern Conference—they are 9-8 right now—which is a major shame as we will have to wait another year at least to watch Antetokounmpo in the playoffs. With 29.7 p.p.g., he's behind only Harden in scoring this season. He also averages 10.3 rebounds per game, 4.4 assists, 1.6 steals and 1.9 blocks. Antetokounmpo is so important to the Bucks that there must be a risk of burnout: Those 37.8 minutes he plays per night are a lot on a 22-year-old frame. The "Greek Freak" missed the Bucks' win over the Suns on Wednesday night with knee soreness.