NBA Star Russell Westbrook Allegedly Told 'Get On Your Knees Like You Used to' in Heated Exchange With Utah Jazz Fans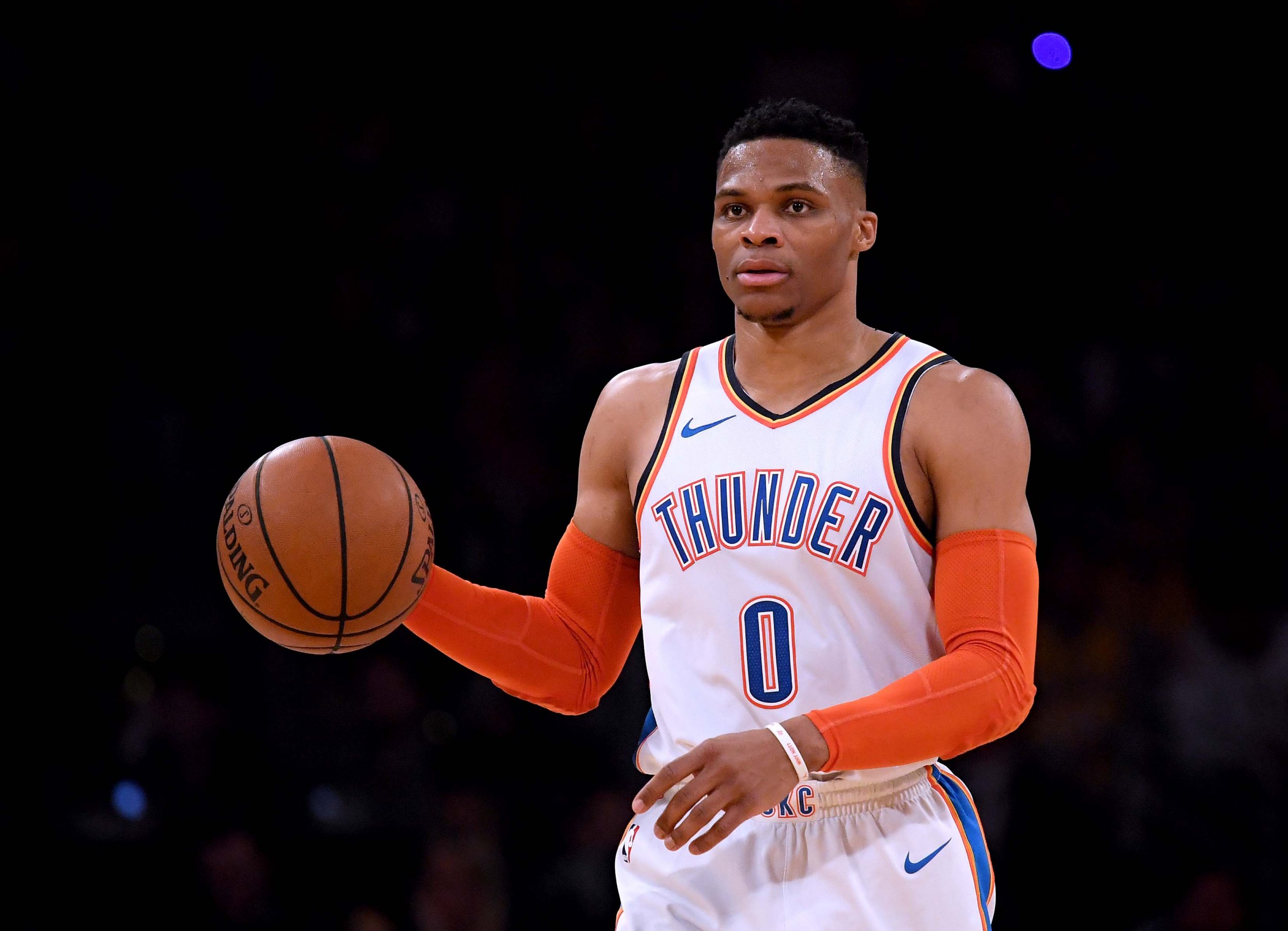 Oklahoma City Thunder's Russell Westbrook was caught on video getting into a tense exchange with a pair of Utah Jazz fans after an alleged racial taunt on Monday night.
A viral video shows Westbrook threatening to "f*** up" a male fan and his wife during the Thunder-Jazz game. "I promise you. You think I'm playing? I swear to god, I swear to god. I'll f*** you up. You and your wife, I'll f*** you up," Westbrook was heard saying.
Westbrook did not apologize for his heated remarks to the fans and said his threat towards the man and his wife was in response to "completely disrespectful" comments made towards him.
The star player called the remarks racial in tone and said he has played 11 years in the league without being in any trouble with fans.
The exchange happened when Westbrook was near the Thunder's bench during the second quarter. Westbrook claimed the man told him to, "Get down on your knees like you're used to."
"For me, I'm just not going to continue to take disrespect for my family," Westbrook said in a post-game interview, according to ESPN.
"I just think there's got to be something done. There's got to be some consequences for those types of people that come to the game just to say and do whatever they want to say. I don't think it's fair to the players—not just to me, but I don't think it's fair to the players."
Westbrook said he would say the same exact thing if he had to do it all over again. He also noted that he would never physically attack a woman.
"As for beating up his wife, I have never put my hand on a woman; I never will," he said. "Never been in any domestic violence before. Never have before, but once he said the comment, his wife repeated the same thing to me as well. So that's kind of how that started."
Jazz fan Shane Keisel, 45, who was involved in the verbal exchange with Westbrook, said he did nothing wrong and said his wife was not involved. Keisel claimed that Westbrook was "smiling at one point" and that the exchange started off fine.
"I just told him, 'Sit down and ice your knees bro'… I never said a swear word to him, and everybody in the vicinity will say it," Keisel, told KSL Sports anchor Jeremiah Jensen.
Keisel then said the exchange turned "not safe for work." Fellow Oklahoma City Thunder player Raymond Felton confirmed his teammate's side of the story, ESPN's Tim MacMahon noted.
The Utah Jazz said in a statement that the organization was investigating the "unfortunate exchange" between Westbrook and fans, Fox Sports reported.
"Multiple warning cards were issued by arena security. Players and fans have a shared responsibility to create a safe and respectful environment. If it is determined that any fans violated the NBA Code of Conduct, appropriate action will be taken," the statement said.
The Thunder won the game 98-89 over the Jazz.