NBA Player Demands Kentucky AG Charge Police in Breonna Taylor Case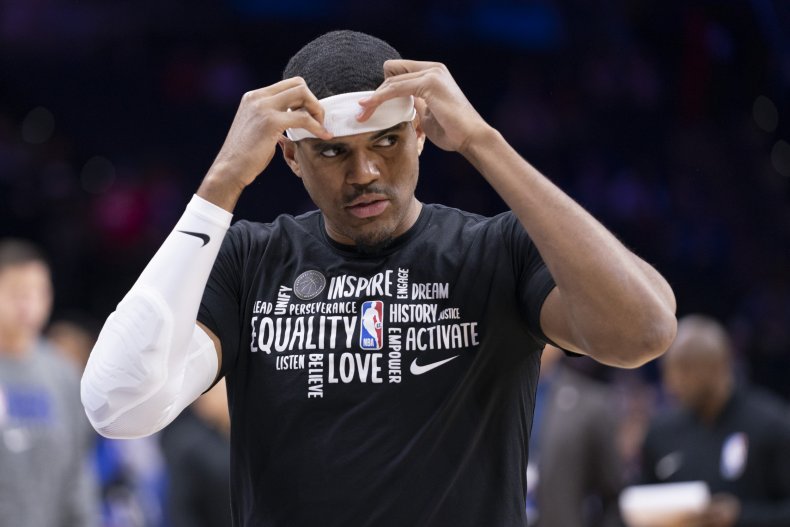 NBA player Tobias Harris on Monday demanded that Kentucky Attorney General Daniel Cameron arrest the police officers involved in the death of Breonna Taylor.
Harris spoke briefly to the media as he and other NBA players and staff preparing for the league's modified and isolated restart in Orlando, Florida on July 30. The Philadelphia 76ers forward was asked about social justice designs for player t-shirts that are reportedly being designed by Houston Rockets guard Russell Westbrook in collaboration with the National Basketball Players Association.
"Nothing against the t-shirts, but we want to make sure that Daniel Cameron will arrest the cops and officers involved with Breonna Taylor's death," Harris said. "That's all I got to say."
"That's going to be my answer for every question," added Harris. "For Daniel Cameron to step up and to do what's right. And that's the only message I got today, I appreciate everybody. Thanks."
A short time later, NBA star LeBron James expressed support for the message while sharing video of Harris making the remarks.
Calls for justice in Taylor's death have amplified as part of the resurgence of the Black Lives Matter movement, with mass protests spreading throughout the U.S. and around the world following the May 25 death of George Floyd.
Cameron, a Republican who was elected last year after being endorsed by President Donald Trump, is a Louisville native and the first Black attorney general in Kentucky's history. He has refused calls to file charges in the case from several prominent figures and Black Lives Matter activists, along with over 10 million people who signed a petition calling for charges.
Last week, over 100 protesters gathered on Cameron's lawn to demand that charges be filed. Cameron denounced the protesters for trespassing on his property, saying the demonstration was "not acceptable" and would not "alter our pursuit of the truth" in the case, which remains under investigation.
Taylor, a 26-year-old Black woman who worked as an emergency medical technician, died after being shot eight times by Louisville police in the early morning hours of March 13. Police had served a "no-knock" search warrant on her apartment, which they claimed was connected to a case involving two men accused of selling drugs.
Officers exchanged fire with Taylor's boyfriend Kenneth Walker, a licensed gun owner who said the plainclothes officers did not identify themselves and he fired in self-defense due to what he believed was a home invasion. Several shots from police were fired from outside the home through a window.
"No-knock" warrants have since been banned in Louisville. One of the officers involved, Brett Hankinson, has been fired due to what the chief of the Louisville Metro Police Department called an "extreme indifference to the value of human life" displayed by "wantonly and blindly" firing 10 shots into the apartment. Two other officers were placed on administrative reassignment.
While Cameron has been under heavy criticism for what critics say is inaction regarding the Taylor case, he has recently been active in repeatedly making moves attempting to block executive orders from Democratic Kentucky Governor Andy Beshear, his immediate predecessor as attorney general, concerning public health measures intended to limit the spread of COVID-19.
Newsweek reached out to Cameron's office for comment.