NBA Players Racking Up 50-Point Games at Record Clip After Bradley Beal's Back-to-Back Nights
NBA players did something last season never seen in the league when it had 11 different players score 50 or more points in a game during one season.
But that was then, and this is now. So far, 10 players have scored 50 points or more in a single game this season, and a handful have accomplished it multiple times. Washington's Bradley Beal became the 10th player to make this year's list when he scored 53 in a loss to Chicago on Sunday. Then on Monday, Beal dropped 55 in a 137-134 loss to the Milwaukee Bucks.
Beal's performance on Sunday and Monday had him trending hard on social media, and it made for the 17th and 18th time this season a player scored 50 or more in a game. That's compared to the 13 two seasons ago, or the 16 last season.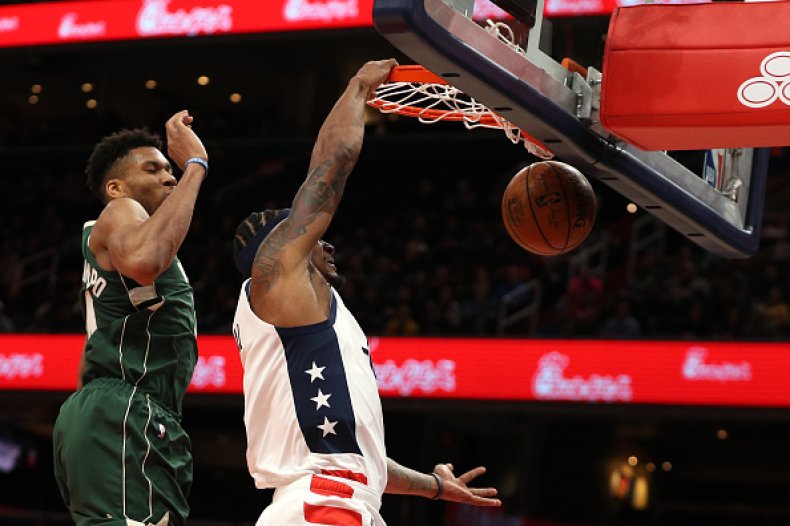 This season, the league has four players who have scored 50 or more multiple times—James Harden (4), Damian Lillard (4), Kyrie Irving (2) and Beal (2). Atlanta's Trae Young has scored 50 in one game, 49 in another game and 48 in another. Giannis Antetokounmpo has scored 50 in one and 48 in another. That means a missed free throw here or there, or a missed jumper, could have the league with five or more players to hit 50 during multiple games this season.
To put that into context, only one player, James Harden, scored multiple 50-point games in each of the last two seasons.
Here are the players who have reached that mark so far this season:
4 James Harden — 60, 59, 55, 54
4 Damian Lillard — 61, 60, 51, 50
2 Bradley Beal — 53, 55
2 Kyrie Irving — 54, 50
1 D'Angelo Russell — 52
1 Kris Middleton — 51
1 Anthony Davis — 50
1 Giannis Antetokounmpo — 50
1 Eric Gordon — 50
1 Trae Young — 50
Noticeable names missing from last year's list are Steph Curry, Kemba Walker, Kevin Durant and Klay Thompson. Curry was seen at a recent shoot-around, and he could be someone who could score 50 on a hot night.
The 18 total 50-point games is tied for third all-time in the NBA for a single season, tied with the 2006-07 season. So one more 50-plus night this season will become the third all-time.
Perhaps there is no reaching the all-time record for a single season, nor the individual record—those go back to the 1960's, when Wilt Chamberlain scored a lot, and every night seemingly.
The record for the league in one season is 57, which happened in 1961-62. Chamberlain had 45 of those. No. 2 on the list is the following season (1962-62), which had 34 games where a player scored 50 or more points.
Though this season likely won't reach the record marks of the 1960s, the league needs just two more different players to score 50 or more to have the most players to achieve that in one season.