Houston Rockets PR Shuts Down Reporter Asking James Harden, Russell Westbrook About NBA-China Controversy
Amid the unrest between the NBA and China, more and more issues continue to arise. During a press conference featuring Houston Rockets stars James Harden and Russell Westbrook, a CNN reporter was quickly stopped when she asked a question about politics and social justice.
"After the events of this week and the fallout we've seen, whether you both would feel differently about speaking out in that way in the future," the reporter asked.
Following her question, a spokesperson for the Houston Rockets interrupted and stated that players were only taking basketball questions, essentially not allowing Harden and Westbrook to answer.
The spokesperson shutting down the reporter comes at a time where tensions are high between the NBA and China. The dispute began when Rockets' general manger, Daryl Morey tweeted an image saying, "Fight for freedom, stand with Hong Kong." The tweet was deleted shortly after.
Due to severe backlash from China following Morey's tweet supporting the Hong Kong protests, Harden accompanied by Westbrook, issued an apology and expressed their views on the issue.
"We apologize. You know, we love China. We love playing there," Harden said at a team practice in Tokyo. "For both of us individually, we go there once or twice a year. They show us the most important love. So we appreciate them as a fan base. We love everything there about them, and we appreciate the support that they give us individually and as an organization."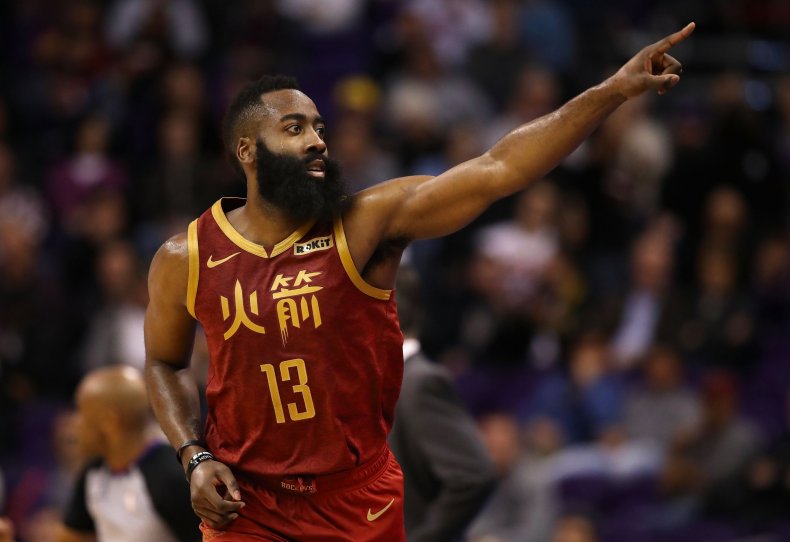 In the past, the two have been pretty vocal regarding social issues, with Westbrook speaking on the dangers of gun violence in 2016 and Harden supporting the NFL protests led by Colin Kaepernick.
Morey's tweet was aiming at the recent pro-democracy protests occurring in Hong Kong. The tweet sparked major backlash from China, leading to the Chinese Basketball Association suspending ties with the Rockets.
Tensions between the two once again increased following NBA commissioner Adam Silver's comments to Kyodo, a local news outlet in Japan. Silver expressed his support for Morey "in terms of his ability to exercise his freedom of expression," but took a step back on his comments during another press conference in Tokyo.
"It is inevitable that people around the world — including from America and China — will have different viewpoints over different issues," he said in a statement. "It is not the role of the NBA to adjudicate those differences."
Silver's comments sparked even more backlash leading to a number of different businesses suspending their agreements with the league. According to a review by CNN Business, all 11 of the NBA's official partners in China have halted their deals with the league.
The interaction between the CNN reporter and Harden and Westbrook has led to mass criticism across social media.
"Wow, this is chilling," one Twitter user wrote. "Not only are they acting as China's censors for their employees, they're now bringing China's suppression of the critical press to our shores."
"This is embarrassing for the @NBA," another Twitter user said.
On Tuesday and Wednesday, the Philadelphia 76ers and the Washington Wizards hosted preseason games against a team from the Chinese Basketball Association.
During the 76ers game against the Guangzhou Long-Lions, a man and his wife were removed from the arena after holding up signs that read "Free Hong Kong" and "Free HK."
On the following night, protesters held up signs and handed out shirts supporting the protests in Hong Kong outside of Capital One Arena in D.C. before the game.