NBA Star LeBron James's Courtside Smash Puts Jason Day's Wife in Hospital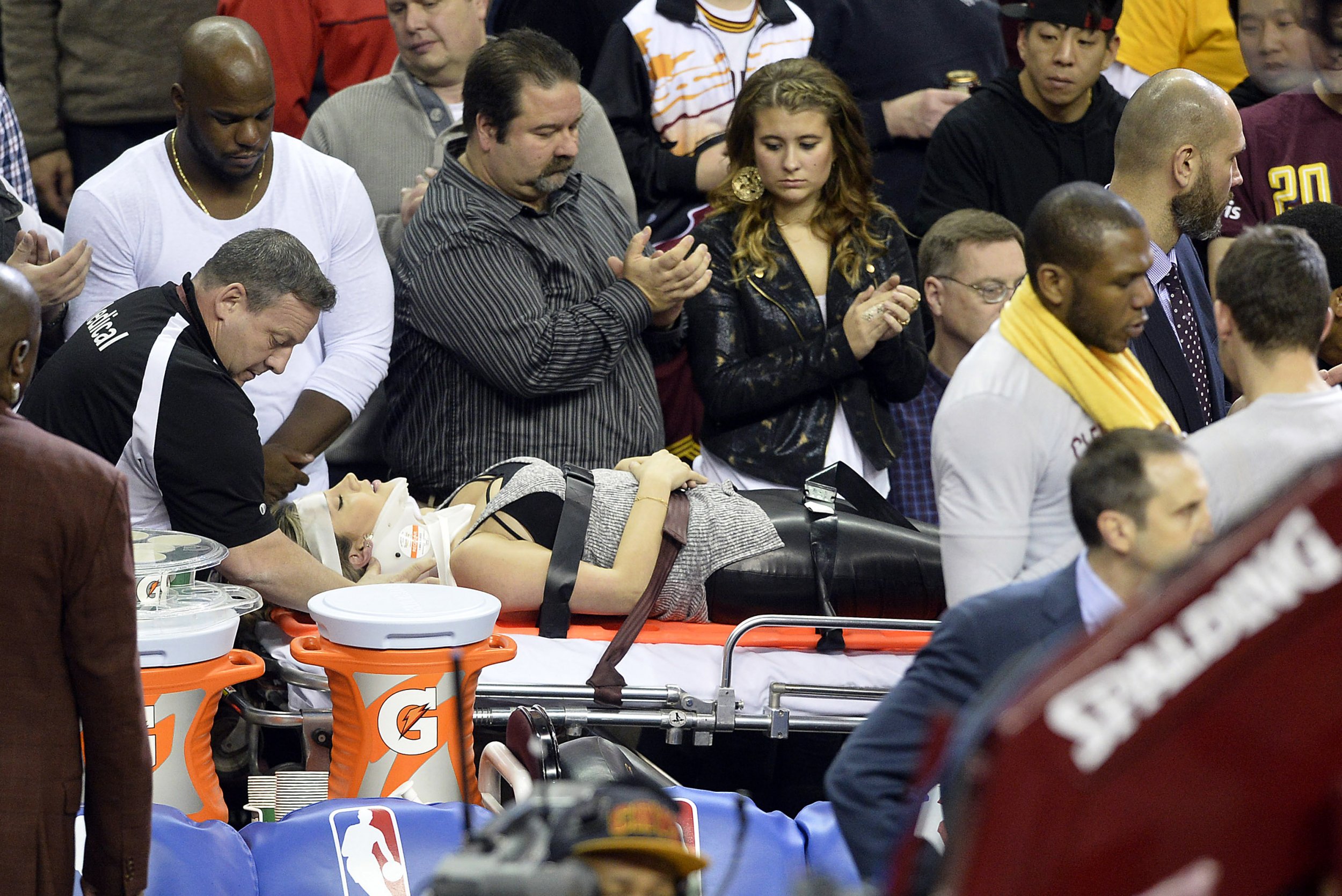 Sitting courtside at an NBA game, as modern celebrities are wont to do, is often an activity fraught with risk. That was proven last night, when LeBron James, the 6-foot-6-inch, 250-pound Cleveland Cavaliers' star, went to pick up a loose pass and barrelled into a woman sat as close to the action as humanly possible without being in the game itself.
Not just any woman, though—this happened to be Ellie Day, wife of the world's no.2-ranked golfer, Jason Day.
A YouTube clip shows shocked faces in the crowd as James, who recently signed a lifetime contract with Nike believed to be worth upwards of $500 million, failed to prevent his fall into the victim, who herself toppled backwards.
According to the website Cleveland.com, Mrs Day was taken from the Quicken Loans Arena in Cleveland, where the Cavaliers were playing Oklahoma City Thunder, to a local hospital on a stretcher and in a neck brace.
James told ESPN after the game: "Obviously her health is very important and hopefully she's doing well. The guys told us she's doing great now. Going for a loose ball, I was just trying to keep the possession going and I hate that that was the end result of it."
The NBA tightened courtside security following an infamous mass brawl between the Detroit Pistons and Indiana Pacers in 2004 that spilled into the crowd. Ticket conditions for every NBA team also contain waivers of liability for personal injury.
Ironically, during the NBA finals in June, James himself was involved in a courtside incident when the four-time league MVP (most valuable player) suffered a badly gashed head after colliding with a cameraman, again at Quicken Loans Arena.